4 reasons to get excited about the Toronto Maple Leafs' 2023-24 season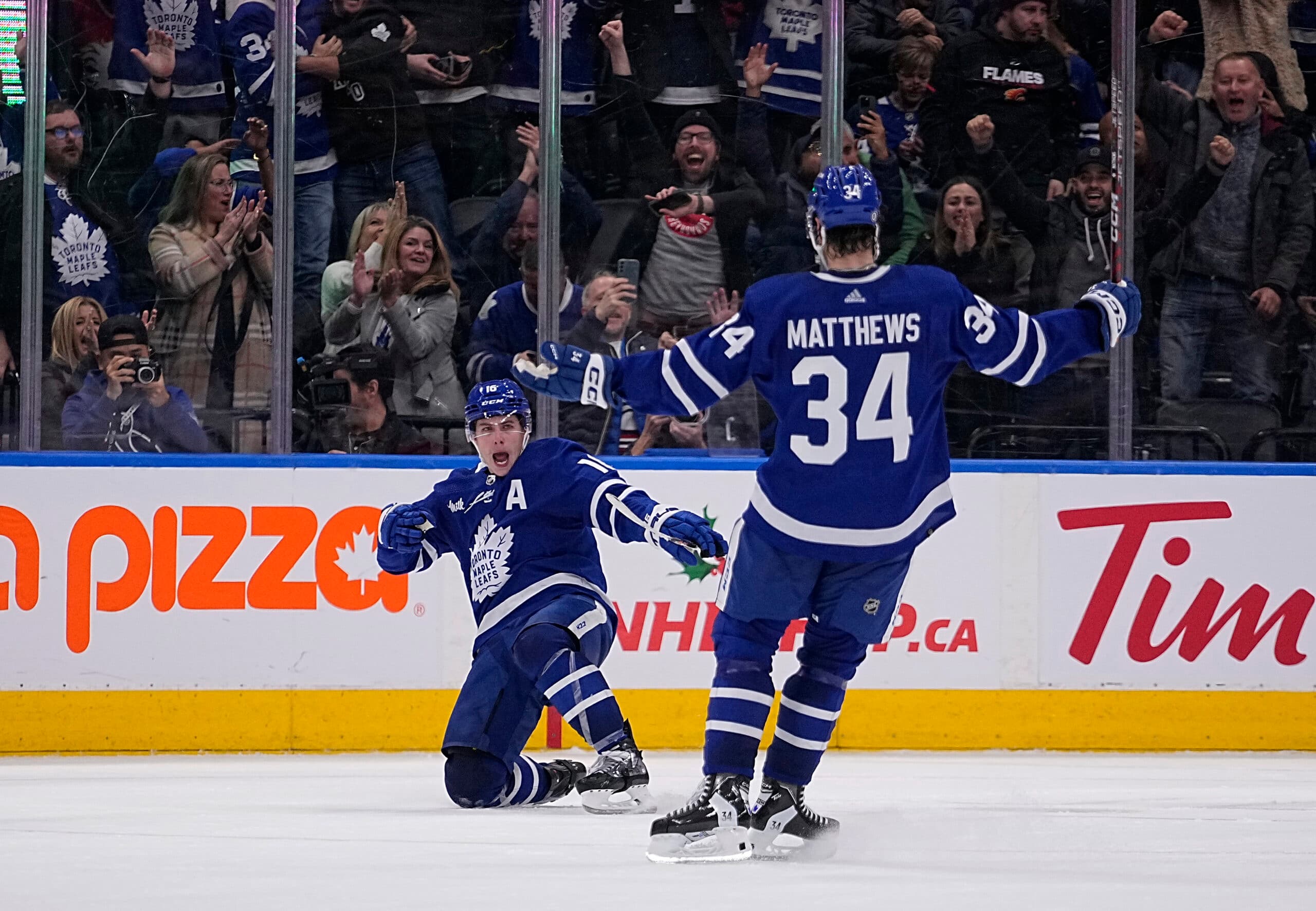 Photo credit:John E. Sokolowski-USA TODAY Sports
It's been quite the offseason of transition for the Toronto Maple Leafs. From the Kyle Dubas/Brendan Shanahan beef, which played out like nobody thought it would, to now
watching Brad Treliving do work
as the new general manager, there's been a ton of change in Leafs land.
Last season was a roller coaster of emotions for Leafs Nation as the Maple Leafs pulled on the heart strings as much as ever during the 2022-23 campaign. There's a lot to look forward to heading into next season. Here's four reasons to get excited about the Maple Leafs 2023-24 season:
Leafs Finally Showed Progress Last Season
It doesn't matter how much you feel like dampening the mood, you can't deny the fact last season was the most success Toronto has seen in nearly two decades. The Maple Leafs took a giant step forward with their first-round series win against the Tampa Bay Lighting and now they have the monkey off their backs heading into next season.
Yes, it's a small win, but it shouldn't be minimized. The core of the team now knows they can close out a series and now it's about learning and developing from the experience.
Having head coach Sheldon Keefe back should help. He's a great coach who loves to tinker with his lineup, but also a coach who believes his best players should be leaned on the most. With a small taste of success last season, look for the Maple Leafs to grow in 2023-24. Third round, here we come?
New Additions Bring Much-Needed Piss & Vinegar
There's been a lot of praise headed Treliving's way this summer after he signed Ryan Reaves, Max Domi and Tyler Bertuzzi to bring some 'snot' to the roster next season. The Leafs got pushed around way too many times and enough was enough.
Reaves is the toughest fighter in the league and he also happens to be as professional as ever about it.
He understands his role
and knows his pre-game speeches are a must, and so is him playing hard for the 10 minutes he may see on the ice. Reaves knows his role better than anyone and he's going to be a huge factor for the team, especially considering he'll be planted on the team's fourth line all season long.
Domi and Bertuzzi will be fun to watch as they'll induce scrums, they'll finish their checks and they'll both be major contributors on the score sheet. The Maple Leafs needed a massive culture change and considering at this point, none of the core has been shipped out, Treliving should feel the love for being able to pull this off via free agency.
Toronto will be a pain in the ass to play against next season and that hasn't been said for quite some time. It's impressive considering the roster will be without Michael Bunting, Noel Acciari and Luke Schenn.
Toronto's Top-End Talent is Undeniable
From a
full season of Matthew Knies
, to the consistency of the 'core four', the 2023-24 Maple Leafs' roster is absolutely loaded with world-class talent. Add in the expected goalie tandem of Joseph Woll and Ilya Samsonov and the possibilities are endless.
This roster is as deep as we've seen in many moons. The Maple Leafs have depth throughout all positions and some young talent who could also help this veteran group next season. Nick Robertson should be back healthy at some point and Pontus Holmberg could be someone who spends the entire season with the big club. Add in the development of Timothy Liljegren on the back end and there's a lot to be excited about.
The Leafs will only go as far as the big guns can take them but as we've seen of late, doors are being kicked down and oppourtunities are being created. This team is getting close and expect to see a dominant regular season out of the Maple Leafs in 2023-24. Yes, the Stanley Cup Playoffs is truly all that matters, so it will be fun to watch to see how much they've learned from the experience of winning a series last season. It's baby steps, but at least they're finally heading in the right direction.
Treliving Isn't Shy of the Bold Move
As we've seen from his days with the Calgary Flames, Treliving isn't shy to pull the trigger on a bold move on the trade market and he's not shy to hand out a boatload of cash via contracts. The Matthews extension appears to be getting close, meanwhile, it's the Nylander contract that is hovering over the team at the moment. If the Swedish veteran decides he wants to stick to his guns and not take a little less to help the team out financially, expect to see a trade at some point between now and the 2024 trade deadline.
On the other hand, if Nylander and Matthews get re-signed, that doesn't mean Treliving's job is done obviously. He'll be active next season trying to add to the roster where he can. The 2024 first-round pick will be on the table, as too will young players like Robertson, Topi Niemela, and Denis Hildeby.
The Maple Leafs continue to be in win-now mode and Leafs Nation should be very excited for what's to come next season. Knies is an absolute wild card who could win the Calder trophy while the core of the team led the way last season and will be doing much of the same in 2023-24. Samsonov and Woll are a great goaltending tandem who can help become the backbone of this team.
Another second-round exit next season? Doubt it. Expect at least the Eastern Conference Final, with an outside chance of finalizing a parade route.