5 'beef' players for the Toronto Maple Leafs to target in free agency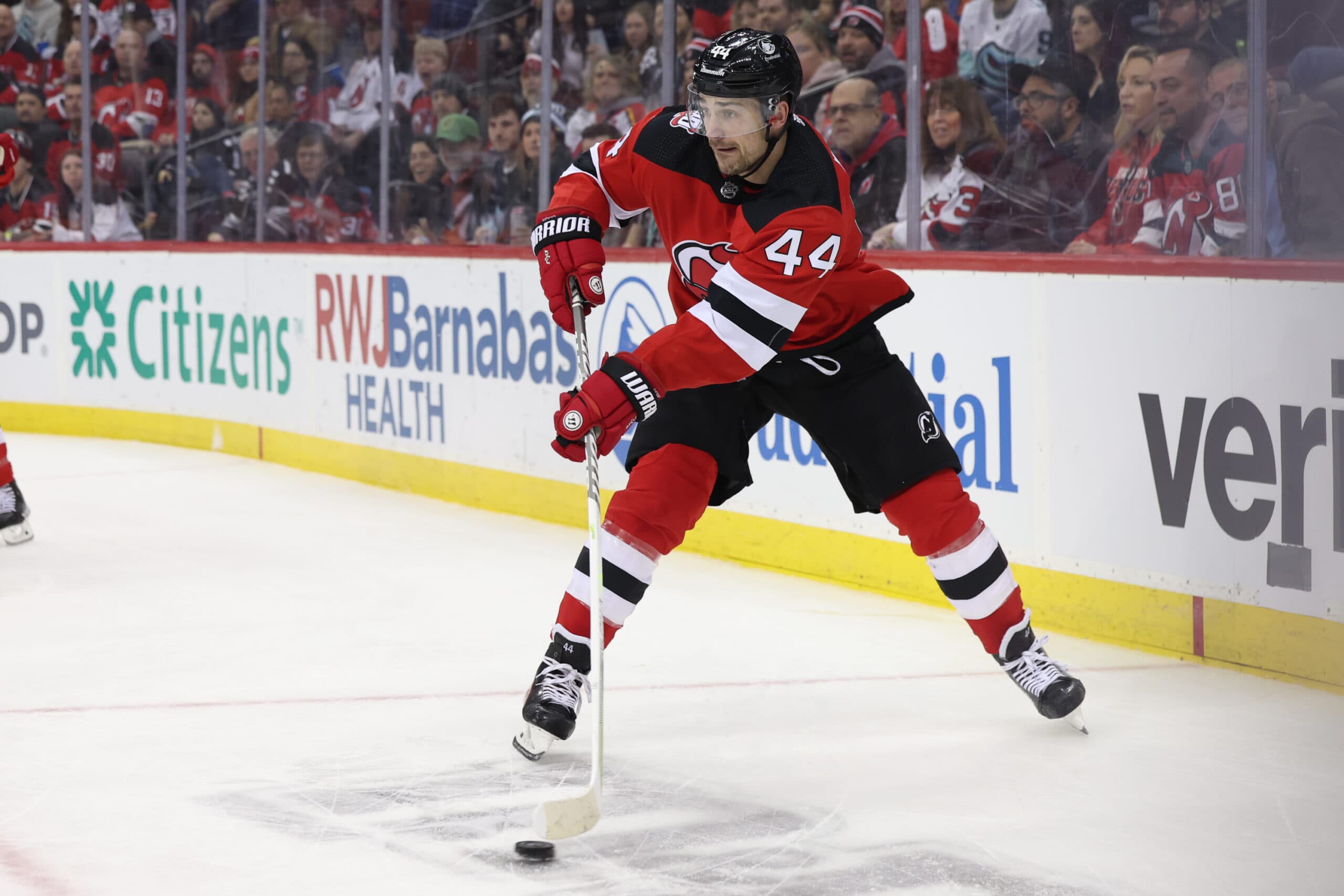 Photo credit:Ed Mulholland-USA TODAY Sports
With the 2023 NHL draft beginning yesterday and free agency opening up Saturday, the rumours continue to swirl around the league as teams are starting to plan for next season.
Whether that's through trade or free agency, we'll have to wait and see who Treliving has in mind for who those guys may be that hold that trait of having 'beef'.
Here is the full quote from Elliotte Friedman from yesterday's episode on The Jeff Marek Show:
"I think they're [Toronto] gonna add some beef down the lineup. I wouldn't be surprised… and I'm not necessarily saying it's gonna be these guys, but like I wonder about… like an Austin Watson or I wonder about… like a Ryan Reaves. That's what a couple of people have said to me. They think the Leafs are trying to make their bottom-six a little heavier."

 
Right off the bat, a no from me for Austin Watson in Toronto and as for Ryan Reaves, I'm kind of interested in him because of the absolute chaos he'd cause on the ice. Aside from that, he doesn't bring much on the ice, so if I'm being honest, does he move the needle? No, but it would be fun watching him hit and fight in a Maple Leafs jersey.
My five 'beef' targets for Maple Leafs
1. Noel Acciari – 31 years old – C/RW – 5'10 – 209 lbs
2022-23 stats: 77 GP – 14 G – 9 A – 23 PTS – 14:19 TOI
Last contract: 1-year, $1.25M
The first target is a well-known player by Maple Leaf fans. It's Noel Acciari!
Acciari, of course, was acquired from the Blues along with O'Reilly ahead of the trade deadline last season and instantly became a fan favourite with his style of play and his love for cookies.
He's coming off of a one-year deal where he made $1.25M and it's safe to say after scoring 14 goals between the Blues and the Maple Leafs while being a great defensive player at 5v5 as well as an absolute pest to play against, he's due for a raise of some sort.
At 5'10 and 209 lbs, Acciari recorded 244 hits last season in 77 games, which ranked him 10th in the entire NHL.
2. Garnet Hathaway – 31 years old – RW/LW – 6'3 – 210 lbs
2022-23 stats: 84 GP – 13 G – 9 A – 22 PTS – 11:48 TOI
Last contract: 4-year, $6M ($1.5M AAV)
The next target is someone I wanted the Maple Leafs to acquire during the trade deadline period, but instead, he went to their rival, the Boston Bruins.
Hathaway, similar to Acciari, is a pain in the butt to play against and will hit anything that moves. However, both guys have a little scoring touch to them so it's not like they're a complete black hole when it comes to the offensive side of the puck.
He's also a very responsible defensive player at 5v5 and plays the penalty kill. He's coming off a four-year deal that carried an AAV of $1.5M, so just like Acciari, he's in for a raise, and I honestly think it could be bigger than Acciari's depending on where he lands in free agency.
3. Jesper Fast – 31 years old – RW – 6'1 – 191 lbs
2022-23 stats: 80 GP – 10 G – 19 A – 29 PTS – 14:44 TOI
Last contract: 3-year, $6M ($2M AAV)
Jesper Fast is a very intriguing option for me in free agency, and I hope Brad Trelving feels the same way as I do.
Fast, 31, is coming off a three-year deal that carried an AAV of $2M with the Carolina Hurricanes. In those three seasons, Fast outplayed his contract and was a great bottom-six player for one of the best teams in the entire league.
He's a speedy two-way forward, an elite penalty killer, and is not shy from the physical part of the game. Just like the two players I listed above, Fast threw over 100 hits last season while also putting up 29 points in a bottom-six role.
The 2022-23 season was a down year for him compared to the previous year when he scored 14 goals and 34 points, nonetheless, he's a great option for the bottom six, and you know what you'd be getting in him.
He also scored the series-clinching goal in overtime to send Carolina to the Conference Finals this year.
4. Miles Wood – 27 years old – LW – 6'2 – 195 lbs
2022-23 stats:76 GP – 13 G – 14 A – 27 PTS – 12:06 TOI
Last contract: 1-year, $3.2M
The fourth target the Maple Leafs should look at is Miles Wood from the New Jersey Devils.
Wood, 27, is heading to the open market, per Devils GM Tom Fitzgerald and I think he'll be a hot commodity once free agency opens up Saturday.
He played in 76 games this season after missing pretty much the entire season last year due to injury. In the 76 games this past season, he scored 13 goals and 27 points while averaging just a little over 12 minutes a night.
I'd be interested in giving him a one-year prove-yourself contract, kind of similar to the Ondrej Kase deal when he wasn't qualified by the Bruins and the Maple Leafs signed him during the 2021 off-season.
He's a big body that might help Toronto's bottom six in the scoring department and the physicality side of the game too.
5. Nick Bjugstad – 30 years old – C/RW – 6'6 – 215 lbs
2022-23 stats: 78 GP – 17 G – 12 A – 29 PTS – 16:12 TOI
Last contract: 1-year, $900K
The last player in this article is Nick Bjugstad.
Now I don't know if the Oilers are going to try and re-sign the 30-year-old, but if not, he'd be a very attractive bottom-six forward for the right price.
He's coming off of a rejuvenated season scoring 17 goals and 29 points in 78 games between the Coyotes and Oilers after having a couple of down years following his 19-goal, 49-point campaign with the Panthers in the 2017-18 season.
At 6'6 and 215 lbs, Bjugstad plays the game how a 6'6 forward would. He registered 168 hits over 78 games and also has a pretty good two-way game while playing bottom-six minutes.
He's coming off a one-year, $900K deal, so I think he'll probably fetch at least $1M somewhere on the open market if the Oilers don't re-sign him.