5 bold predictions for the Toronto Maple Leafs' 2023-24 season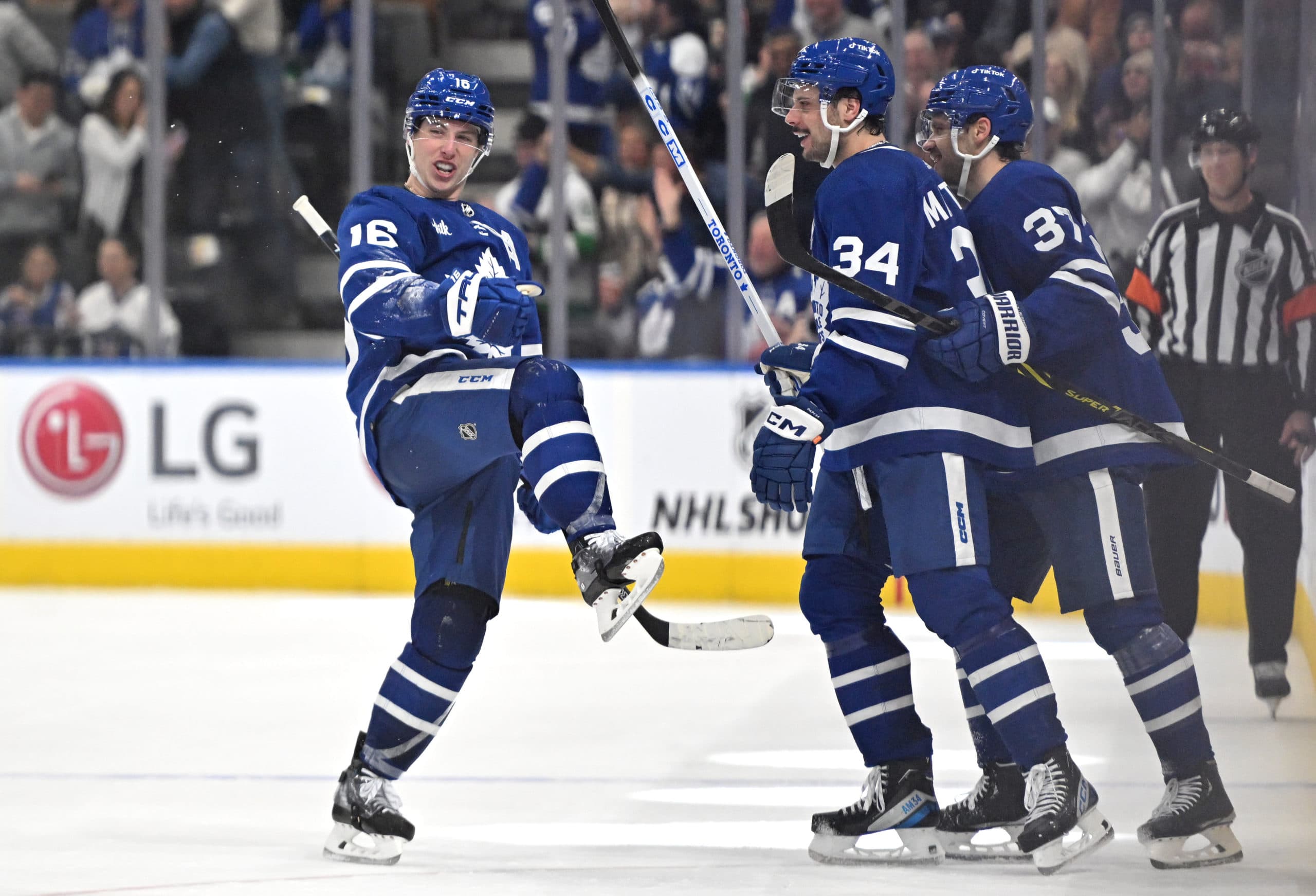 Photo credit:Dan Hamilton-USA TODAY Sports
The Toronto Maple Leafs will enter the 2023-24 with sky-high expectations. With Brad Treliving now running the show, he'll look to continue to put his fingerprints all over the roster as the team looks to take another giant step forward next season.
As the offseason continues, let's have some fun and make five bold predictions for the Maple Leafs next season:
Mitch Marner Wins the Frank J. Selke Trophy
With the legend Patrice Bergeron recently announcing his retirement, look for Marner to climb the ladder and win the Selke trophy next season as the league's top defensive forward. Marner finished a distant third last season and will need to compete with a developing Nico Hischier from the New Jersey Devils.
Marner's ability to play on both sides of the puck is such a weapon for the Leafs. He's so good at it, some members of Leafs Nation think he's supposed to be a defenceman. Amusing for sure, however, Marner's 200-foot game is no laughing matter.
John Klingberg Surpasses 50 points
Welcome to the
John Klingberg revenge season
and get ready for some high-risk high-reward type of play. The mobile blueliner loves to move the puck, he loves to join the rush and he's effective with the man advantage.
Klingberg hasn't hit 50 points since 2017-18, when he was with the Dallas Stars and put up 67 points. He's been hovering around the 40-point mark ever since but with a roster loaded with offensive weapons, some serious power-play time and on a one-year contract where he has lots to prove, Klingberg will be able to put up some big numbers.
Look for the 30-year-old defenceman to hit at least 50 points in Toronto. Yes, he'll need to stay healthy, as he hasn't played a full 82-game season in five seasons, but this is the opportunity of a lifetime and one that could truly benefit both the player and the team.
Auston Matthews Scores 60 Goals
For prediction #3, it's Auston Matthews all day long. Look for the Maple Leafs' star forward to come out flying in October as he's as healthy as ever and has put some lingering wrist issues behind him. Even in an 'off-year' Matthews put up 40 goals in 74 games, next season expect much more. I'm predicting he once again hits the 60-goal mark.
Matthews is expected to start next season down the middle between Mitch Marner and Tyler Bertuzzi. Bertuzzi is going to be a great addition for this line and he's drag them into the fight, but he's also an underrated offensive winger who should be as motivated as ever to put up some big numbers. This trio could create some serious chemistry next season.
Matthews is expected to enter next season with a brand new contract extension which is likely going to make him the highest paid player in the league once it kicks in. He'll have some serious drive to prove he's 'still' among the league's best forwards and more specifically the league's best goal scorer.
I'd love to see Matthews one-time the puck more and score more off the rush. His wrist shot is elite and is something leans on a little too much. Regardless of the how, let's focus on the how many. Look for 'Big Tone' to put up 60 next season.
Treliving Makes Massive Deadline Deal
While the cupboards are necessarily full with assets, look for the
Maple Leafs GM
to make a deadline deal and try to fine-tune the roster heading into the Stanley Cup Playoffs. Treliving has never been shy to make a bold trade and he'll be very interested in doing so during his first full season leading the charge.
Toronto owns a 2024 first-round pick, which could be in play. There's also Nick Robertson, Topi Niemela, and Fraser Minten who will interest other teams.
As far as the much too early rental market, forwards to keep an eye on include Elias Lindholm, David Perron, Jason Zucker, Alexander Barabanov, and Jack Roslovic. As far as defencemen go, keep tabs on Tyson Barrie, Shayne Gostisbehere, Noah Hanifin, Nikita Zadorov, and Ian Cole.
Buckle up Leafs Nation, the trade deadline in 2024 will be a wild ride. Especially if William Nylander doesn't have a contract extension in place.
Maple Leafs Reach Stanley Cup Final
Yes, a part of me thinks the Maple Leafs can do it all next season, but realistically, if they make it to the Stanley Cup Final that would be a massive progression for the team's development. They showed last season they could finally win a playoff series and this small bit of confidence will go a long way when it matters most next season.
Ilya Samsonov is going to be the x-factor. He's coming off a career season and will on a one-year deal looking to secure a contract for the foreseeable future. There's no reason this can't be with the Maple Leafs. There were reportedly no hard feelings and he's going to come into the 2023-24 season locked in.
Treliving will be doing his best to add throughout the season and the changes will continue. Small, but changes none the less. With Sheldon Keefe back behind the bench and with the fresh faces on the roster, it's a recipe for success in Toronto next season. This team is deeper than they've ever been and will be in for a very successful campaign in 2023-24.
Five bold predictions for Maple Leafs next season. Agree with some? Disagree with all? Let us know in the comments and we'll be sure to revisit this article throughout the season.