Only 5 players absent for optional skate following Game 1 loss to Florida: Leafs practice notes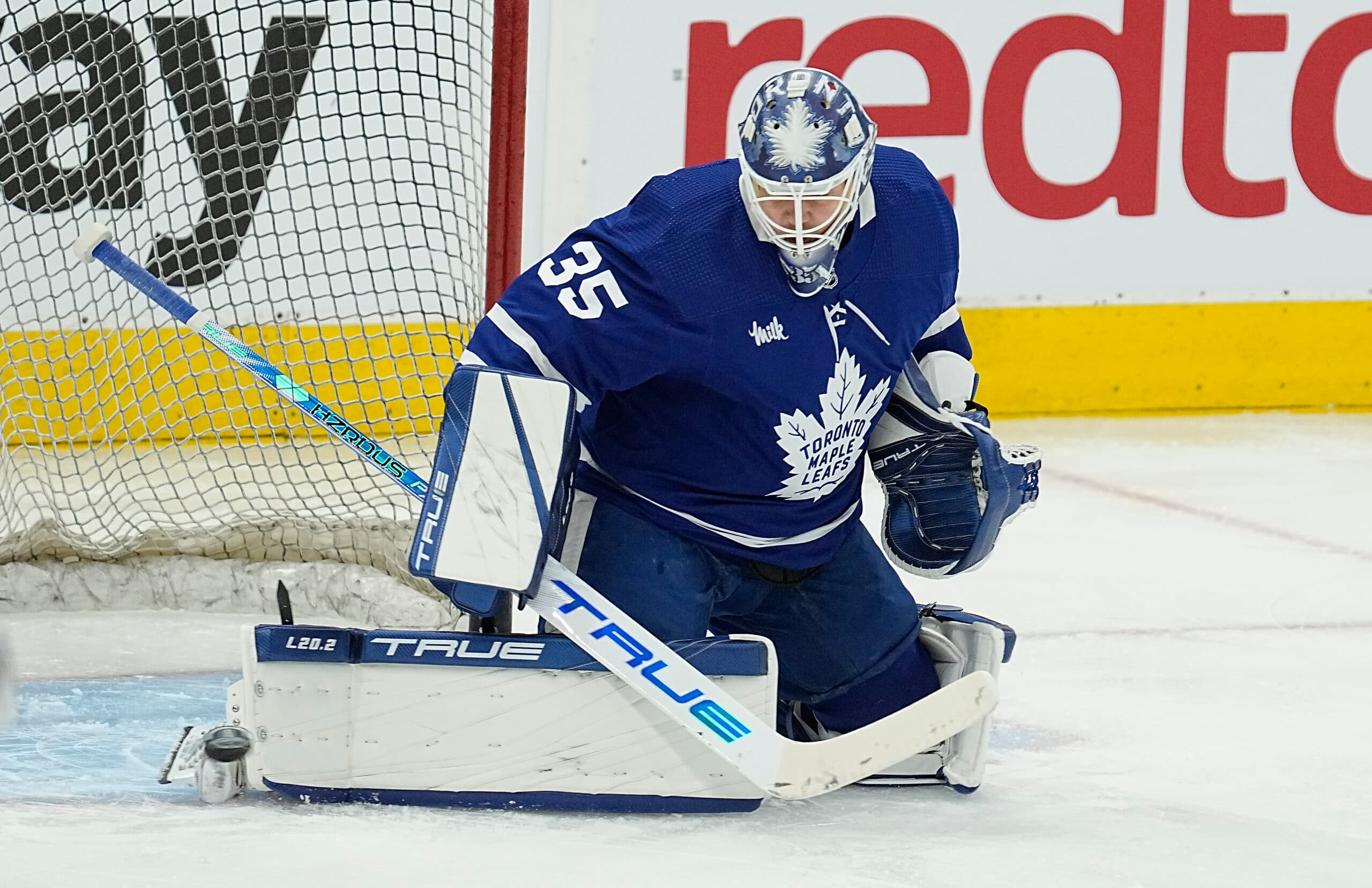 Photo credit:John E. Sokolowski-USA TODAY Sports
Although it was a difficult loss in Game 1 on Tuesday vs. Florida, the Maple Leafs didn't let that change their plans the following day.
Toronto, on Wednesday, had an optional practice inside Ford Performance Centre with nearly every player taking part. A possible good sign of what's to come in their series against the Panthers.
Only five of the Maple Leafs' 20 skaters — who played in Game 1 — decided not to take part in the optional practice. Those players included goaltender Ilya Samsonov, defenceman Jake McCabe, and forwards Noel Acciari, Ryan O'Reilly, and David Kampf.
A much needed day off for those five players who really battled on Tuesday night. O'Reilly, in particular, took a stick to the face in the dying moments of the game, creating a stream of blood as it rolled down his face.
Samsonov, too, was tested a fair bit in that Game 1, and to have a day off like this, it could help him a lot. McCabe threw a few big hits on Tuesday night — tallying four in the game — which could be the reasoning for missing the optional skate.
All in all, though, the absences are likely due to rest and healing a few bumps and bruises that Toronto has gotten through seven playoff games.
Mitch Marner and Auston Matthews began Game 1 away from each other though the pair eventually found themselves on a line throughout the back half of the game. Could we see them start Game 2 together?
If there's anything that should remain the same, it should be Matthew Knies staying on Matthews' wing. The pair teamed up for a goal on Tuesday night and looked pretty impeccable.
Knies has proved a lot of people wrong, including myself, on whether he could be a difference maker or not once he left college. There have been a few bumps, but overall, the 20-year-old looks very strong at the NHL level.
There are a ton of question marks heading into Game 2 vs. Florida, such as that one we just spoke about. But another mystery is whether Toronto will remain with a 12 forward, six defencemen lineup, or if they'll go to 11-7 which got them their series win against the Lightning.
Adding Erik Gustafsson into the mix could help with the speed factor that we saw on Tuesday night. Florida came out much faster than Tampa did, making Game 1 feel like a track meet more than anything else.
The answers to each of those questions could come as soon as Thursday when the Maple Leafs take to the ice for their morning skate. Or, they come shortly before game time. Who knows.
Game 2 between Toronto and Florida inside Scotiabank Arena is scheduled for 7 p.m. with puck drop coming a few minutes later. This one is a must-win for the Maple Leafs.