5 reasons why the Leafs are out of the first round… again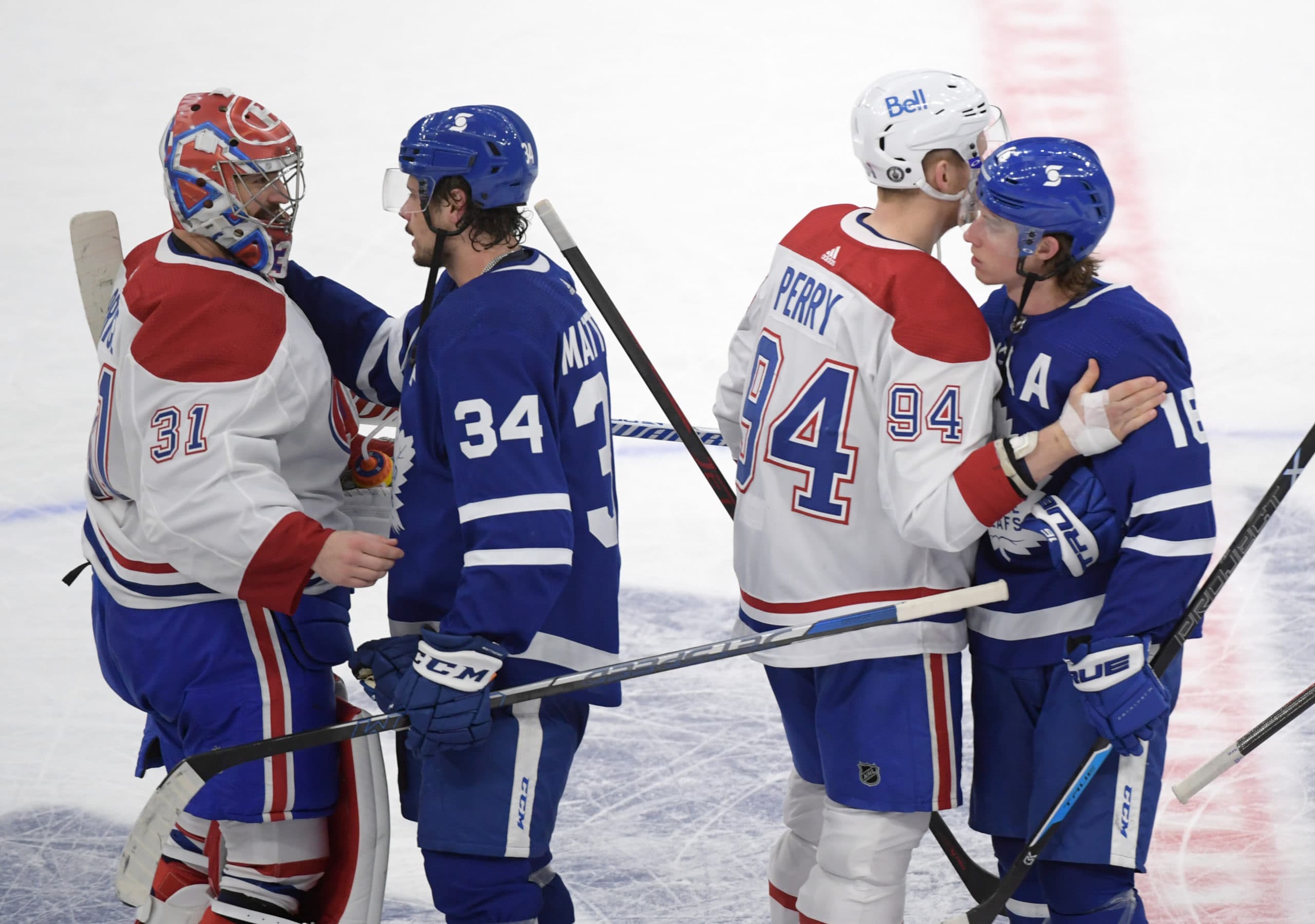 Photo credit:Dan Hamilton-USA TODAY Sports
Well that sucked.
At the end of the day, I'm not entirely surprised, because this is the Toronto Maple Leafs and their entire brand is finding unique ways to crush your soul. But I definitely wasn't expecting this. The Leafs had the best regular season in franchise history as far as points percentage goes, and they were up against arguably the worst team in the playoffs, and had a 3-1 lead in the series, and squandered it. Embarrassing.
But, we already know that. We've already processed what happened, and have more or less accepted it, some even before Game 7 even started, knowing the inevitable. It's time to look at why the Leafs are where they are, what exactly went wrong with a team that looked so perfect going into the playoffs, poised to potentially end their cup drought, never mind their series win drought.
The John Tavares injury
I'll keep this one short because it's more or less just an unfortunate situation that the Leafs couldn't have really prepared for. When it happened I already knew the Leafs weren't going to win the Cup, but even then, I still expected them to beat Montreal. And the Leafs burst out to a 3-1 series lead without him, they could clearly succeed without him.
That said, Tavares was a key piece to that team and what makes it work well, and without him it was going to cause a ripple effect down the line up. Not only were the depth pieces that excelled in lesser roles expected to do more, it also gave the Habs fewer major threats to neutralize, which made it easier to smother the ones the Leafs did had.
Which leads to my next point…
Loading up on gritty veterans at the expense of offensive depth
After seeing what the Tampa Bay Lightning did in 2019-20 to bring in some veteran presence and physicality, I was much more willing to deal with the Leafs bringing in some of those players going into this season. Maybe it would give the team the poise and composure it needed to finally close out a series. Even the players who didn't look as good coming into the season like Simmonds and Bogosian, I was fine as long as their impact in the room outweighed their bad play on the ice. I was even cool with bringing in Foligno because it could've been their Barclay Goodrow trade.
But, my biggest concern about these moves was the lack of scoring depth the Leafs had elsewhere. Beyond the big four forwards, the Leafs only got 20+ points from Hyman, Spezza, Kerfoot, and Thornton, and 10+ points from Mikheyev, Engvall, and Galchenyuk. For a while it didn't matter because the big forwards were good for 2-3 goals a night each and the depth was good for 1-2 goals a night, and that would usually give them wins.
But that offense from the veteran depth faded down the stretch. Simmonds had six points in his first 13 games, but finished the season with four in his final 32 games. Thornton had 11 points in his first 12 games before finishing with 10 in this final 39 games, with seven of those coming in a seven game point streak. Foligno had four points in his first four games, but had just one in his last seven. The only veteran that was consistent was Spezza, who's longest pointless streak was four games all season, and he finished with 30 points in 54 games, and five in seven playoff games.
To make matters worse, they didn't even live up to the "physical role player" hype in the playoffs either. Foligno fought Perry in game one and that was it. They weren't good on the ice, and they clearly didn't help off the ice, as the Leafs blew a 3-1 series lead and continued to look worse and worse as they went on. You would think veteran leadership would've helped calm the room and steer it the right way, but it didn't.
It only exposed the Tavares injury even more. It basically left the Leafs with only a few offensive options in Matthews, Marner, and Nylander, and it made it easier for the Habs to focus on them to shut them down, since the rest of the team wasn't going to do much. Sure, Matthews and Marner didn't do much, but I'll get into that next.
The top line went dry
It should go without saying that Matthews and Marner disappointed in this series. Matthews slightly less than Marner, but after finishing fourth and sixth in the league in points, and scoring 11 and 14 points against the Habs, they were expected to do much better than what they did.
I think ice time is one thing that played a role in that. In the regular season, Marner led all forwards in ice time, and Matthews wasn't far behind in fifth. I know we gave Babcock a hard time when he was here because he didn't play Matthews in the playoffs enough, but that was in the playoffs. There really isn't a need to run these two out 22 minutes a night in a condensed season against weaker teams when you're also running away with a playoff spot and the division title. There's a decent chance that it tired them out, or at least enough to make it harder for them to be their dynamic selves, especially when Tavares got hurt and there was no other threat for the Habs beyond Matthews, Marner, and Nylander.
Now, I'm going to cut Matthews some slack this series, but not entirely. He's the team's best player, is a gamebreaking forward, and led the league in goals. Slumps will happen, but you also expect him to come up big, especially in the playoffs. Scoring one goal was super disappointing, but that's not to say he played terribly. At even strength, he had 26 shots, 39 shot attempts, and an individual expected goals for of 2.68, which is good for third, sixth, and second in the league. He was doing what he usually does, he just didn't get the breaks, and he did that while getting stifled by the Danault-Gallagher line, which is a low key elite shutdown line.
Part of the reason it was so easy to stifle him was because of the performance of Marner. Marner is a super skilled hockey player, and his playmaking ability is one of the best in the league, and is probably the best individual skill on this team after Matthews shot. The problem is that Marner's shot might be one of the worst individual skills on the team, and once teams clue in on that, it's easy to shut down that line. Take away Marner's passing options and let him toss it on net for Price to stop. It's a lot easier than Matthews shot, and it made it super easy to shut down that line, especially with the lack of depth with Tavares out of the lineup.
The power play
This shutdown of the top line extended to the power play, but the power play was also a problem for most of the season.
I was iffy on Malhotra running the power play this season, partially because I didn't really know his coaching style, and partially because he was a penalty killer and I didn't really know how he could give sound advice and strategies for that role. The power play got off to a hot start, but I was iffy on his deployment at the time, and that proved to be correct, as that hot start ended up only being a hot start.
Splitting up the big guns for separate units was always going to be a problem, especially when their ice time wasn't going to be evenly distributed, and with the Leafs lack of depth, it meant that those big guns were gonna be playing with a couple bums. Matthews and Marner is always a lethal combo, but it's not much use when Wayne Simmonds is out there solely to screen the goalie, and whenever he touched the puck otherwise, the play died. Even when he did, it was always inconsistently, and gave the Leafs their worst power play of the Matthews era.
The other big issue was the set up, even when the big guns were all together. The Leafs power play basically had an umbrella set up, and the puck more or less stayed on the sticks of the "canopy" of the umbrella, passing it between Matthews, Marner, and the defenseman until they could eventually get a royal road pass to Matthews for either a one timer or at least enough space to wire a shot, and if that didn't work, they had guys up front to get the rebound.
The problem is that set up is super easy to defend against, especially when two of the three players in the "canopy" have no shooting threat and don't need any serious coverage. So, you always know that the puck is going to Matthews. You could in theory make it more dynamic and move the parts around, but supposedly their $11 million winger with no shot's feelings would get hurt unless he was in his half-wall spot feeding Matthews. The most dynamic that power play was all season was a stretch in game six when the play caused Marner and Nylander to switch, and the Leafs ended up getting more chances using that strategy because the Habs ACTUALLY TOOK NYLANDER'S SHOT SERIOUSLY.
If they want to improve it next season, they probably shouldn't bring back Malhotra, and they definitely shouldn't babysit Marner to make sure he's happy in his role.
Acquiring Nick Foligno instead of Taylor Hall
I'm usually not one to get worked up about the Leafs not getting a guy in a trade because who knows if he was available to them and if it would have worked out. But, it's hard to look past the deadline acquisition of Foligno when Hall was available and, according to most of the major sources, willing to go to the Leafs. He was cheaper to acquire, a much better player, and probably solves all of the problems I listed above.
If the Leafs have Hall, the Tavares injury isn't as big of a problem. It sucks, but it becomes as much of a problem as the Lightning dealt with Stamkos last year. The Leafs would still have four elite forwards, and a top six of Hyman-Matthews-Marner, Hall-Kerfoot-Nylander/Hall-Nylander-Galchenyuk is still super scary. Tavares is still a big loss, but one they can overcome.
If the Leafs have Hall, they have more depth, and don't need to rely on Foligno as a second line centre when it's a role he clearly can't handle. Most of the veterans will play in the roles they're suited for, and they'll be able to make an impact.
If the Leafs have Hall, it gives them another elite line, and suddenly the Habs can't throw all their best defensive players at Matthews, because they now have to focus on a Hall-Nylander duo that can also create a lot of offense and even win a series without much production from Matthews and Marner.
If the Leafs have Hall, they have another weapon on the power play to either be able to split the units, or you even can have an even more stacked first unit with five forwards, with Hall likely being able to play wherever in that unit.
And to all the "what if getting Hall still leads to a first round exit" people, I say that that can definitely still happen. But at least they'd still have a first round pick in the draft. Overall, that was a massive oversight on Kyle Dubas' part, and it's super frustrating to see him excelling in Boston of all places while the Leafs are cleaning out their lockers AGAN.
---
It's hard to say where the Leafs go from here, because at the end of the day, this was an almost flawless team that just imploded in the most unlikely way possible. Whether that's sticking with the core and trying again next year but shifting out some of the depth, or making a big change and trading Marner or something, it's going to be interesting to see what happens now.