5 Toronto Marlies that exceeded expectations this season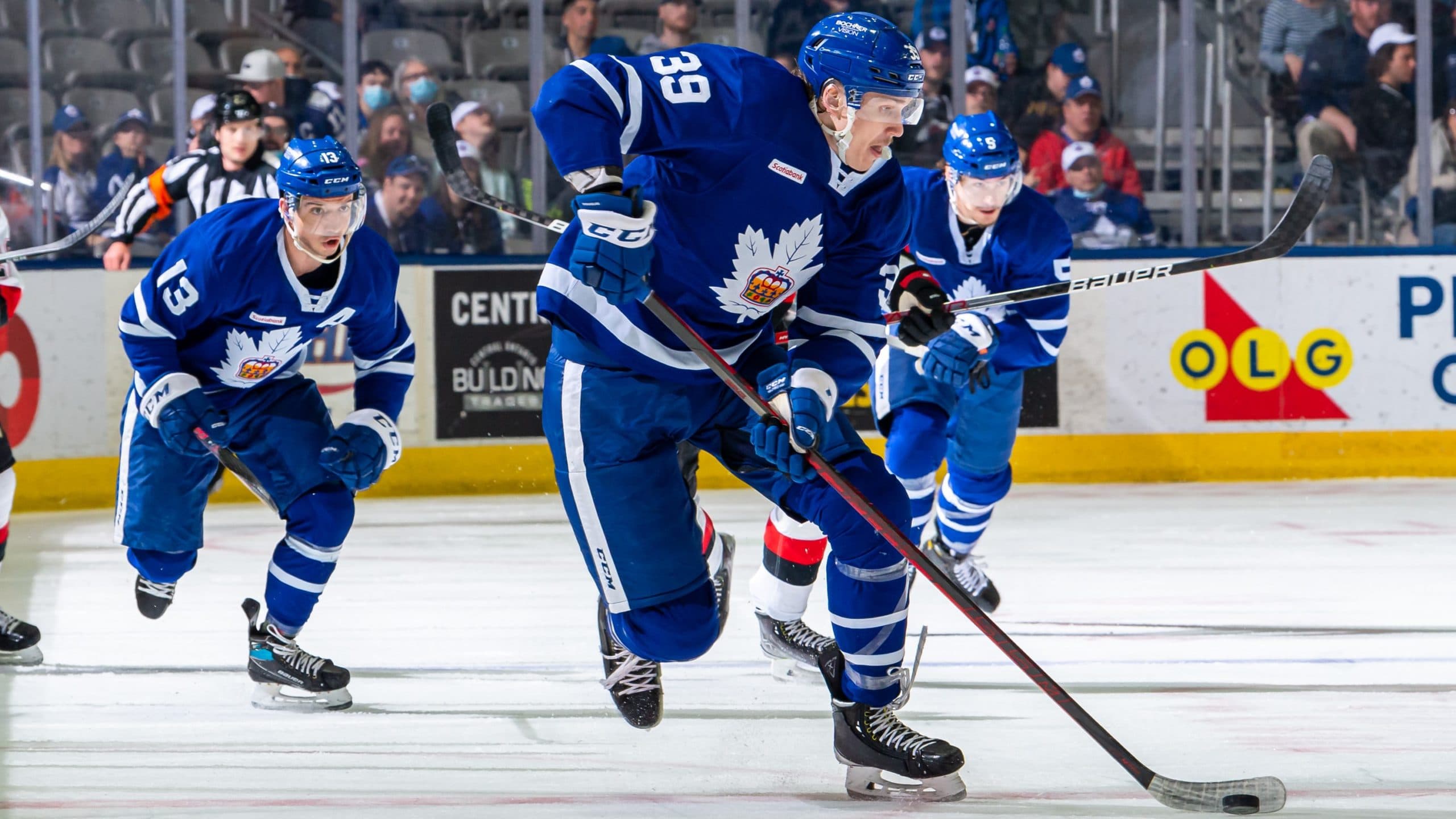 Photo credit:Christian Bonin/TSGphoto.com
The 2021/22 Toronto Marlies season was a disappointing one as the franchise missed the playoffs for the first time in a decade following a heartbreaking loss on the last day of the regular season.
Despite the lacklustre team performance, there were still multiple individual performances that saw their stock rise over the course of the season.
In the first of a three-part series reviewing the notable individual performances of the Marlies this past season, today we'll be taking a look at five players on the Marlies roster that exceeded my pre-season expectations for them during the 2021/22 season.
Curtis Douglas
Coming into this season, no player on an AHL contract was more intriguing than @Curtis Douglas.
Standing at 6-foot-9 and 238 pounds, Douglas is enormous. In fact, if he is to ever play an NHL game, he would become the largest forward in league history. Needless to say, with these characteristics, Douglas was an eye-catching signing on a risk-free AHL contract.
Interestingly, Douglas played for the Belleville Senators in 2020/21 with the OHL cancelled and was unable to play in his final year of junior eligibility. He scored only four points in 11 games and at the season's end, the Marlies came knocking.
My expectation was for Douglas to primarily play as a low event fourth line centre for the Marlies, similar to the role we had seen Hudson Elynuik fill in past seasons, and spend some time with the Newfoundland Growlers.
Instead, Douglas quickly found his rhythm at the AHL level despite playing on the fourth line, heating up as the season went along. He finished the year with an impressive 34 points in 67 games, including 19 points in 32 games during the second part of the season.
Douglas grades out quite well in even-strength scoring when taking into account his usage. He also had good two-way results relative to the rest of the Marlies roster.
Curtis Douglas was properly rewarded for his great season with an entry-level contract by the Maple Leafs and should see a step up the Marlies lineup next season. I'd like to see him generate more shots and chances as a net-front presence and continue to build on his penalty killing, as these are the two attributes he will be required to fill at the next level.
Joey Duszak
I didn't really know what to expect from @Joseph Duszak entering the 2021/22 season. He had been an elite offensive defenceman the entire time he had been in the AHL in previous seasons but struggled defensively. The Marlies also had lots of competition on defence and it was easy to see a scenario where he got left out coming into the year.
The strangest aspect for Duszak was that he again attended the Maple Leafs rookie tournament despite being 24 years old and having two professional seasons under his belt. He was easily the most experienced and oldest member of the squad and seemed to be a reflection of the organization's opinion of the player.
Duszak was clearly looking to prove doubters wrong, as he came out of the gates flying. He was producing at even strength and was a top powerplay quarterback as well, all while showing improvement defensively.
Duszak's efforts over the season cooled in the second half, but it was still enough to finish as the second-highest scoring defenceman in the AHL with 52 points in 61 games and land on the 2nd AHL All-Star Team.
To put together as strong of a season as he did offensively, take strides defensively, and maintain a regular spot in the Marlies lineup despite plenty of competition, it's hard to come away from this season and say Duszak didn't exceed the expectations I had for him.
But there are caveats.
That regular spot in the Marlies lineup I mentioned? Well, he was a healthy scratch for the do-or-die final game of the regular season. Duszak also spent time late in the year at forward as the Marlies experimented with both their lineup but also Duszak as a project.
Sure, there are some abnormal characteristics to Duszak's season, but I couldn't justify leaving him off of this list. Although he is a pending RFA, I would be slightly surprised if he returns to the organization given the way the season ended and
his apparent midseason trade request
.
Bobby McMann
If you told me prior to the season that one of the Marlies signings from the 2020 offseason would set the franchise record for goals by a rookie in 2021/22, I would have put every dollar I had on that being @Pavel Gogolev. If you told me it wasn't going to be Gogolev and I had a second chance, I would've then put all of my money on it being a breakout campaign from Jeremy McKenna.
. . . maybe I shouldn't bet.
Somehow, it was @Bobby McMann to accomplish this feat. The same Bobby McMann that had four points in 21 games in 2020/21 with the Marlies. The same Bobby McMann who had a career-high of 14 goals in 40 games at the NCAA level. The same Bobby McMann who started the season in the ECHL with the Newfoundland Growlers.
Yeah, he's the one who now holds the Marlies rookie goal-scoring record with 24 goals.
I figured McMann would feature as a top player with the Growlers and get the occasional game with the Marlies as an injury replacement. That's how the season started too, as McMann was sent down following Marlies camp.
Quickly, though, McMann found himself back on the Marlies roster when @Nicholas Robertson went down with an injury and the Leafs reinforcements were claimed on waivers. And he never looked back.
Starting in a fourth-line role, McMann's energy and versatility saw him rise up the lineup in no time. McMann featured on both wings and cycled through lines one through four over the course of the 2021/22 season. He finished the season with the aforementioned Marlies rookie record for goals with 24 in 61 games, scoring a total of 35 points in the process.
McMann wasn't solely reliant on a high shooting percentage either. He generated a high amount of individual shots and converted on a reasonable number of his opportunities. At even strength, he was also one of the few Marlies with strong defensive results, pushing play in the right direction all year.
He was initially signed to an AHL extension midseason but was upgraded to an entry-level contract with the Maple Leafs following his franchise record-breaking tally.
Without a shadow of a doubt, McMann was the biggest surprise for the Marlies this season, shattering expectations, and it will be great to see his continued progression next year. Don't be surprised if he gets a game at the NHL level sooner rather than later.
Brett Seney
One of the Toronto Maple Leafs depth signings early in the 2021 offseason, @Brett Seney was coming off of a rough season in the New Jersey Devils organization. He had scored just 10 points in 30 games at the AHL level in 2020/21 with the Binghamton Devils and as a Group 6 UFA, it was easy to see a scenario where Seney may have had to settle for an AHL contract.
While I anticipated Seney would bounce back to some extent offensively, I figured he would mix in as a middle-six option who was a bit of a liability defensively.
Instead, Seney came into the Maple Leafs organization and didn't just find his prior form at the AHL level, but he had a career year as a leader on the Marlies and even made his Leafs debut.
With 59 points in 62 games, Seney led the Marlies in scoring as he quickly became a fixture on the top line. He even showed an ability to play at centre when the Marlies were in desperate need of help down the middle.
Seney was one of the top playmakers in the AHL in 2021/22, showed significant growth in his two-way game, and even had some room to improve in his goal-scoring with solid shot generation and a lower shooting percentage.
As a 26-year-old pending free agent with less than 80 NHL games of experience, Seney is once again a Group 6 UFA this summer. I would like to see him return given his strong year. Not only did he become a great top-six forward again at the AHL level, but he's a perfectly capable call-up option for the Leafs.
Alex Steeves
Oh, the wonderful world of collegiate free agents. Magic beans! A mystery box! A free prospect! Every year, numerous undrafted NCAA players sign NHL contracts and most flame out rather quickly.
@Alex Steeves was unlike most NCAA free agent signings given his younger age, signing at just 21 years old, but there was still plenty of reason to be apprehensive over his projection. While his junior season at Notre Dame was very strong, he only had that season and a good but not great sophomore season on his resume.
Overall, taking into account Steeves' high even-strength production at the NCAA level and his good draft year totals going back to 2018, I was cautiously optimistic. I thought he would feature as a top-nine winger for the Marlies and possibly start to gain more ice-time as the season went along.
Even with an injury at the rookie tournament that kept him out of training camp, Steeves was an immediate impact player as soon as he made his Marlies debut. So much so that less than halfway into the season, he made his NHL debut with the Leafs in mid-December, registering his first NHL point against Chicago.
Finishing with 46 points in 58 games, Steeves had a phenomenal rookie season with the Marlies. In fact, he tied the previous franchise record for goals by a rookie with 23, which was of course overshadowed by the aforementioned Bobby McMann.
What is especially promising about Steeves' rookie season was his ability to generate a high volume of shots. This was something he did at the NCAA level, but to be able to immediately translate that skill to the AHL was impressive. Watch for his goal totals to pop next year if he continues to get that many pucks on the net.
Steeves did cool off as the season went along, scoring 23 points in 25 games during the first half and 23 points in 33 games during the second half. Despite the dip, Steeves was still the third most productive Marlies forward on a per-game basis, only behind Nick Robertson and Brett Seney.
Though I believed a full season in the AHL was best for Steeves, I was surprised the Leafs didn't give him another look on the fourth line after the trade deadline when the discussion around bringing in @Nick Abruzzese and Matt Knies began. Steeves was also an NCAA player, but was also in the midst of a strong AHL campaign, whereas Abruzzese and/or Knies would have been coming in with no professional experience.
Regardless, Steeves had a fantastic season and has rapidly risen up my Leafs prospect rankings. I don't expect him to break camp with the Maple Leafs to begin 2022/23, but don't be surprised if he pushes for a spot and gets more NHL games next year.