5 Toronto Marlies that failed to meet expectations this season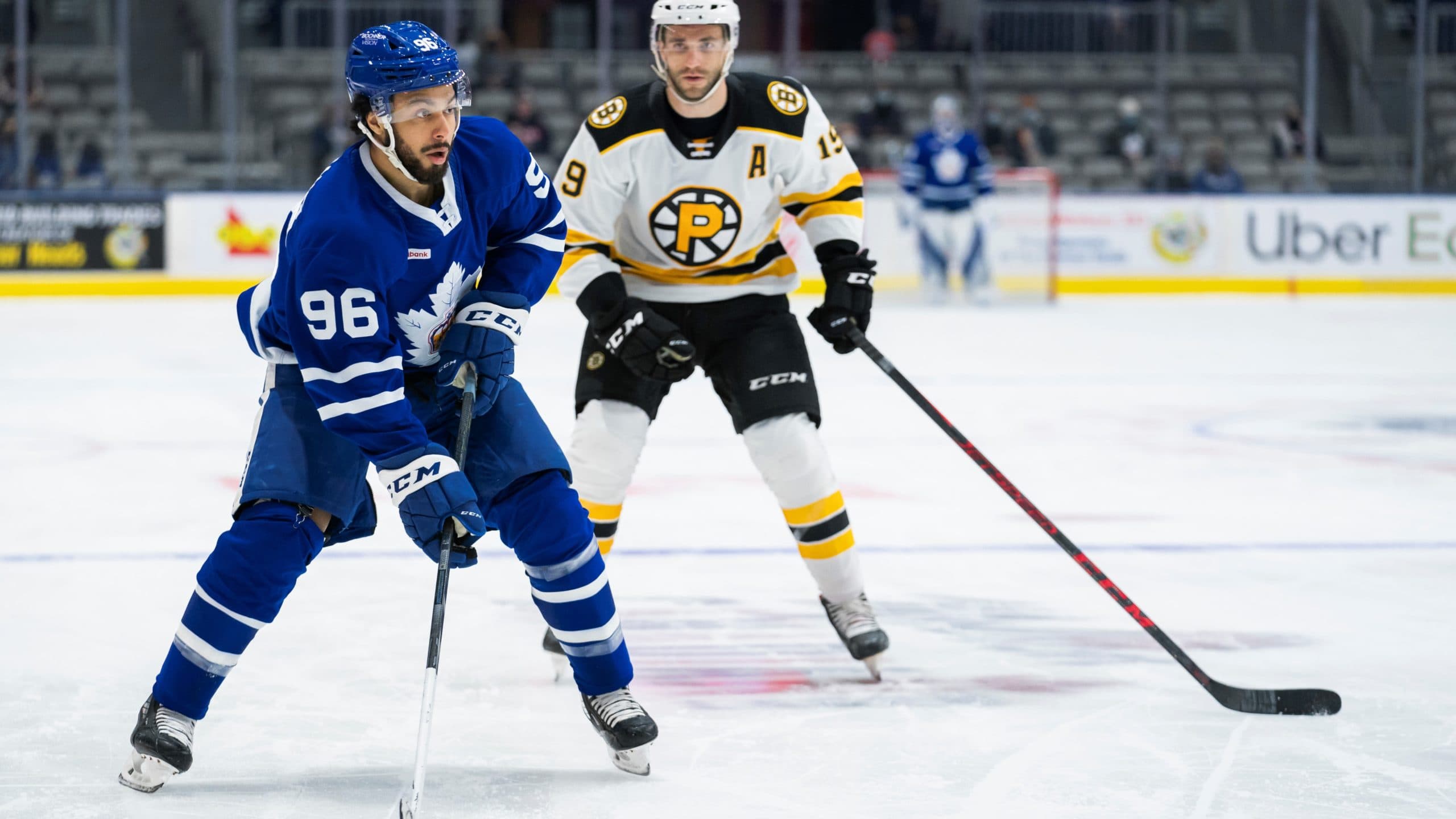 Photo credit:Thomas Skrlj
The 2021/22 Toronto Marlies season was a disappointing one as the franchise missed the playoffs for the first time in a decade following a heartbreaking loss on the last day of the regular season.
Last week, I looked at the positive side of the season and identified five players that exceeded expectations for the year.
You can check that one out here
.
Today, though, we're looking at the other side of things. As the Marlies missed the playoffs, there were players that failed to meet expectations and whose underwhelming performance partially contributed to the early end of the season.
Mikhail Abramov
Making the jump from the junior hockey level to the professional level is a huge step in a player's career. Sometimes it goes smoothly, other times there is a bigger learning curve than anticipated.
For @Mikhail Abramov, his season was much more of the latter. Coming into the season after winning the QMJHL championship in his final year of junior hockey, Abramov was expected to lock down a top nine position down the middle of the ice and provide a spark of offence for the Marlies.
While Abramov did remain in the top nine for a vast majority of the season, it was more so due to the Marlies' lack of centres when the likes of @Adam Brooks, @Kirill Semyonov, and @Michael Amadio all left the organization early in the season.
Finishing the year with seven goals and 28 points in 66 games, there are some positives to take away from Abramov's year, but ultimately it wasn't quite the rookie season many were expecting from him.
Things were trending up in the first half of the year. After a difficult start, Abramov had started to heat up in the middle part of the season, finishing the first half of the season with 19 points in 36 games. He was scoring at just over 0.5 points per game at that point and was looking promising going into the second half.
Rather than continuing his upward trajection, though, Abramov significantly cooled off in the second part of the season. He scored just nine points in 30 games during the second half, three of which came in his final two games of the season. He endured an eight-game pointless streak from mid-March to the beginning of April, a crucial stretch of the Marlies' season.
The main takeaway from Abramov's season is that he needs to trust in his shot more. He became a dominant player at the QMJHL level when he began using his shot and he seemed to get away from that in his first season as a professional. According to Pick224.com, Abramov had just 6.51 shots per estimated time-on-ice, ranking in the 43rd percentile among AHL forwards.
The lack of shots combined with his low individual shooting percentage of 6.8% diminished a lot of the potential offensive impact Abramov could have had in 2021/22. The playmaking was a solid base, wracking up 21 assists as a rookie, so if Abramov can add more of a goal-scoring element to his game next season, he could quickly find himself back on track.
Pavel Gogolev
Leafs fans became quickly excited by @Pavel Gogolev when he arrived on the scene in 2020/21. After a strong offensive career in the OHL, Gogolev immediately stepped into the Marlies lineup in 2020/21 and began scoring. In a limited schedule, Gogolev scored six goals and 12 points in 13 games, production good enough to earn himself an entry-level contract.
Personally, I had my doubts regarding AHL production last season, especially that which came in such a limited sample. The Marlies lineup was heavily depleted due to the taxi squad and various injuries, often dressing just three or four NHL signed players. While this meant a lack of talent at the AHL level, it also opened up the opportunity for AHL signed prospects such as Gogolev to immediately get a chance higher in the lineup and on the powerplay.
Coming into this season, though, I had my reservations over the validity of his near point-per-game pace from the prior season. Even with my doubts, I still anticipated Gogolev to be a middle-six scorer who was a contributor on the powerplay.
It ended up being a disaster of a season for Gogolev, scoring just eight points in 31 games, rotating on the fourth line with the likes of Jack Kopacka, and ultimately seeing a demotion to the Newfoundland Growlers in the ECHL.
Not only did Gogolev fail to score as he did in 2021, but he was also a significant liability defensively. His mid-season demotion to the Growlers was frankly overdue just simply to get him some confidence back, and that spell did go well as Gogolev racked up 20 points in 14 games. It was a move that should've happened earlier though, and upon being recalled he appeared in just one more game for the Marlies.
Currently, Gogolev is still in action as he was returned to the Growlers for their postseason run. He has five points in seven games so far.
This season was a reminder of where Gogolev is as a prospect. He has an ability to score that we saw frequently at the OHL level and even in 2021 at the AHL level. But for those raw tools to be on display, the skating and defensive game still have a ways to go.
Josh Ho-Sang
This might be a controversial pick, as it seems like a lot of Leafs fans are still very high on @Josh Ho-Sang.
Let's get something clear right away. Josh Ho-Sang had a perfectly good season with the Marlies. He scored 16 goals, a career-high as a professional, and 35 points in 47 games. Ho-Sang was an overall positive impact player for the Marlies.
So why do I have him as a player that failed to meet expectations this year?
This one mainly comes down to my own personal expectations for Ho-Sang. Given his pedigree as a former first-round pick with high-end skill, I was anticipating Ho-Sang to come in and dominate with the Marlies. A lot of the discussion surrounding Ho-Sang over his career has been that he was an NHL level talent being buried by the New York Islanders organization.
I'm not here to argue whether that is true or not, but a lot of people expected Ho-Sang to earn an NHL contract and play games with the Toronto Maple Leafs in 2021/22. That didn't happen.
While Ho-Sang scored at a strong rate, there was some left to be desired in his play driving. He was a negative impact defensive player and while he individually produced offence, the Marlies did not score as often with Ho-Sang on the ice as some of his teammates.
Again, Josh Ho-Sang did not have a bad season. But this is not about whether Ho-Sang was good or not, it's about whether he met expectations. As a primarily offensive player that was outproduced by the likes of @Brett Seney (who is the same age as Ho-Sang) and @Joey Anderson, I would say that he did not hit those expectations.
With a high individual shooting percentage and below-average shot generation as well, it's easy to see a scenario where Ho-Sang regresses from his career-high goal total as well.
I do hope Ho-Sang is back next season. He had not played a full season since 2018/19 and that is a long time to go between playing a significant amount of games. There is a lot of good to build on from this season and with 2021/22 under his belt, Ho-Sang can continue to push towards being a depth NHL piece in the Leafs organization should the two sides continue their relationship. I just don't think he's there yet based on what we saw this season.
Jeremy McKenna
Jeremy McKenna was one of the more promising prospects the Marlies had signed to an AHL contract coming into this season. After a stellar QMJHL career, McKenna came into the Marlies last season and produced 13 points in 28 games as an AHL rookie. It was a solid start to his professional career and one that had McKenna looking to build on his success to become a full-time Marlie in 2021/22.
Unfortunately, that isn't how things panned out. McKenna began the season on the Marlies roster but failed to make an impact in more of a depth role compared to the ice-time he received in 2021. McKenna failed to create offence and struggled significantly defensively and after 16 games with just one assist, found himself with the Newfoundland Growlers.
With the Growlers, McKenna had a good season, scoring 20 goals and 44 points in 43 games, but has struggled in the playoffs. He has just five points in 16 games during the Growlers postseason run and has been outscored by the likes of Derian Plouffe and Marc Johnstone.
McKenna's recent struggles combined with the influx of new AHL signings for the Marlies likely means he won't be back next year, which is a bit of a shame if that is the case. I liked his offensive tools coming out of the QMJHL and showed some promise last year in a limited sample with the Marlies, but has ultimately not been able to build on that this season.
Brennan Menell
One of my lowkey favourite moves on the Toronto Maple Leafs offseason at the time was taking a no-risk flyer on @Brennan Menell. Acquired for a conditional seventh-round pick, Menell was a restricted free agent who had an exciting history of production in the AHL and was coming off of a strong year in the KHL with Dynamo Minsk.
As a right-handed defenceman who was just 24 years old as well, I loved the move from the Leafs to grab Menell for essentially free and see what he's got. If he remained a good offensive AHL defenceman as we saw in 2019/20 when he scored 47 points in 57 games, great! If he became a legitimate depth option at the NHL level, well that's even better.
Unfortunately, an early-season separated shoulder derailed Menell's season before it even really began with the Marlies. Menell missed two months with the injury and after an already slow start with two points in the first eight games of the season, Menell was fighting a losing battle in the Marlies lineup.
Menell scored just five points in 20 games during his Marlies tenure and was traded to the Philadelphia Flyers at the trade deadline to create space on the Marlies defence and give Menell an opportunity elsewhere.
While the Menell move didn't work out, I still really like the Leafs going out and getting a young player with a history of results for nothing. I'm not sure if there is another player in the same situation Menell was in last year (the Leafs' own @Denis Malgin might be the best comparable), but I would love to see them make a similar move again this offseason.