Dermott wants to be stronger ally, Mrazek to travel with Leafs, and other happens in Leafland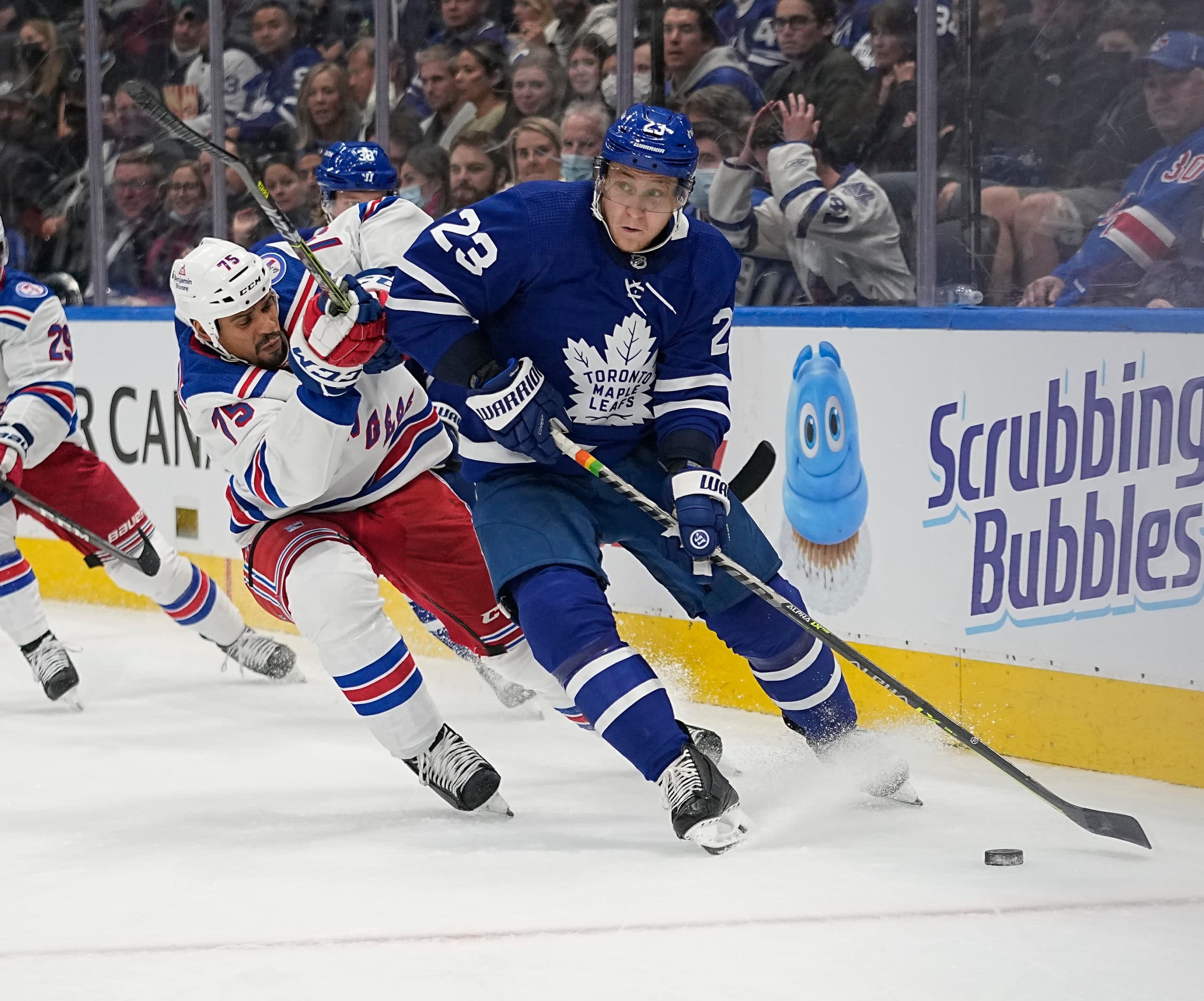 Photo credit:John E. Sokolowski-USA TODAY Sports
The Leafs are a cool hockey team. They do fun stuff and are sometimes the first NHL team trying to help change the game of hockey.
Usually, this is Mer's area of expertise with
Page 6ix
. But with her so busy with work, I thought I'd help bring back some of the
fun 
Leafs news throughout the last week.
Starting with @Travis Dermott's tape job.
Dermott is an amazing person. You don't see many players within the NHL who rock the Pride Tape throughout the season. One of the players that first comes to my mind for myself is @Kurtis Gabriel, who's currently with the Marlies.
And I'll say that we need to see more of this support.
Sure, there's Pride night, but seeing more players doing this on a regular basis would be nice. The fact that Dermott said he'd "like to step forward and in the future take part in supporting them more vigorously" means a lot.
It's only the beginning of Dermott stepping out there, but there's some early optimism. It's really great that he's taking this step in his career.
Next on the list of fun stuff is TJ Brodie shaving his beard.
I do want to start off by saying this looks SO weird. I did some research and throughout his career he's rocked the beard, the moustache, and there have been times where he's gone beardless. But, it's mostly all beard.
As someone who can't grow hair on their face, I envy Brodie. But I'll say it again: this looks weird.
He did it for a halloween costume and that's all that matters. This is the time to plug that TLN's own,
Roxanne
, will be coming out with an article on the Leafs' halloween costumes very soon.
This is something fun, too.
While watching the All or Nothing series, there were players injured who said it's hard being away from the team. When you're away, you're not around them as much and you sort of lose feeling of what it's like in the room.
Mrazek doing this is great for both himself and the team. He's a new player and wants to get to know the team more. I'd be concerned if he didn't want to travel on the road trip with the Leafs.
And part of me wonders if the team lets him travel if he's not skating.
Hmm, interesting.
Hmm, this is also interesting.
We all love quotes from @Jason Spezza on his sticks. And you know what, I'd never change a thing. Ever. I'll go back to All or Nothing again and talk about Spezza's love for hockey sticks. I don't know if I've ever seen a player more into his sticks than him.
He's an ultra "fun guy" and his laugh is among the best on the Leafs.
Our goodbye
You may or may not have seen a trend throughout this article. It's the amount of Kristen Shilton tweets that I've added in. Usually, I would balance this by getting quotes from other beat reporters, but today is both a sad and special day.
Shilton is leaving the Leafs beat.
Shilton was arguably one of the best Leafs beat reporters (and writers), in my opinion. She always had quotes from the players and Sheldon Keefe up on her account and she always provided great insight about the game. Shilton provided almost everything to us.
She was one of the best.
From myself and everyone at The Leafs Nation, we wish her the best of luck on wherever she's going next.