Know Your Enemy: Another day, another heavily injured opponent in the Blues that the Maple Leafs match up well against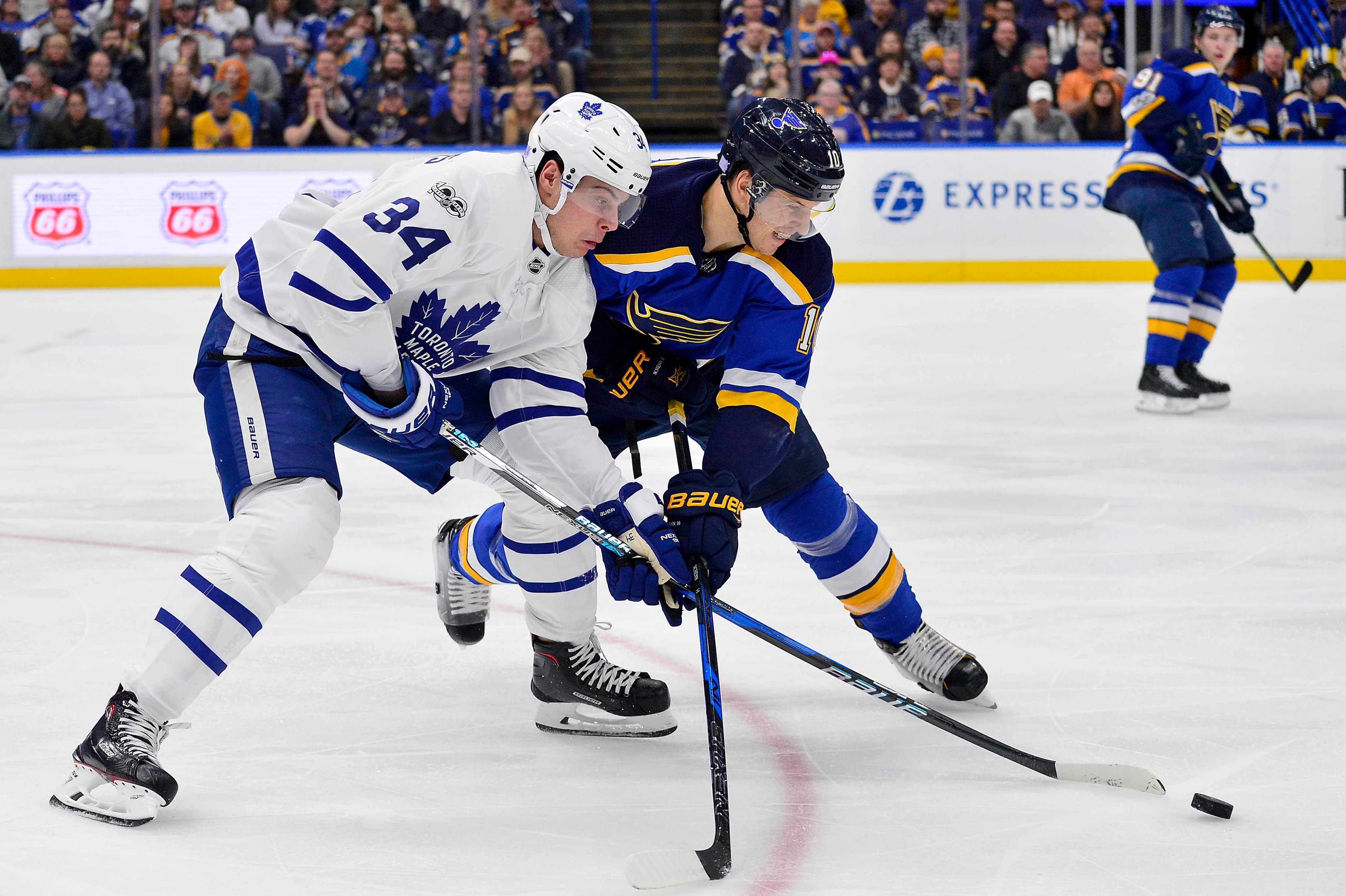 Photo credit:Jeff Curry-USA TODAY Sports
Much like a lot of the teams the Leafs have played lately, they find themselves in a similar narrative playing against a team dealing with a lot of injuries and illnesses. Weird, it's almost like there's a pandemic going on right now or something. You'd think that the Blues would be hurt more by losing @David Perron, @Vladimir Tarasenko, @Brayden Schenn, and @Pavel Buchnevich up front than losing @Colton Parayko on the blueline, but the latter actually takes a bigger toll on them. The Blues have a really deep forward group and somehow manage to have a strong top six still despite losing four pieces of it, while defensively losing Parayko exposes a few holes in the lineup. Combine that with the fact that this team is relying on luck to get them as far as they have, and there's reason for concern as a Blues fan.
Note: This is based on projected lines and starters at the time of publishing. Coaches really love to surprise us right before game time, so there's a solid chance that some of the matchups aren't accurate for the actual game because of that.
Tale of the Tape (via Mark Norman)
Lineups
Toronto Maple Leafs
St. Louis Blues
Forwards
Due to all the injuries and illnesses, the Blues have to put together a bunch of line combos that they haven't had to before. The top line still features @Ryan O'Reilly, who is still one of the best all-around centers in the game. His goal scoring and penalty killing aren't quite what he used to be, but at even strength, he drives play well at both ends of the ice despite playing against tough competition. His linemates are a bit more out of their element, as @Ivan Barbashev is more of a bottom six PK specialist than a force at 5v5 despite a really strong first half of the season points wise, while @Oskar Sundqvist is more of a defensive goal scorer, but doesn't really drive offense at all, and neither of them really do this against tough competition. O'Reilly has the ability to mask those weaknesses, but how much is too much for him. It hasn't worked in their three and half minutes together, as the line rocks a 20% CF% and a 42.86% xGF%.
The second line of @Jordan Kyrou, @Robert Thomas, and @Brandon Saad has a bit more mixed results, as in their 10ish minutes together, they have a 58.7% CF% and a 34.85% xGF%. Kyrou is having a breakout year, leading the team with 37 points in 33 games after finally getting a top six role, and while his defensive game isn't quite there yet, his offensive game is legit. Thomas isn't much of a goal scorer, and doesn't do much on special teams, but his 5v5 play driving and playmaking ability is definitely worthy of a look in a top six role. Saad isn't the two way force he used to be known for, but he's an underrated goal scorer as well, with 12 in 33 games in more of a third line role this year, so he's someone who could do well in a top six role as well. All in all, this has the potential to be a solid scoring line tonight, even if they may allow a couple themselves.
@Klim Kostin, @Tyler Bozak, and @James Neal make up the third line, and at just over 24 minutes, they have the most experience together this season, with underwhelming results of a 50.56% CF% and a 45% xGF%, so it's safe to say this isn't a shutdown third line like what the Leafs have. Kostin is a young player who hasn't quite found his NHL game yet, but he's great at playmaking and drawing penalties so far. Leafs fans don't need an introduction to Bozak, who after years of being thrown to the wolves in Toronto, found a place as a solid defensive player when sheltered. At 35, he has pretty much no offense left in the tank, but that probably won't stop him from scoring on the Leafs tonight. Neal has more or less become a power play specialist at this point of his career, and even then, a lot of that comes from playing on a power play with @Connor McDavid for a while. All in all, this isn't a strong third line, but not bad considering all the players they've lost up to this point.
A depleted lineup really helps the Leafs, as aside from @Ondřej Kaše, the Leafs have a healthy lineup. This means the dominant top line of @Michael Bunting, @Auston Matthews, and @Mitch Marner are reunited, and @Pierre Engvall is back with @David Kämpf, reuniting the core of that shutdown line. @Ilya Mikheyev has seamlessly fit in that line in place of Kaše, so it can still handle the toughs well. This makes the matchups easy to pick out, at least for me. Play Matthews against O'Reilly to start to see if he can overwhelm him, and that makes the rest of it easier, as Kämpf can shutdown the offensive second line, and maybe even exploit their defensive deficiencies to get a goal or two, and let the Tavares line run amok against the weaker third line for the Blues.
The fourth line of @Logan Brown, @Dakota Joshua, and @Nathan Walker hasn't allowed a single shot attempt against when together, but they've also only been together for a minute and a half, so that means absolutely nothing. Joshua is actually a former Leafs draft pick from the first year with Shanahan, and is the ideal fourth liner, great defensively, and draws more penalties than he takes, but not a whole lot else. Brown is a former Sens first round pick, and while he won't reach that potential, he's shown that he can at least play in the NHL when he has, especially now that it's not for one of the worst teams in the league. Walker can't drive offense well, but much like his linemates here, he's also really good defensively, making for a solid fourth line considering the injuries. They'll be up against a fourth line on the Leafs that can normally crush it in the sheltered role, but hasn't done quite as well with @Kyle Clifford there, so it could be a tougher matchup for the Leafs than usual. But if you're going to lose any matchup, it's better that it's the one that only plays six minutes a night.
Defense
The Blues are without Parayko tonight, and that's a big hit for them, as their blueline depth is a bit lacking otherwise. @Justin Faulk and @Torey Krug actually make for a solid top four pair, with a 55.39% CF% and a 51.02% xGF%, but a lot of that comes from Parayko taking the tough matchups so that paired can thrive in an easier role. With Parayko out, they're more vulnerable to the best players on the Leafs, and that could prove to be a challenge for them. Hilariously, they both are good at the things the other partner is bad at, as Krug is a playmaking offensive defenseman who excels on the power play and draws penalties, while Faulk is a defensive penalty killing specialist who also scores a lot of goals, but takes a lot of penalties. They do say opposites attract.
The reason why the top pair might be in more trouble is because they'd otherwise have to rely on @Marco Scandella replacing Parayko alongside @Niko Mikkola for the tough matchups, which isn't something the Blues want. Scandella is pretty much just an offensive defenseman who really lacks a defensive game, and while Mikkola is strong defensively, he's also still in just his second season, so expecting him to go from the Blues best defenseman to one that's terrible defensively while playing the toughest minutes is a big ask. This pairing has played a bit together, all of 23 minutes, with results all over the place with a 55.09% CF% and a 38.84% xGF%. Probably not the pair you want shutting down the Matthews line tonight, but they might not have a choice.
@Timothy Liljegren gets into just his second game in a month, this time alongside @Jake Muzzin with @Justin Holl out of the lineup. That pairing isn't amazing, but worked well enough when Muzzin and Holl were struggling, so it can still hold their own. But as mentioned before, the Blues are in tough without Parayko, so regardless of who that pair matches up with and who @Morgan Rielly and @TJ Brodie matchup with, it shouldn't be too tough for either pair.
@Robert Bortuzzo and @Jake Walman are the only Blue pair you can find among the league leaders possession wise, as their 58.34% CF% is the 38th best in the league, although their 55.85% xGF% isn't quite as high up at 84th in the league. That said, it's not like either of them do anything specifically, they're just solid depth defenseman who excel in sheltered minutes. Walman's defensive game is lacking, but he makes up for it with his offensive game, while Bortuzzo compensates for that by being solid, but not great at both ends of the ice. Unfortunately for them, they're up against a pairing that not only crushes bottom pair minutes, but is probably too good for them in @Travis Dermott and @Rasmus Sandin, so it's still not an easy matchup for the Blues.
Once again, the Leafs have confirmed their goaltender, but the opposing team hasn't. I swear they do this to spite me.
Overall
The Blues have the advantage offensively and with special teams, while the Leafs are better defensively, with goaltending, and at 5v5 play. Now, that's with a healthy Blues lineup, so the Leafs have a chance to take advantage of their injuries and come out with a win, but they'll need to be smart and keep this game at 5v5 if they want to do that. The injuries leave a lot of holes for the Blues, especially on the back end, so there's a good opportunity to exploit them, but O'Reilly is still a good shutdown center, and the second line has potential to burn you if you let them despite their defensive inefficiencies. Between the injuries and the fact that the Blues are on a bit of a PDO bender this season, this should be a win for the Leafs, but who knows with hockey.