A crowded Leafs blueline means that someone could soon be traded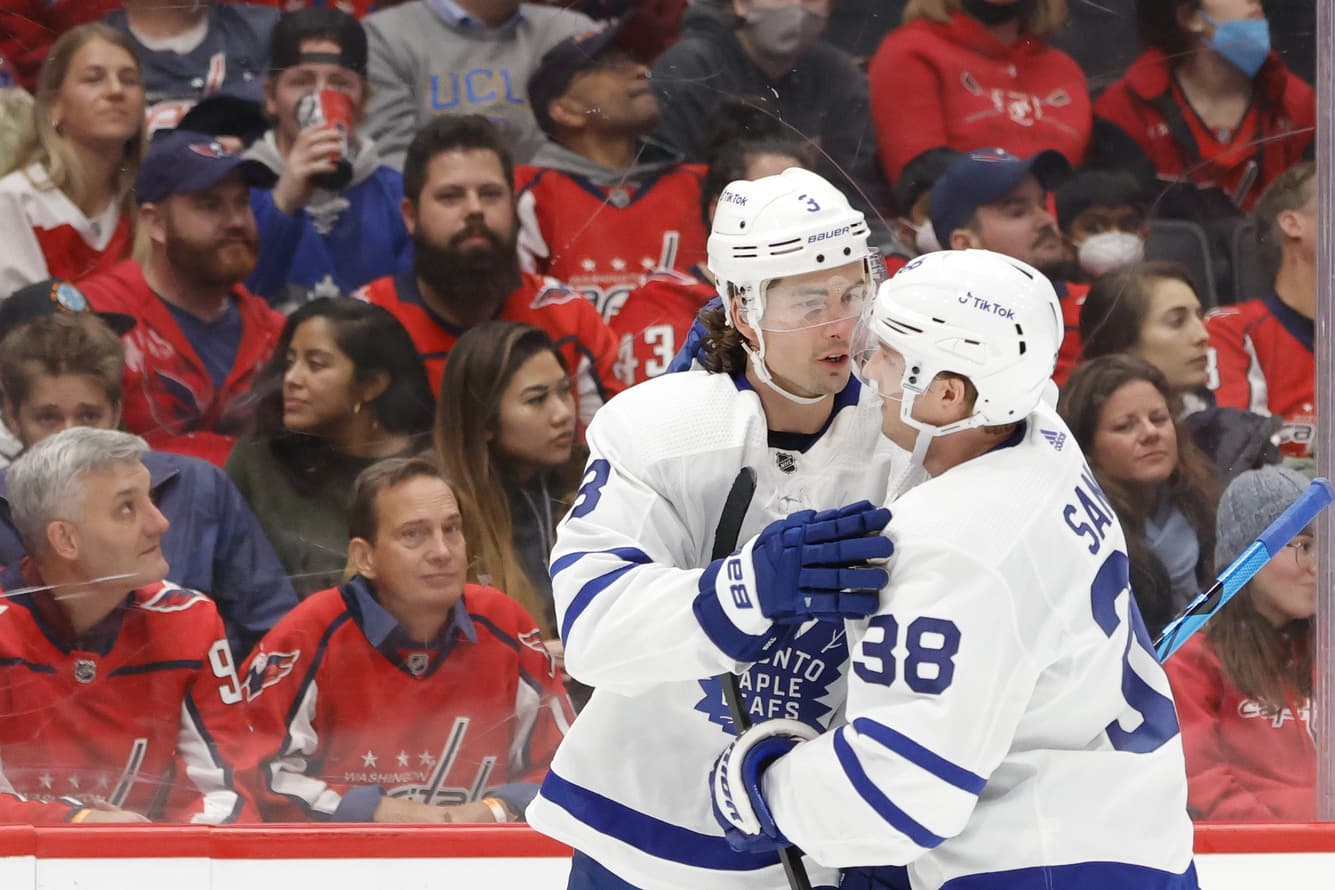 Photo credit:© Geoff Burke-USA TODAY Sports
The 2022 Free Agent Frenzy has only been three days old and the Leafs have made a number of signings already. But besides the addition of @Ilya Samsonov, most have been depth additions or fringe players on low-risk deals.
Two more players were given such contracts when the Leafs nabbed @Victor Mete and @Jordie Benn to identical one-year deals on Thursday night. Regardless of whether they get NHL action or not, it is clear Kyle Dubas wants to ensure his team has its bases covered for each position.
Related:
As a by-product of these signings, the Leafs now have eight NHL defensemen under contract along with @Rasmus Sandin, who was given a qualifying offer but remains unsigned. Simply put, there are too many bodies on the blueline and something has to give or else someone won't be getting much playing time.
Surely, this means a trade will soon follow, right?
Let's start by crossing off the players who are unlikely to be dealt. @Morgan Rielly's new contract is set to kick in and is their best defenceman, he's not going anywhere. @Mark Giordano just signed a two-year deal so it's unlikely he gets dealt so soon, especially since he provided a ton of value. TJ Brodie has been an integral piece on the blueline for the past two years and is also staying put. And @Timothy Liljegren is not getting dealt because he has made impressive strides, is one of the few RHD on the roster, and is young.
That leaves three options for the Leafs to consider trading away to either clear up cap space or bring back an asset that will fulfill a need.
@Jake Muzzin
Muzzin is set to begin his fifth season with the Leafs and has halfway through the four-year contract he signed back in 2020. Since being acquired from the Kings at the 2019 trade deadline, he has been as advertised in terms of his two-way play and leadership in the locker room. Although he wasn't a right-shot defender, there is no question that the deal which brought him in was a successful one and has paid off well.
There is just one small problem: Muzzin is on the wrong side of 30 and has started running into injury trouble.
Since
the calendar flipped to 2020
, he has suffered a combined eight injuries, two of which came during the playoffs. This also includes three concussions that he suffered in a one-month span this past campaign, during which his game seemed a bit off throughout the year and was not as sharp defensively as in seasons past.
While he showed some improvement during the 2022 Playoffs, it is clear that Muzzin is beginning to enter the twilight of his NHL career. He is on the books for two more years at a $5.625 million cap hit and if this past campaign is any indication, that contract could become an anchor should he continue to decline in productivity since he will be 35 when it expires.
There is no doubt that Muzzin has been an integral part of the leadership group throughout his tenure in Toronto, and what he brings to the team if healthy would surely be missed. But therein lies the problem: three concussions in a short amount of time are difficult to overcome and he will need a significant amount of time to recover before he can somewhat return to form. And with his physical playstyle being one that isn't kind to players as they age, it's hard to forecast just how much left he has in the tank.
Combined with his salary accounting for 6.8% of the Leafs' cap hit, it might be beneficial to explore trading him while he still has some value. Perhaps a return to Southern California with either the Kings or Ducks would be a move he would approve, or even packaging him off to the Golden Knights could work. Speaking of Vegas, the Leafs could also execute a salary dump trade with Muzzin's contract to free up some space and use the freed-up salary in other areas.
Having said that, the Leafs might value his leadership and lean towards keeping him. But it would be beneficial to at least explore the trade market for Muzzin cause relieving under $6 million could make a big difference over the next three years.
@Justin Holl
To put that into perspective, here are some of the contracts that were handed out to start this edition of free agent frenzy:
| | | |
| --- | --- | --- |
| Player | Signed with… | Contract |
| Ben Chiarot | Detroit Red Wings | 4-Year, $19 M ($4.75 M AAV) |
| Erik Gudbranson | Columbus Blue Jackets | 4-Year, $16 M ($4 M AAV) |
| Nick Leddy | St. Louis Blues | 4-Year, $16 M ($4 M AAV) |
| Brett Kulak | Edmonton Oilers | 4-Year, $11 M ($2.75 M AAV) |
| Nikita Zadorov | Calgary Flames | 2-Year, $7.5 M ($3.75 M AAV) |
| Ilya Lyubushkin | Buffalo Sabres | 2-Year, $5.5 M ($2.75 M AAV) |
While all six of these defencemen are not game-breakers, the hefty contracts they received clearly show that general managers seem to spend a premium on physical defenders. As a result, they will be given hefty contracts that are far more expensive than what they would get had the incumbent team elected to re-sign them.
With this in mind, dangling Holl for teams that missed out on these types of defenders could be beneficial since his trade value will be higher given the state of the trade market. Perhaps the Leafs could lure him to a team in the Western Conference in desperate need of a blueliner like him, where they could give Toronto more assets than they would otherwise that could be used in package deals to bolster the team later on.
Holl seems to be a popular figure in the dressing room and I'm sure many of the players would miss him. At the same time, he could net the Leafs a decent return package if they try and shop him around. There are also several young defencemen (Liljegren being chief among them) who will need to be granted an extended look higher up the depth chart and Holl remaining on the roster could block that from happening.
Simply put, the Holl era in Toronto is seemingly coming to an end and it might be only a matter of time before he is sent elsewhere.
Rasmus Sandin
It might seem crazy for the Leafs to ship off Sandin while he is still developing and just finished his first full season in the league.
He is only 22 years old, four years removed from being drafted 29th overall, and made strides in his game this past campaign. Under normal circumstances, he would be a top priority for the team to get under contract after finishing up his ELC and has the makings of a top-four blueliner with an expansive toolkit.
But when compared to Muzzin and Holl, Sandin is perhaps the most valuable of the three and could be used as the primary piece in a trade used to bring in a more established player.
One of the major areas that the Leafs need to address this summer is improving the @John Tavares line. Both him and @William Nylander struggled on the defensive end in spite of both putting up solid numbers, and it didn't matter who shared the line with them. The most common linemate for them was Alex Kerfoot, who is
a jack of all trades but a master at none
. While he has a versatile skill set that can allow him to play anywhere in the lineup, he also wasn't enough to help cover up Tavares and Nylander's defensive shortcomings. Even though he is
coming off a career year
, one has to wonder how much better the second line would be if there was a more quality winger beside them.
It's possible the solution could be found within the organization as Nick Robertson or Matthew Knies could compete for a roster spot and might be the missing piece. But with so much riding on the team's immediate and long-term future, it might be more beneficial to try and acquire that piece via trade since there are not many other forwards left worth considering. If that is the route they chose, some parts of the roster would need to be moved.
This is where Sandin comes in. He remains unsigned at the moment and Dubas mentioned how
an offer sheet
would help speed up the process so that the Leafs can decide what to do with him. Dubas also
prefers having Sandin on the left side
, which became more crowded after the additions of Benn and Mete. Obviously the former first-round pick is more valuable than the two new additions and should have no trouble getting a roster spot.  But having said that, the Leafs themselves have too many LHD on the main roster who will prevent Sandin from getting a chance with more responsibility
unless there are injuries
.
Perhaps this is why he has yet to get a contract, especially given that his extension
theoretically could have come shortly after Liljegren's
. If Sandin believes he won't get a chance to develop with the Leafs, then it might be worth exploring the trade market for forwards and attaching him as one of the primary pieces going the other way.
JT Miller is a player that has been connected to the Leafs for the past few months, dating back to February when
Elliotte Friedman speculated about him being a player they may target.
It would no doubt cost quite a lot for Toronto to snag him away from Vancouver, but perhaps building a package that includes Sandin could be enough to kick-start a conversation between the two teams.
It doesn't have to only be Miller, but any type of player of his calibre could be more realistically acquired if Sandin is part of the trade. This is why Sandin could very well be the odd-man out as a result of the crowded blue line.