A fully healthy John Tavares could do wonders for the Leafs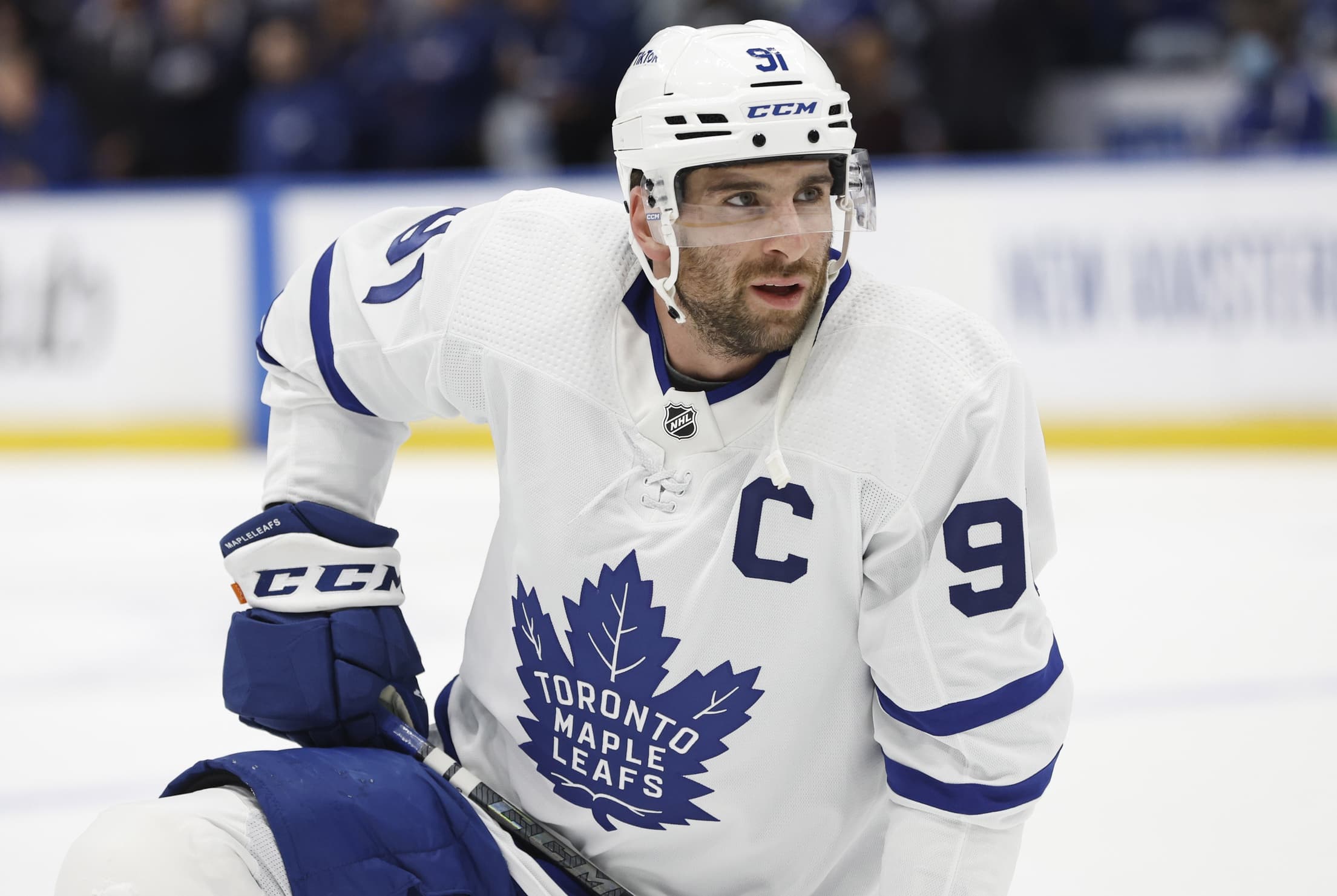 Photo credit:Kim Klement-USA TODAY Sports
The 2022-23 campaign is going to be a pivotal one for @John Tavares.
Toronto's captain is heading into his fifth year on the seven-year contract he signed with his hometown team back in 2018. While he has certainly had his fair share of dominant play throughout the past half-decade (both during the regular season and playoffs) he has yet to lead the Leafs past the first round in all four seasons. Meanwhile, his former team on Long Island has won six rounds and 30 postseason games in that span.
The previous season was a tumultuous one for Tavares, where he scored 76 points in 79 games but also took a step back defensively. His partnership with @William Nylander went under the microscope after some concerning regression made the second line unreliable. It resulted in the Leafs having to rest their hopes on @Auston Matthews and @Mitch Marner leading them to victory.
While that strategy paid off in the regular season since Toronto set franchise records in wins and points, this over-reliance on their top line did not translate into their first playoff series win since 2004. It's no wonder that after Sheldon Keefe decided to
split up Tavares and Nylander midway through the series
, the two players found new life offensively.
Through the first four games, Tavares only had two assists to his name. The final three games saw his production double to four (which should have been five) including this goal in Game 6.
One thing that should be noted about Tavares' 2021-22 season is the sheer fact that he only missed three games given the scary concussion he endured in Game 1 against the Canadiens in 2021. It was certainly
a triumphant sight
to see him return to action five months after suffering the horrific injury, and he nearly recorded a point per game despite not being at 100% efficiency.
Despite this, he has become harshly criticized over the past year and a half for not producing enough points and for his lack of on-ice mobility. While it is true that Tavares has never been the best skater dating back to his OHL days, he has proven countless times to be reliable when the chips are down.
He certainly did that throughout the past season and during the final three games of the Lightning series. It is not out of the question Tavares can do it again now that he has healed and
spent time working on his skating
.
Tavares admitted that it took him some time to get up to speed last summer, which certainly played a factor in his play not reaching his usual standard. He struggled mightily in the first eight games where he recorded four and was anemic defensively. A three-point night against the Red Wings at the end of the month lit a spark for him as he went in to score 15 points in November, which was his most productive month of the season.
This pattern of producing well offensively while doing the polar opposite in his own end carried through the entire campaign. Being lined up primarily with Nylander and Alex Kerfoot, Tavares had inconsistent results as he was on the ice for a combined 69 goals and 73 against at 5v5. Despite having
a bulk of the scoring chances
and
time of possession
, Tavares also recorded an abysmal 43.84 HDGF% combined between Nylander and Kerfoot.
Same goes for his underlying metrics at 5v5: the Leafs get more scoring chances when he is on the ice yet are outscored considerably.
| | | | | | | | | | |
| --- | --- | --- | --- | --- | --- | --- | --- | --- | --- |
| PLAYER | CF% | FF% | SF% | GF% | XGF% | SCF% | HDCF% | HDGF% | PDO |
| JOHN TAVARES | 52.54 | 52.52 | 50.74 | 48.31 | 54.09 | 55.13 | 56.64 | 44.44 | 0.991 |
Indeed, Tavares is now on the wrong side of 30 and these numbers may get worse before they get better. At the same time, he has consistently remained reliable in generating chances so perhaps this is the year where the bounces go his way more often than not.
The 2022-23 season will once again see him as one of the Leafs most important players and will be given ample amounts of chances to succeed both at even-strength and on the man-advantage. What is uncertain is who will be lined up with him on opening night and beyond.
Reuniting Tavares with Marner has long been a popular suggestion because the two were a dynamic duo in 2018-19 and had career years offensively. The chances of it occurring for a long stretch of the season is unlikely because Keefe will be hesitant to separate Matthews and Marner unless there is an injury. Having him paired with Nylander seems to make the most sense, but there is also strong evidence suggesting that moving
Nylander on the third line
improves the depth and makes them tougher to play against.
I believe we could see Tavares see a considerable amount of ice-time with @Calle Jarnkrok and Nick Robertson (should he make the permanent jump). While Jarnkrok has never been the most productive forward, his versatility and consistent play at both ends should make him the ideal player to replace what @Ondrej Kase brought. Robertson's status remains up in the air and he could just as easily be sent back to the Marlies. His scoring ability and raw talent cannot be ignored and that could jell well with Taveres' elite playmaking skills.
All of which is to say that Keefe has his work cut out for him in figuring out who he will place in between the captain throughout the forthcoming season.
Tavares has an important season ahead of him that will give him a golden opportunity to silence his critics with strong play. He never got to fully heal from his concussion from the year before which definitely affected his performance, yet was still able to record 0.96 PPG and finish fourth on the team in scoring. He doesn't need to become the Leafs' best player, but he needs to do enough to lift some of the burdens off Matthews and Marner's shoulders to ensure Toronto remains a tough outing no matter who he shares the ice with.
Now fully healthy and getting a chance to improve his footwork, Tavares has a chance to bounce back and remind the hockey world why he was taken first overall 13 years ago.