A new face on the power play might just be what the Maple Leafs need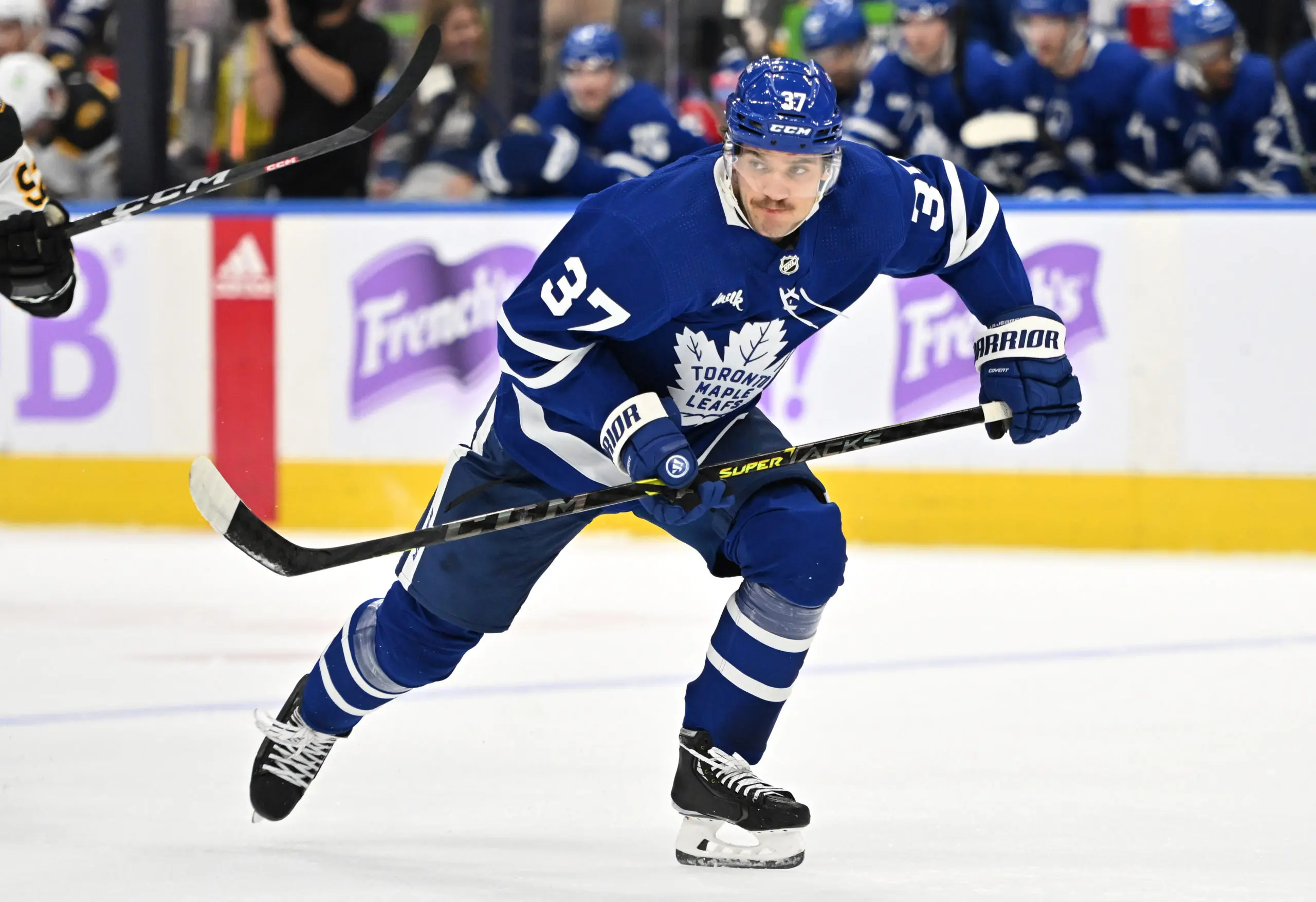 Photo credit:Dan Hamilton-USA TODAY Sports
The Maple Leafs stumbled upon a gold mine and found Timothy Liljegren (who might be a diamond) inside.
We all know his story — being a top-five draft pick until he contracted mononucleosis — which then pushed him back to 17th overall where Toronto got him. At the time, it was such a fascinating pick for the Maple Leafs because not many knew what his ceiling could be.
But after his first full NHL season, plus three games this year, we're starting to see what might be there.
Dexterity. A lot of it.
When the 23-year-old returned to the Maple Leafs' lineup this season, he was immediately thrown into the deep end alongside Morgan Rielly on the top pairing. This was a test for Liljegren, but also a reward for what's been some very solid play from him throughout the last year.
What makes Liljegren so special is his ability to move the puck up the ice. While he was down with the Marlies on a conditioning stint, his puck movement was second-to-none. Every pass was hard, quick, and on the tape of the teammate Liljegren was looking for.
There was a lot of this play last year, too, when the 23-year-old played beside Mark Giordano. Liljegren seemed to be doing everything right, and sometimes it looked like he was one of the best defenders on the ice.
| | | | | |
| --- | --- | --- | --- | --- |
|  2021-22 season advanced stats | CF% (5v5) | GF% (5v5) | xGF% (5v5) | SCF% (5v5) |
| Timothy Liljegren (Leafs DEF Rank) | 55.09 (1st) |  57.58 (2nd) |  59.50 (2nd) |  58.23 (1st) |
Giving the 23-year-old this opportunity to play with Rielly is great. But for myself, I really would like to see Liljegren get a chance on the Maple Leafs' power play because a change is needed on the backend.
Their power play is currently running at 25%, which has them 10th in the NHL. Making that small switch wouldn't change much in terms of how Toronto performs with the extra man.
Most of us witnessed both of Liljegren's goals on Monday night, didn't we? Could you imagine that type of play on Toronto's power play, which has zero goals from defencemen this season.
Even going back to last year — where the Maple Leafs had three goals from their defenders on the power play — two came from Rielly and one was from Liljegren.
Look how much open space Liljegren finds on the right-side here during this play. And not to mention, this is at five-on-five. Just think of what Liljegren could be doing on Toronto's top power play with Marner.
His second goal against Vegas actually gave us a taste of what that could look like.
If Liljegren can find this much open space at five-on-five — while at the NHL level — I'd be fascinated to see how the 23-year-old uses that much open space on the power play.
His one-timer is also heavily underrated. When Liljegren was with the Marlies, he was beating goalies from distance with his slapshot. Obviously, the NHL has better goaltending, but I believe the 23-year-old could have a dominant spell if he was to use it more often with the Maple Leafs.
Liljegren's patience in the offensive zone is also another big reason as to why I believe he'd fit on the power play. Watch as he waits out his opponent and then uses his skating to easily step around him. He then draws in three players before passing the puck to Danny DeKeyser who scores.
This was something that Liljegren did aplenty in the AHL, and with more experience, could definitely do it in the NHL too.
In 102 NHL games, Sandin doesn't have a power play goal. But Liljegren, throughout his 77 games played, does. It might not be the biggest gap, however I do remember that many have been calling for a new defender on Toronto's power play. Someone with a great shot.
I believe that Liljegren could be that guy.
Statistics via NaturalStatTrick.com & Hockey-Reference.com