Adam Gaudette continues to shine, Erik Kallgren trending upwards: Marlies Weekly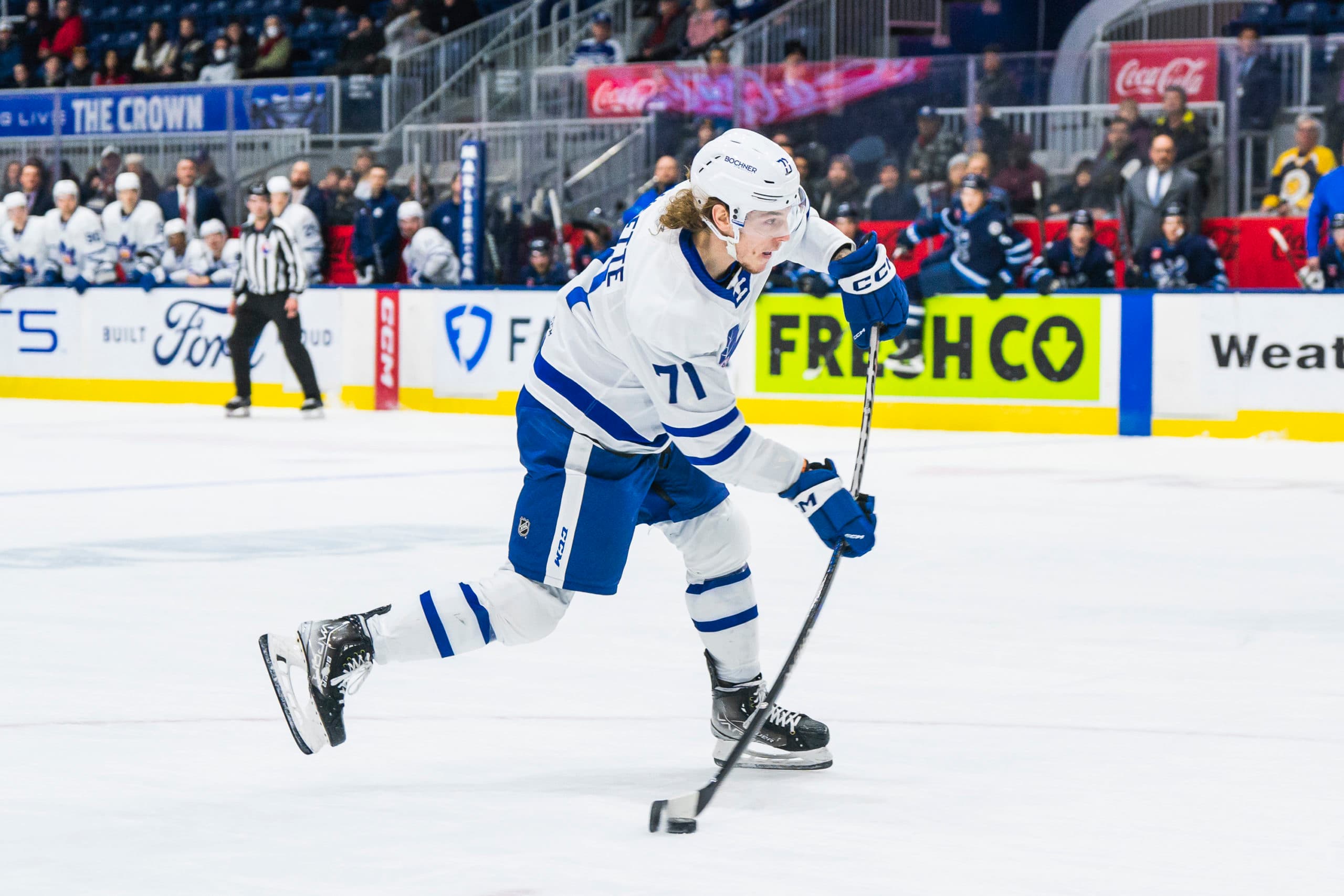 Photo credit:Thomas Skrlj-Toronto Marlies
The Toronto Marlies have finally lost a game after winning eight-straight to begin 2023.
The start of this week saw the Marlies catch a flight from Montreal to Vancouver to begin their Western Canada road trip. They played two games on back-to-back nights in Abbotsford (Tuesday and Wednesday) before flying east to Winnipeg.
Their first game against Abbotsford was where the Marlies were handed their first loss of 2023. It was a 4-0 stinker that most definitely didn't showcase how they've played all season long.
Wednesday's game, though, had a totally different outcome.
Toronto fell behind early, but they clawed their way back, courtesy of goals from Adam Gaudette and Marc Johnstone (who had a pair in the game). This was a day after Johnstone's lip was split open from an errant puck.
"He did every little thing right, working as hard as he could and it obviously paid off tonight."
Two nights later, the Marlies were in Winnipeg to take on the Manitoba Moose. Toronto was entering the game, again, with the will to win.
And that's what they did.
Gaudette scored early on before Semyon Der-Arguchintsev potted
his ninth goal of the season
. Manitoba wasn't able to score more than one goal on Joseph Woll, who stopped 30 of 31 shots he faced.
After another win — their 10th in January — the Marlies are second in the AHL with 60 points, one behind the Hershey Bears for the top spot in the league.
One thing Toronto does have that's better than every other team in the AHL is their power play. It ranks first in the league at 27.4%, and the closest team behind them is the Calgary Wranglers who sit at 24.3%.
Just some incredible play from a team that just missed out on the Calder Cup Playoffs last season.
Is it time for Gaudette to be the next Leafs forward call up?
The only two Marlies forwards who are signed to NHL contracts that haven't been called up to the Maple Leafs this season are Alex Steeves and Gaudette.
Both have built strong cases throughout the season, though with Pontus Holmberg, Joey Anderson, and Bobby McMann playing well at the NHL level, it's halted their chances.
Gaudette has said multiple times this year that he feels like the player he did back in college when he won the Hobey Baker Award.
As of right now, the 26-year-old has 19 goals and 10 assists through 33 games with the Marlies this season. That would be good enough for 41 goals at the end of a 72-game season in the AHL.
Gaudette might not be the fastest skater, but his strength on the puck paired with his strong shot makes him an interesting player at the NHL level.
Erik Kallgren trending upwards
The 26-year-old netminder started in Toronto's second game against Abbotsford. He stopped 21 of the 23 shots he faced and picked up his fourth-straight win when starting in goal for the Marlies.
Although Kallgren has a sub-900 save percentage in his last three starts prior to his game vs. the Canucks, it doesn't mean he's not playing well.
Every game in which he's won, Kallgren has pulled out big saves toward the end of game for Toronto. It's nice to see his game finally turning around after he returned to the AHL.
"You could tell there was a more confident [Erik Källgren] in net today," Marlies head coach Greg Moore
told Crocker on Wednesday night
. "Just his movement and his presence. He made some big saves towards the end there, kicked out two in the third to keep us alive.
"You need that to help teams win games and he gave us that."
In other goaltending news, Woll's 11-game winning streak (a Marlies record) came to an end on Tuesday in Abbotsford. But he returned on Friday against Manitoba with a stellar 30-save performance, as you already read.
He now has a 12-1-0 record and a .928 save percentage this season. On Saturday, I wrote about the 24-year-old's play and how he should be the next call up if Matt Murray cannot be in the lineup for Toronto on Sunday.
The Marlies have one more game left on their boat show road trip before it comes to an end. That game will be played on Sunday against Manitoba at 3PM ET, two hours before the Maple Leafs drop the puck in Toronto.