Alex Steeves deserves a chance with the Toronto Maple Leafs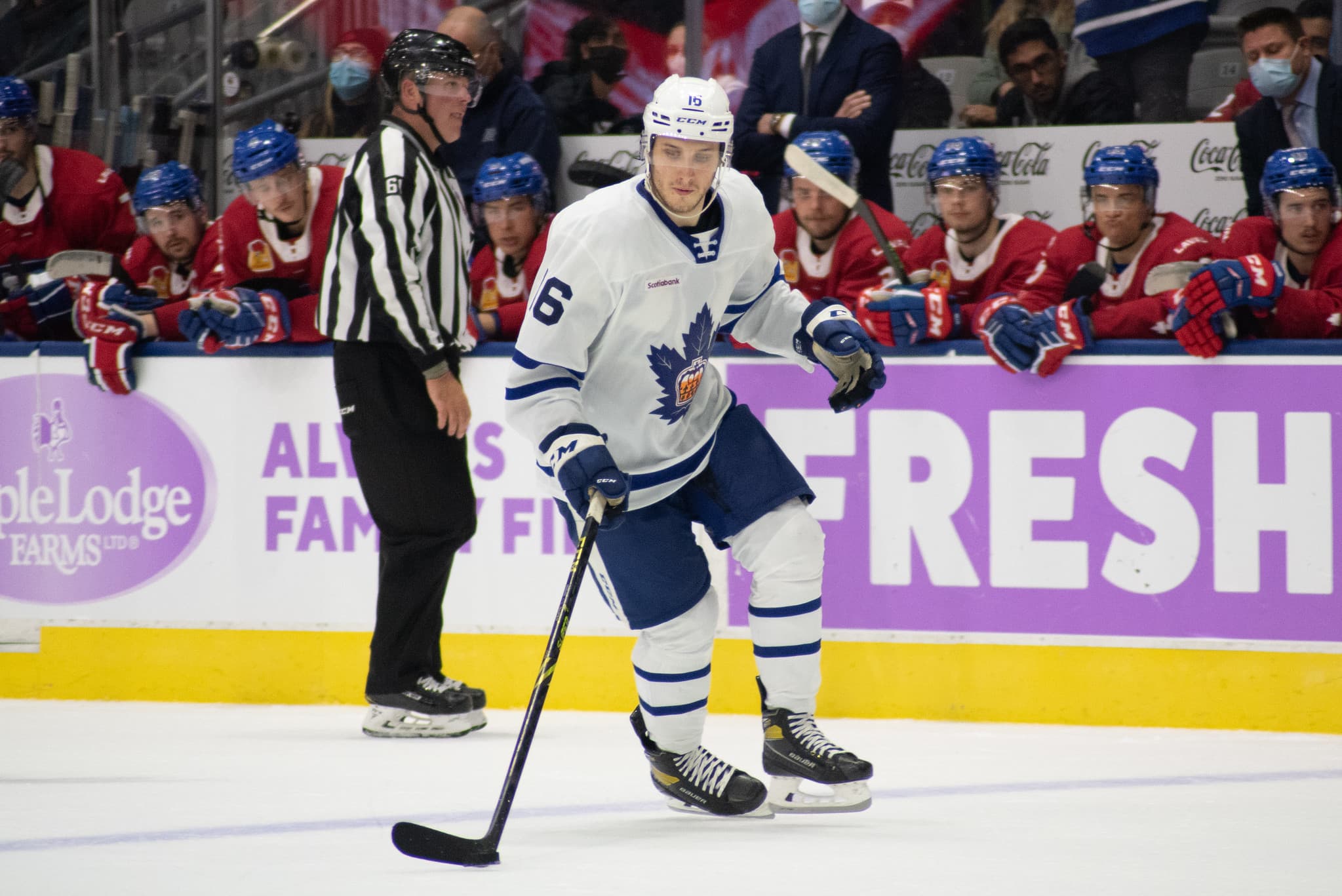 Photo credit:Steven Ellis
The Toronto Maple Leafs have a question to answer at the left wing position, and Alex Steeves could potentially provide some answers for them.
The Leafs have performed well with their top six this season, with the majority of production coming from the 'big four', with a seemingly endless rotation of players on the left side of the ice trying to find the best fit. It looked like the team could have the right answer with Michael Bunting regaining his form alongside Auston Matthews and William Nylander, while Nick Robertson's perseverance saw him get time next to John Tavares and Mitch Marner.
However, Robertson's perseverance was not enough to protect him from a brutal hit that likely won't see him play until around February time if his recovery reaches the top end of the 6-8 week projection. This leaves a hole on the team's second line, and while the likes of Denis Malgin and Alex Kerfoot could certainly step into the role, there should be alternatives considered that could offer a better fit.
This is where Alex Steeves of the Toronto Marlies comes in. The 23-year-old is in the second year of his
three-year entry-level contract
with the Toronto Maple Leafs organisation, having signed immediately after finishing a promising three-year college career with Notre Dame.
He was promptly sent to the Marlies to continue his development last season, featuring in 58 games in the minors with positive offensive numbers, scoring 23 goals and adding 23 helpers along the way. He even earned himself a three-game audition last December with the Leafs, registering his first NHL point with an assist in his final game, a 5-4 victory over the Chicago Blackhawks.
This year, Steeves has continued to impress in the AHL and is currently performing at a point-per-game pace with nine goals and 15 assists through his first 24 appearances. He currently holds a strong, but maintainable,
11.8% shooting percentage
and averages around 3.17 shots on goal per game so far. While he hasn't hit double digits for goals just yet, if he maintains this production then it's bound to happen soon.
He is also an all-around positive presence on the team whenever he is on the ice, sporting a 61.5 GF%, making it clear that he has a high impact in the offensive zone and the team will generally create many more chances with him in play. Having this kind of impact in the AHL will often see a player given a chance to impress at the NHL level, but other players around Steeves have been called up ahead of him, including recent call-up Joey Anderson.
While Anderson plays on the opposite wing, it's Steeves' side that is now in need of some attention. The Bedford, New Hampshire native has decent size at 5-foot-11, 185lbs and is certainly an offence-first type of forward that could fit in nicely alongside Tavares and Marner, who themselves have been lights out so far this year. He can score goals but also has an impressive ability to make plays, with eight of his 15 assists being primary ones.
His $834,167 cap hit is easily managed with the team's currently LTIR list and overall absences, and it would be a fitting reward for a player who has continued to develop and impress since his college days. While Steeves may not be a long-term answer for the team right now, especially with the potential for a big-name trade around the deadline, he is surely deserving of another audition with the Leafs to see what he could offer and to even see if he is better than some of the team's other options at the position.
The NHL roster freeze is fast approaching, so a decision on giving Steeves a chance will likely take place in the new year once that has lifted, so that the team does not call up a player that isn't likely to play enough games through that period unnecessarily. But whether the call is made sooner or later, Steeves is deserving of the chance.