Amidst a Sea of Negativity, John Tavares is Quietly Finding his Groove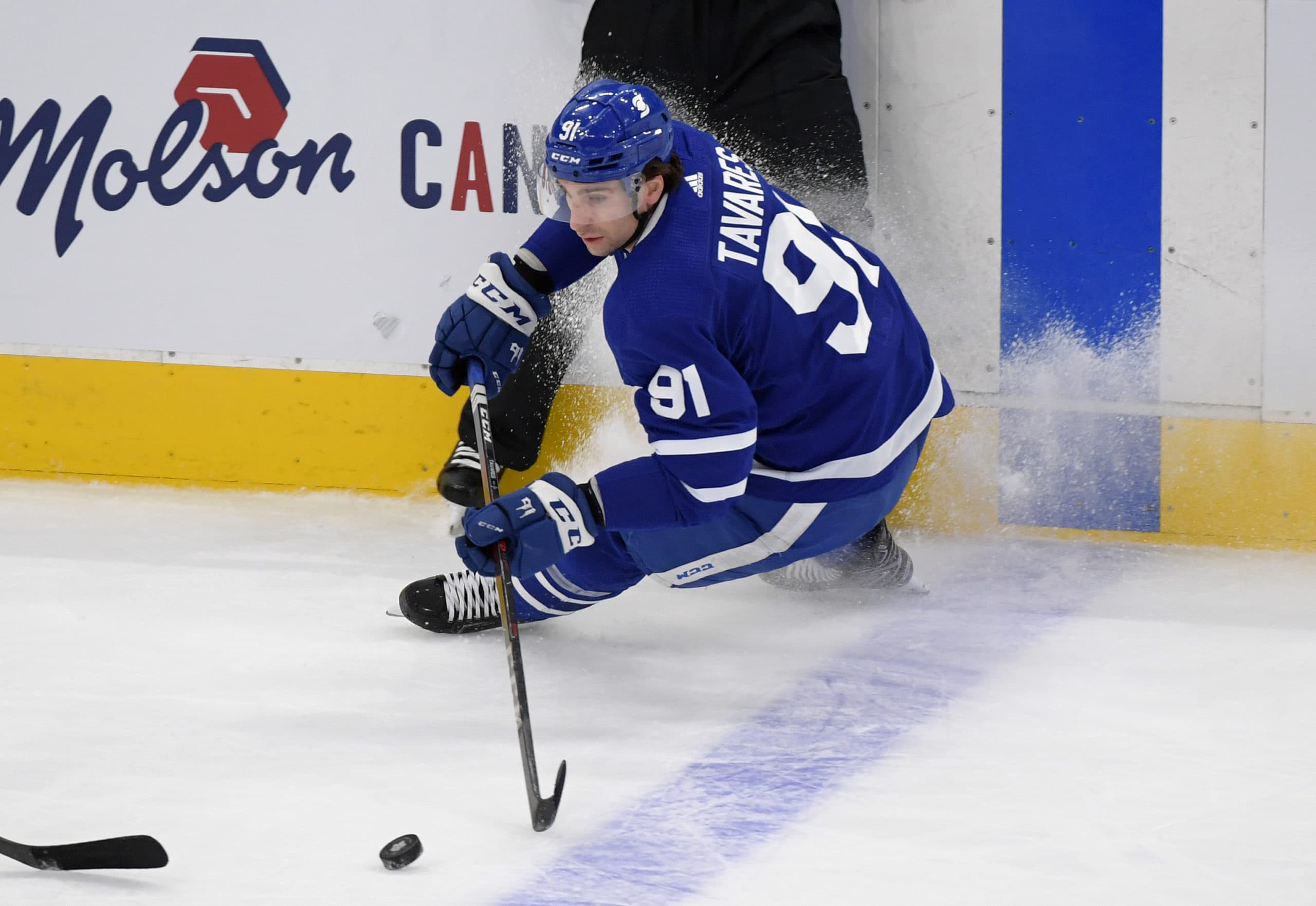 Photo credit:Dan Hamilton-USA TODAY Sports
The last two weeks in Maple Leaf Land have, to put things lightly, been fairly strenuous for the team and fans alike. Following one of the strongest three-game stretches of the Big Four era against the Edmonton Oilers, the Maple Leafs were set to turn over their calendars by wrapping up their road trip against the struggling Vancouver Canucks. Following a pair against them, the Maple Leafs would then head back to Ontario for a three-game homestand against the Winnipeg Jets and, finally, a road game against the Ottawa Senators. During a stretch that many expected to further cement the Maple Leafs spot atop the North Division, the club sputtered badly. Tired legs, unstable goaltending, and an inability to convert scoring chances into goals defined the Maple Leafs' most recent slump. Now, having captured just 2 of their last possible 12 points, the team is starting a long break away from the ice, with just two games between today and March 25th on the docket. Things are getting somewhat messy, and the good luck, which was seemingly raining like mana from the heavens mere days ago, has completely dried up.
Over the bumpy stretch, some players have seen their numbers dip, most notably amongst them being @Auston Matthews and @Mitch Marner, who have both had their once unsustainably high on-ice shooting percentages nosedive in a pronounced way. Others, such as @William Nylander and @Zach Hyman, have kept a steady pace over this stretch and in some ways even elevated their play amidst a shrinking division lead. It has been a mixed bag overall as the team continues to shuffle deck chairs in trying to recapture the chemistry that propagated their winning ways. Among all Maple Leafs players that have raised their game, however, none have come to play in the way that @John Tavares has of late. It has been a long time coming for the Maple Leaf captain, who is seeing a resurgence after a bumpy and underwhelming start to his campaign.
The Early Going
One would imagine that it is pretty difficult to
introduce a new baby
to your household while trying to get your conditioning and gameplay up to speed after a 9-month hiatus from the game. For John Tavares, however, that was exactly what he dealt with during last year's shutdown and subsequent return to play. Tavares' play as the new year began and the season ramped back up was adequate, however, JT was clearly not playing at the level he had the year prior, much less in his dynamic freshman season as a Toronto Maple Leaf. Was it possible that, given his recent 30th birthday, Tavares was beginning to lose his battle to father time? It's no secret that once hockey players hit that magical third decade, the wheels can come out from under them very quickly. Recently, others such as @Erik Karlsson, @Oliver Ekman-Larsson, and to a lesser extent @Nazem Kadri, saw their production dip as they approached their thirties. Given his age and diminishing stats year over year, some fans began to express the concern that the biggest free agent signing in Maple Leafs history
may have been a mistake
. 
At the end of the first month of the season, Tavares, who played mostly with the recently waived @Jimmy Vesey and William Nylander as his wingmen, saw adequate, but certainly not $11 million numbers. In 10 games, Tavares had only two 5v5 points, zero 5v5 goals, and was below break-even in both xGF% and actual GF% at 48.1% and 42.24% respectively per
Evolving Hockey
. Thankfully for the Maple Leafs, Tavares' play on special teams was a big contributor to his point totals early, however,
with 80% of the game being played at even strength
, the numbers were concerning, to say the least. Tavares also had five of his 10 points during the month in the first two games of the season, meaning that he only scored a paltry five additional points in the final eight games of the month. Nevertheless, as the Maple Leafs racked up wins early, concerns were muted, especially given that
Auston Matthews was beginning to tear the division apart at an unthinkable rate
.
Getting the Ball Rolling
February's results were a steady improvement for Tavares and the Maple Leafs as a whole. Despite the fact that JT saw his point production dip, in large part thanks to a 6% shooting percentage, the signs were there pointing to a player that was beginning to find their stride. Tavares saw his underlying numbers increase across the board, as @Ilya Mikheyev was elevated alongside Tavares and Nylander in place of the struggling Jimmy Vesey. Most importantly, Tavares' even-strength totals surged from their sub-50% markers in January. Combined with a string of good puck luck, things began to turn for the Maple Leafs' second line, evidenced by the team scoring 67% of all goals whenever Tavares was on the ice at 5v5. There were still some concerns with Tavares, however, as his line was still being out possessed by Corsi For%, and pucks continued to somehow stay out of opposing nets, highlighted by Tavares' 8th ranked GF/60 amongst Leafs forwards during the month.
This month, however, Tavares has had everything come together in a big way:
Finding a Groove
Per
@HBFAnalytics
via Evolving Hockey, clearly Tavares has taken a step forward, even if the puck hasn't been going into the right net at the rate it was in February (spoiler alert, it helps
when you get good goaltending
). Tavares has elevated his numbers from amongst the league's best to amongst the league's elite, especially when it comes to the defensive side of the puck where he has really made strides throughout this season. Likely due in no small part to another new winger alongside himself and Willliam Nylander, this time in the form of the ageless Jumbo @Joe Thornton, we've seen Tavares continue to produce despite the team around him beginning to falter. JT has once again elevated his game, sitting tied for first amongst Leafs forwards this month with 7 points, and first amongst all Leafs in individual expected goals at all situations. With Tavares on the ice, the Maple Leafs have been controlling play in a big way, as his xGF% at 5v5 for the month currently sits just a hair below the 60% mark. Particularly on the defensive side of the puck, Tavares boasts the fourth-best xGA/60 amongst all Maple Leafs this month. Tavares is finding his game, and once the Maple Leafs start to get saves again, either from Frederik Andersen or someone else, he's going to be a big part of the team's success coming out of this pseudo-bye week.
Not to be outdone, William Nylander's elevated play has also been a big part of Tavares' improvement as well. The duo has really been clicking, as was especially obvious against the Winnipeg Jets, and the pair should only continue to flourish with the additional rest. In some ways, observing the play of John Tavares month over month can serve as a lesson for fans watching the team struggle over the past several games. Fidgeting with things can absolutely help when times aren't going right. Finding the right player to play alongside Tavares and Nylander was certainly a challenge that Sheldon Keefe faced early on, however, it seems that the Maple Leafs coaching staff has found a really solid option in Joe Thornton. Ultimately, however, sometimes all you need is a little bit of patience. It took some time for Tavares to find his game, however, the Maple Leafs believing in the process and refusing to slam the panic button eventually served them well after all. The club continued to ride Tavares to strong underlying results during the end of February and beginning March in particular, highlighted by JT playing above his season average in TOI in eight of the team's last eleven games. Johnny Toronto is finding his mojo and is beginning to produce like the eight-figure player that they are paying him to perform as.