An Ode to Auston Matthews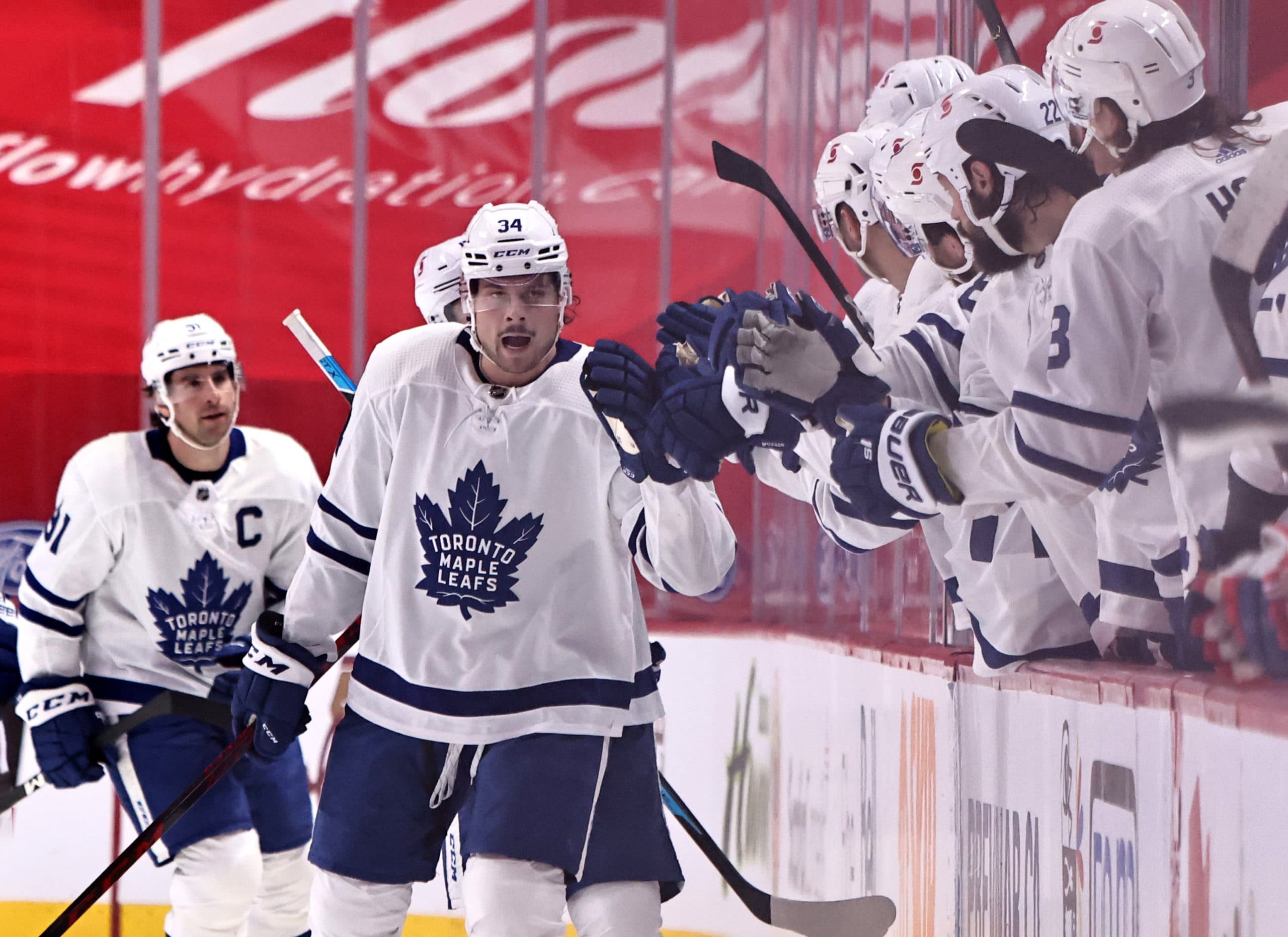 Photo credit:Jean-Yves Ahern-USA TODAY Sports
By the time the final seconds ticked off the clock in the Maple Leafs Saturday night victory over the Montreal Canadiens, Auston Matthews had accomplished something that no other Maple Leafs player had done in nearly a century.
What Auston Matthews is doing right now, sitting comfortably as the NHL's sole leader in goals and ranked amongst the league's leaders in points, is flat out ridiculous. It has been nothing short of a privilege to watch Matthews dominate night in and night out, and with eight points in his last two games, it truly feels like everything the 23-year-old touches turns to gold. The Maple Leafs have had a lot of really special players in their history. My dad cheered for the likes of Darryl Sittler and Lanny McDonald during the 70s, the 90s were defined by the heart of Dougie Gilmour and the tenacity of Wendel Clark, and more recently the likes of Mats Sundin and Phil Kessel have stood out as the faces of their respective Maple Leaf clubs. Toronto has certainly had its highs and lows, but even as a viewer who hasn't lived through the vast majority of the "Fifty Years of Failure", something here feels very different and very peculiar.
Auston's first game, as we all surely remember, was anything but that. His luminescent night did end in defeat at the hands of the Ottawa Senators, but the kid had burst onto the scene in historic fashion with his four goal evening. Matthews would take the momentum of that four goal game and run with it,
even amidst some bumps in the road
, en route to 40 goals in his rookie campaign, making him one of only two rookies to reach that plateau since the first NHL Lockout back in 1995. His elite finishing capabilities were somehow understated while playing overseas as an underager, and upon his arrival to Toronto, he seemed hell-bent on rectifying that oversight. Auston continued to tear the league to shreds while battling injuries in his sophomore and third-year seasons, scoring 71 goals between the 2017-18 and 2018-19 seasons, good for second in goals per game amongst regulars during that stretch. By that point, as he concluded his entry-level deal, the limits that Auston Matthews could reach seemed boundless. Matthews was handsomely rewarded for completely torching the league with a contract featuring the second highest average annual value when pen was put to paper. Even yet, the best was clearly still yet to come for the Scottsdale native.
As the 2019-2020 campaign rolled along, Auston again elevated himself into the conversation of not only the league's elite but amongst the best players in the entire sport. His already lethal shot had only become more dangerous, and as the calendar turned to January, Matthews was roaring. The deeper into the winter the season got, the hotter Auston Matthews became. He truly was the beating heart of what was, at times, a lifeless team under rookie coach Sheldon Keefe. By game 70, Auston was already at 47 goals and was poised to become just the fourth Maple Leaf to hit 50 since Dave Andreychuk did so in 1994.  
Of course, we all know what happens next. Season paused, date with Columbus, hot goalie, crummy shooting luck, disappointing finish. Frankly, it sucked. A facelift followed and the Maple Leafs came into the 2021 season with new divisional foes and a grittier, more experienced lineup than they had in previous seasons. 
From the drop of the puck on the newly minted Canadian "Scotiabank North Division", it was always going to be the Auston Matthews show. Despite a lone assist in his first two games, Matthews led the team in shots with 10, and was looking as dangerous as ever. Then came the point streak. Fast and furious, Matthews continued to do what he had always done so effectively in previous years, pacing the league in shot on goal numbers and constantly posing a threat to opponents. Finding the net with remarkable efficiency, Auston's goal total continued to climb, first the one goal games, then a few multi-goal games, until this past weekend when Auston exploded in a supernova of excellence that Maple Leafs fans had rarely seen before. Now, with 18 goals in 18 games, whispers of 50 goals in 50 games that were nothing more than Twitter fodder seem more like prophecy than prediction, and the man with hockey's most recognizable mustache cannot be stopped.
Not that any confirmation was needed, but the numbers only reinforce the eye test when it comes to Auston Matthews' brilliance. Amongst regular Maple Leafs forwards, per NaturalStatTrick, Matthews ranks 2nd in 5v5 Goals and expected goals per 60 and sits first among his Blue and White peers in scoring chances per 60. While on the powerplay, Matthews has similarly been extraordinary, leading the league in powerplay goals despite ranking "just" 17th in individual expected goals while up a man. The shooting talent of Matthews is simply unparalleled.
Worth discussing also is Auston's evolution as a player when the puck isn't on his stick and when battling to get it back. Not to be outdone, Matthews' defensive game has been superb to start the season, as he continues to evolve into the "All-Around Centre" label that was bestowed upon him on the floor of the Keybank Centre in Buffalo on his draft night. 
The evolution of Matthews has truly been one of the most breathtaking things to watch for not only those with rooting interests in the Maple Leafs but for sports fans in general. Fans of all stripes dream of scenarios that their franchise-defining superstar, the chosen one, becomes the dominant player that leads their team to the promised land. To put it lightly, Auston has become that and so much more. Arguably the most recognizable face in all of hockey behind Gritty, the shining star of Auston Matthews seemingly is only getting started. Right now, the question may be where Auston ranks amongst the league's top players, but pretty soon, it may be where he ranks in league history. If it's worth anything,
the 101st best player of all time
Joe Thornton seems to think that the
sky is the limit for Auston Matthews right now
. Who are we to argue with a player boasting that type of resume?
Realistically, Auston Matthews should probably be expected to cool down at some point. His PDO is through the roof, his on-ice shooting percentage is at 17% and his individual shooting percentage sits at an equally goofy 24%, which would be an NHL record. It will be interesting to see just how long Auston Matthews can ride this out, however, maintaining this goal scoring bender would be a tall task for even the cream of the crop of hockey royalty. This isn't about sustainability though. This is about a player who has gone from a youngster phenom to a man amongst boys. Auston Matthews is so beyond special, and it's difficult to even comprehend how fortunate Maple Leafs fans are to be watching this type of player night after night. Not since the days of Mario Lemieux and Eric Lindros has this type of size and skill been on display in tandem to create one of the most lethal players in all of hockey. We are in the midst of watching an MVP calibre campaign, the type of season that you tell your children and your grandchildren about. The goal is obviously much larger than one player, and Matthews probably won't be able to carry the entire team on his own once the playoffs roll around May 11th. With that said, it truly never is a bad time to step back and reflect on how we got here, and why Auston Matthews is already one of the All-Time great Maple Leafs in team history.