Analyzing Nick Foligno's first week as a Toronto Maple Leaf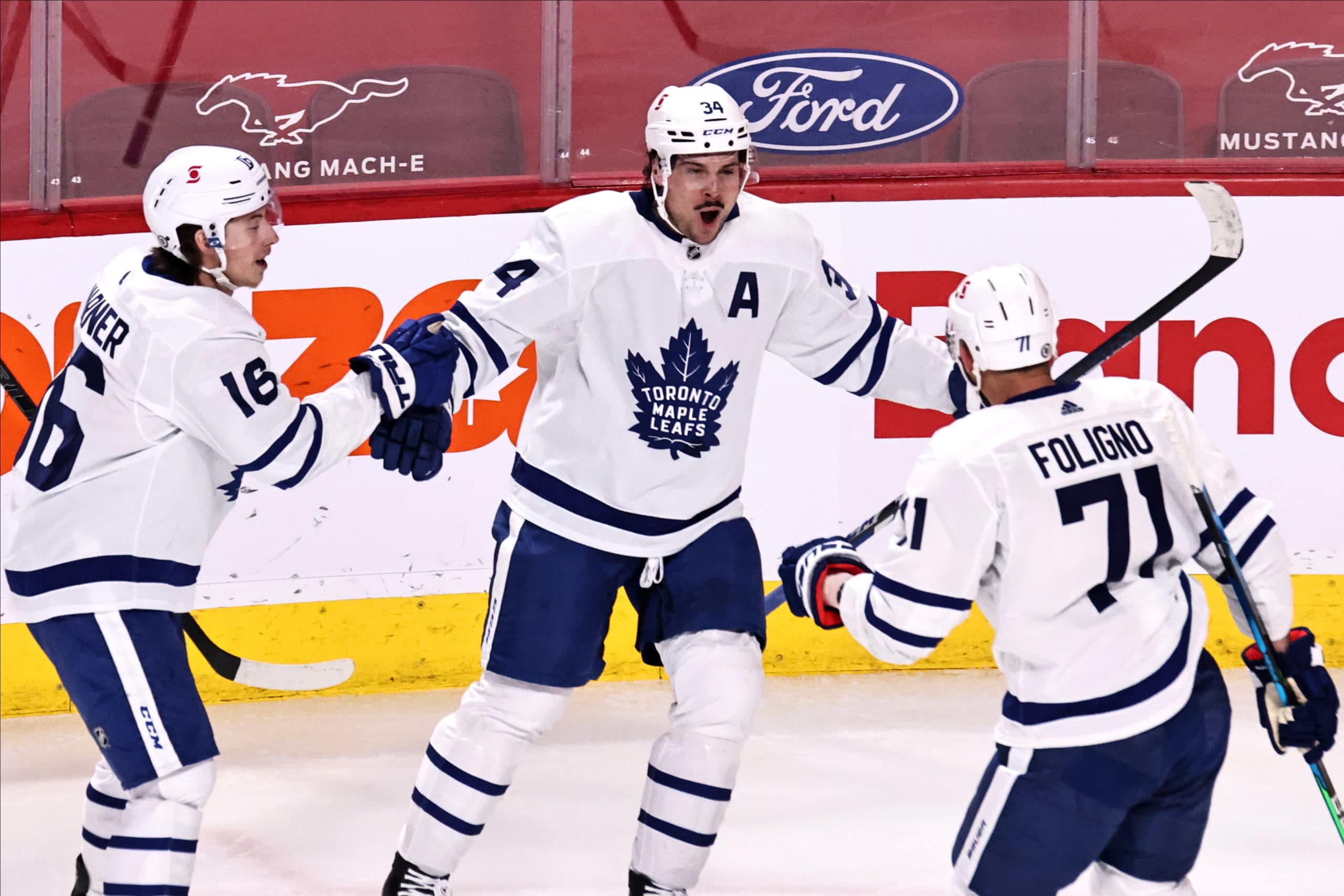 Photo credit:Jean-Yves Ahern-USA TODAY Sports
The Toronto Maple Leafs and their fans finally got to see Nick Foligno suit up and play some games as a member of the Maple Leafs after being acquired on the eve of the trade deadline. After having to go through a seven-day quarantine, Foligno dressed for his Leaf debut last Thursday in Winnipeg and helped push Toronto to victory as they picked up a 5-3 win on the road.
Before the Leafs acquired Foligno, there were numerous arguments over who would be the better pick up if you were the Toronto Maple Leafs come trade deadline day, Nick Foligno, or Taylor Hall? For me, I honestly would've liked either player on Toronto but in my opinion, if I had to pick one guy I would pick Foligno because he just brings so many things to a hockey team.
So now that we've seen Nick Foligno play three games for the Maple Leafs, let's take a dive into how he has played through those games so far.
Foligno's first 3 games
After finishing up his seven-day quarantine, Foligno got the opportunity to slot in on the top line alongside two of the league's best players in Auston Matthews and Mitch Marner, and its safe to say after getting his legs moving after a long period without playing hockey, he looked pretty good beside those two guys as he plays a similar style to Zach Hyman so it really didn't look anything out of the ordinary.
Game 1 @ Winnipeg 5-3 W
As I said, Foligno got the opportunity to play alongside Matthews and Marner on the top line in his Maple Leaf debut and he looked pretty good, to say the least. He ended up registering an assist, a shot on goal and three hits while playing 16:12 in his first game in quite some time. He was also strong on the puck and heavy on the forecheck, something that the line knows a lot about due to Hyman playing up there in the lineup with them sometimes. So all in all, after the first game of those three playing together, they looked pretty good and Foligno had a very good debut in my opinion.
Game 2 @ Winnipeg 4-1 W
Now that Foligno has gotten his first game out of the way it was time for the team to sweep this mini-series against Winnipeg and continue their road trip after this game. Well, that's exactly what they did as they ended up securing a 4-1 win over the Jets and extended their lead for first place in the North Divison. Foligno, just like last game, contributed on the scoresheet and with his intangibles on the ice as he registered yet another assist, followed by two shots on goal, two hits, and a block while playing more this game, 17:02.
Game 3 @ Montreal 4-1 W
Lastly, Foligno got a taste of what it was like to be a part of one of the greatest rivalries in hockey history, the Toronto Maple Leafs vs the Montreal Canadiens. Well, it may not be the same as the rivalries in the past but some of the games against these two teams have gotten a little chippy at times this season, and its probably going to be that way coming down the stretch of the regular season too when they play each other three more times. But for Foligno, he had yet another pretty solid game in the blue and white as he tallied yet another assist while having three hits and a block and registering his highest amount of ice-time as a Leaf so far with 17:30.
Foligno's overall analysis
So after seeing Nick Foligno play those three games for the Maple Leafs, I think it's pretty clear that he has been a good pickup so far for this team as they added a top-six/nine forward that brings a lot to the ice whenever he steps on it and it'll definitely go a long way if they want to make some noise in the playoffs for the first time in almost 20 years.
Through his first three games, despite it being a really, really small sample size, Nick Foligno's advanced stats have been very good so far. But again, it's been only three games and an average of around 17 minutes a night on the ice.
If you take a look at these three images they show you Foligno's advanced analytics through his first three games thus far. According to
Evolving-Hockey
, (as of April 29th, 2021) Foligno ranks first on the team with a 68.01 xGF% (expected goals for percentage), ranks sixth with a 2.78 xGF/60 (expected goals for per 60 minutes), and ranks second with a 1.31 xGA/60 (expected goals against per 60 minutes)
Although it has been a small sample size and we really shouldn't judge him just on three games, he has honestly looked good so far and being alongside Matthews and Marner makes it even better. However, when everyone comes back healthy, the main question is going to be if he should remain on that top line and if Hyman should remain on that third-line, or if both of them should switch and allow Hyman back on the top line again and give Foligno a shot on that third-line and help act as a shutdown line alongside a guy like Ilya Mikheyev and whoever else Sheldon Keefe decides to slot there.