Around the Atlantic: Bruins linked to Stamkos, Lightning goaltending issues, Dach out for the season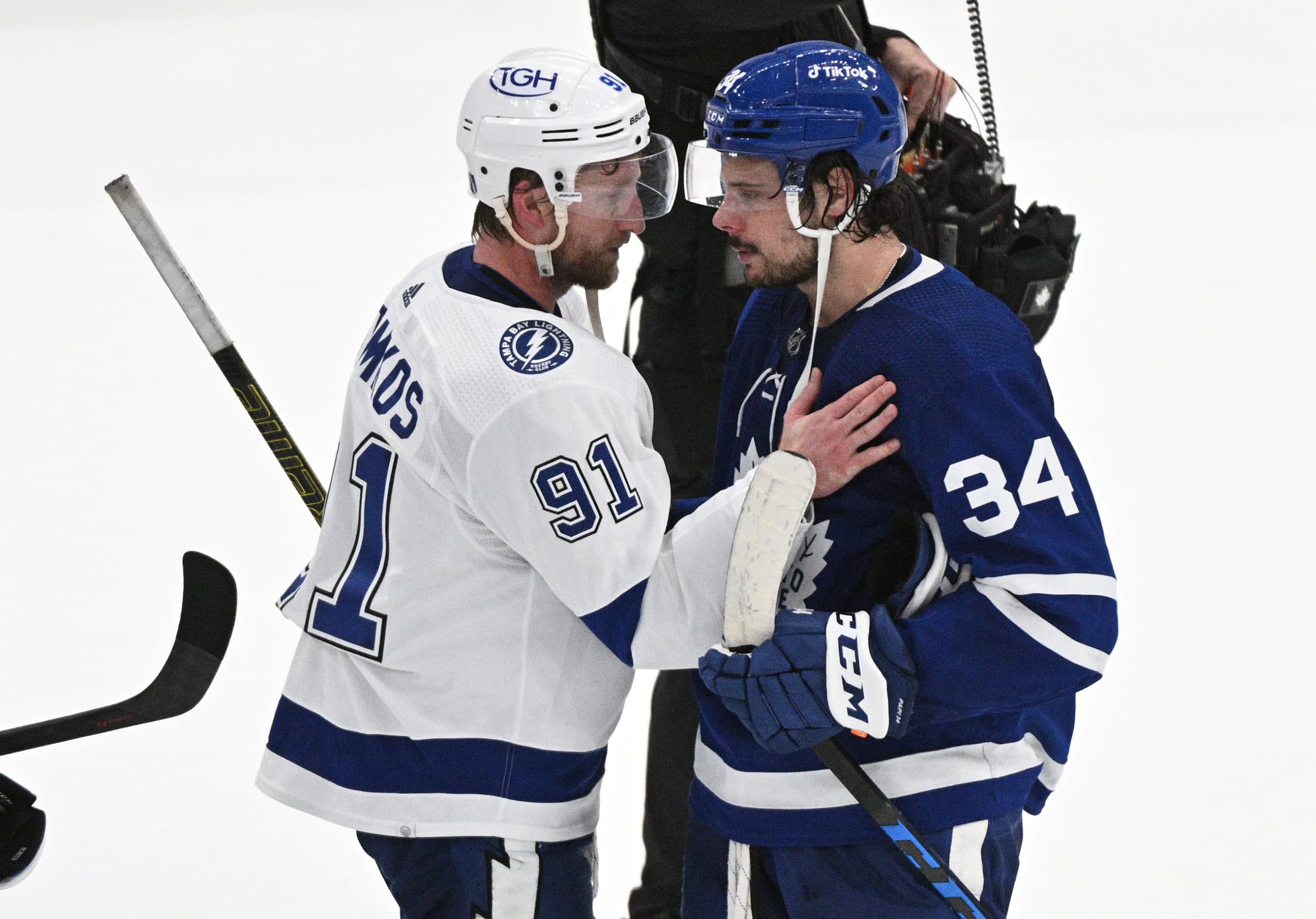 Photo credit:Dan Hamilton-USA TODAY Sports
Welcome back for another edition of Around the Atlantic, our Wednesday column that will showcase any trending news surrounding the Atlantic division and of course, the impact it may have on the Toronto Maple Leafs. 
After our
season preview last week,
gear up and get ready as we focus this week's piece on the Boston Bruins, Tampa Bay Lightning and Montreal Canadiens.
Bruins Have Been Linked to Steven Stamkos
After one week of action the Boston Bruins sit atop the division with a perfect 2-0-0 record. As expected, the Bruins are displaying some strong goaltending, however their depth up front continues to be questioned. There's no doubt at some point this season general manager Don Sweeney will address the forward group via trade.
Earlier this week the
Bruins were linked
to Steven Stamkos of the Tampa Bay Lightning. While it's an absolute pipe dream to think the Lightning are going to deal away their captain to an in-division rival, stranger things have happened. Unlikely, yes, but not necessarily 100% impossible. It's all going to depend where the Lightning sit come January and February, and if they're out of the Stanley Cup Playoff picture, sure, a Stamkos trade could be possible. To Boston? The longest of long shots.
The crazy part here is how the Lightning are treating the whole situation. They've admitted they're not interested in negotiating a contract extension with Stamkos during the season and will assess the situation at a later date. It's like management has all of a sudden forgot how much Stammer has done for their franchise. The strength of this relationship is something to watch as the season's continues.
Two other forwards who make a lot of sense for the Bruins to be interested in include Tomas Hertl and Logan Couture of the San Jose Sharks. There's also TJ Oshie of the Washington Capitals who could become a trade candidate.  The good news for the Maple Leafs, who will be battling it out all season with the Bruins for the top spot in the division, is that Toronto will be trying hard to acquire a defenceman and shouldn't have to worry about outbidding Sweeney in Boston as they'll be focused solely on centres.
As for the Bruins current forward group, ex-Maple Leafs James van Riemsdyk is off to a fine start in his first season in Boston. JVR scored two power-play goals in the B's win over the Nashville Predators and while he's not expected to play major minutes, the veteran forward is still one of the best net-front presences in the league.
The Bruins have three games this week and they head south west for their California trip. They don't play the Maple Leafs until November 2nd when they host their divisional rivals.
Lightning Can't Keep the Puck Out
When the Bolts announced Andrei Vasilevskiy was heading for back surgery, immediately the team was linked to several goaltenders around the league. It was a bit shocking to see GM Julien BriseBois sit on his hands before the season started, but apparently he wanted to see how things shook out and didn't want a knee-jerk reaction.
Well, after the opening week of the season and a 1-3-1 record, it's obvious the Lighting can score with 13 goals to show for, but it's keeping the puck out of the net that is the problem. Tampa has given up a league-leading 17 goals through the team's first five games and there's no doubt BriseBois is going to have to upgrade from Jonas Johansson and Matt Tomkins. An .893 save percentage isn't going to cut it for a team that was expected to be a contender this season.
This is where the Maple Leafs could come in.
Martin Jones
was recently sent down to the Toronto Marlies and while he cleared waivers thanks to a creative contract, it's likely the Lightning would now have some interest. If they don't, they should. Jones would be a huge upgrade over their current duo. He won 27 games last season with the Seattle Kraken, meanwhile Tomkins and Johansson have a combined 12 wins total in their NHL careers.
Again, trading in the division is tough because you don't want to help out your rivals too much but this could be something to watch over the next couple of weeks.
Canadiens Dach Out for the Season
The Montreal Canadiens announced that
Dach suffered
an MCL and ACL tear in his right knee which requires surgery and now the 22-year-old, who has gone through enough injuries already throughout his young career, is once again shelved for the season. Look for Sean Monahan to be given an increased workload with Dach gone for the year. This could be something to watch for Treliving and the Leafs.
Toronto currently has Fraser Minten lined up in the third-line centre role, but it appears likely that he's going back to junior once he plays his nine games in the big leagues. Pontus Holmberg will likely get an extended look when time comes, however, Treliving could have an appetite for a veteran addition down the middle later on this season. He knows Monahan well from their days together in Calgary and this could be a legit match for the Maple Leafs.
Monahan, 29, is a pending unrestricted free agent who is on the books for a $1.95 million cap hit. After putting up 17 points in 25 games last season, the Brampton, ON native has collected two points in the first three games this season.
The Canadiens are not a playoff team so expect GM Kent Hughes to sell off some assets before the trade deadline. Monahan and the Maple Leafs is something to monitor throughout this season.
There we have it folks, episode two of Around the Atlantic in the books and you can already tell it's going to be an entertaining season in the Maple Leafs' division. The storylines are gaining steam, the trade rumors are already surfacing and we're just getting started.