Around the NHL: Vasilevskiy is back, the coaching carousel continues and Kuzmenko has landed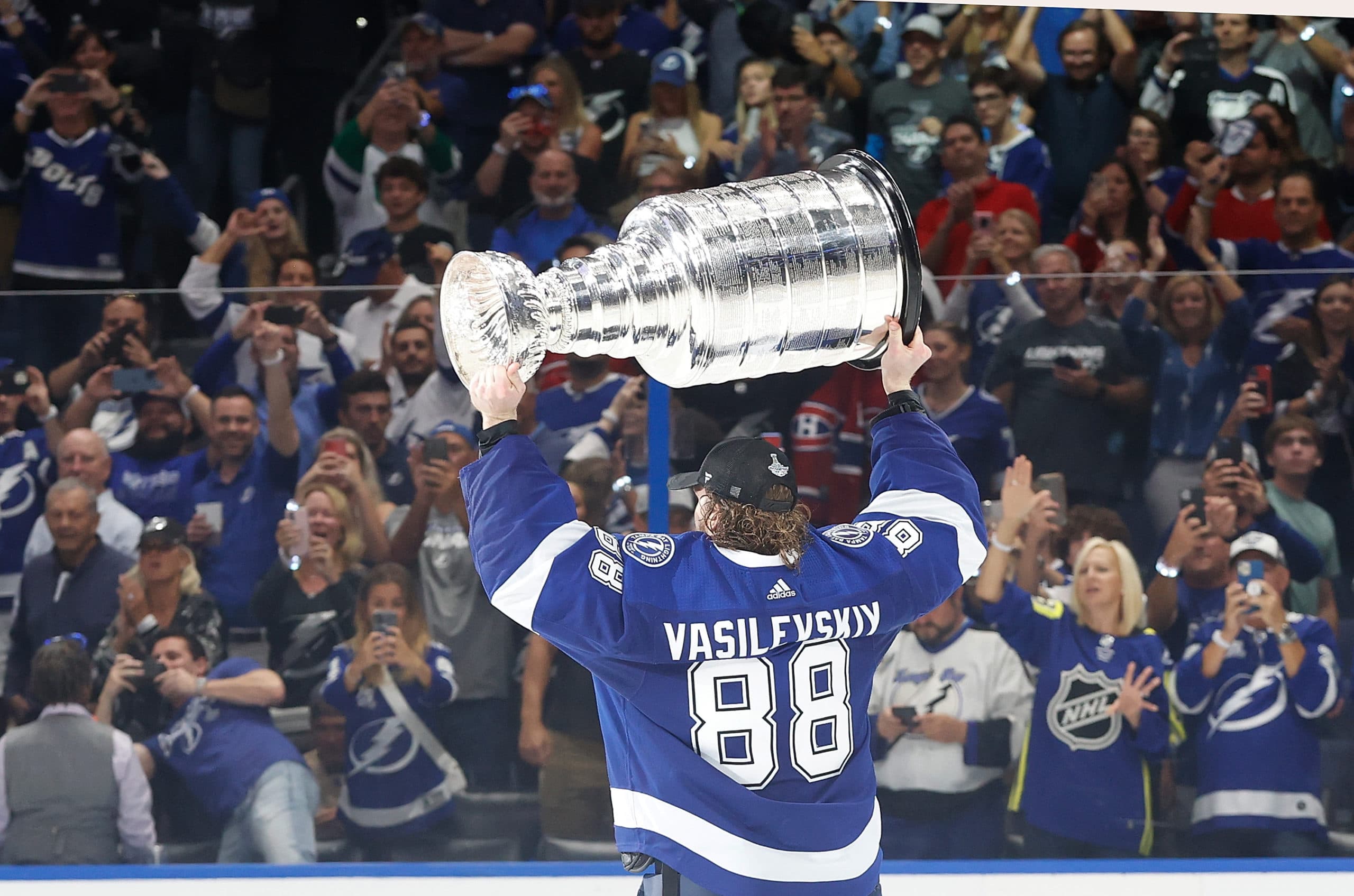 Photo credit:Kim Klement-USA TODAY Sports
With 30 of the 32 NHL teams no longer playing hockey, we are beginning to enter the most exciting months of the year in terms of NHL news. Free agent rumours are in full swing, coaches are being hired and management teams are preparing for the NHL entry draft.
That said, there has only been three games played in the Stanley Cup Final. After a dominant game two victory, the Avalanche looked to be on the verge of their third championship, but the Lightning showed up for the first time this series in game three.
Avalanche/Lightning
After dropping the first two games in Colorado, the Tampa Bay Lightning answered back with a statement win of their own 6-2 on Monday night. Andrei Vasilevskiy led the way for Tampa, stopping 37 of the 39 shots he faced to bring them their first win of the series.
It wasn't all good for Tampa on Monday. Late in the third period, star forward Nikita Kucherov was taken hard into the boards by a Devon Toews cross-check and forced out of the game. Despite leaving early, Kucherov joined Wayne Gretzky, Mike Bossy and Bryan Trottier as the only players to score 25+ points in three consecutive post-seasons.
Nazem Kadri, who has been out since game three of the Western Conference Final, joined the Avalanche for morning skate today. He is still considered day-to-day but there is a good chance we see him in game four.  Kucherov is also likely to play, while Brayden Point is highly doubtful according to Lightning coach Jon Cooper.
Coaching carousel
As mentioned earlier this week, former Boston Bruins head coach Bruce Cassidy has signed in Vegas on a five-year deal. He will be the young franchise's third coach in just six years.
John Tortorella has officially been hired in Philadelphia. It's a four-year deal for Torts. Whether his method of coaching is still effective in the modern NHL is up for debate, but you couldn't find a better personality fit for a city and coach than these two.
The Dallas Stars and Pete Deboer have agreed on a four-year contract as well. Deboer has bounced around in recent years, but he has consistently found success early on in all his stops.
The Edmonton Oilers have extended their head coach Jay Woodcroft through 2024-25. The 2021 Calder Cup champion replaced Dave Tippett mid-way through this season, leading the Oilers to a 26-9-3 record and a birth in the Western Conference Final.
In AHL news, the Seattle Kraken organization has hired Stanley Cup champion Dan Bylsma as the first coach of their AHL team, the Coachella Valley Firebirds.
Canucks ink Kuzmenko
In a somewhat surprising story, the Vancouver Canucks have landed coveted KHL free agent Andrei Kuzmenko. The signing cannot be made official until free agency opens on July 13th. It will be a one-year entry level deal for Kuzmenko at a cap-hit of 950k. This is a low risk move for the Canucks that could be huge for their playoff hopes in 2022-23.
The Russian winger was second in KHL scoring last season with 53 points in 45 games. He added 14 points in 16 playoff games. Reports have it that meeting with head coach Bruce Boudreau swayed Kuzmenko to join the Canucks. He will be immediately joining a highly skilled top-six forward group and be given plenty of opportunity to contribute right away.
Apparently, Kuzmenko was deciding between the Canucks, Oilers and two American teams. He would have been a great fit in Toronto as they will likely be losing Ilya Mikheyev to free agency.
Hockey Canada sexual assault
The investigation into a sexual assault involving a woman and several members of Canada's 2017-18 World Junior team in the summer of 2018 is still yet to be completed. Per Elliotte Friedman on his 32 Thoughts podcast, Hockey Canada has not forced any players to testify or cooperate with the investigation.
The is a terrible look for Hockey Canada as it seems they more worried about protecting themselves than figuring out the truth. They claim to not know who was involved in the assault.
However, it is not over yet as the NHL will likely do their own investigation. They have stated they want to interview every player on the team.