Around the quarter mark, which Leafs forward has underwhelmed?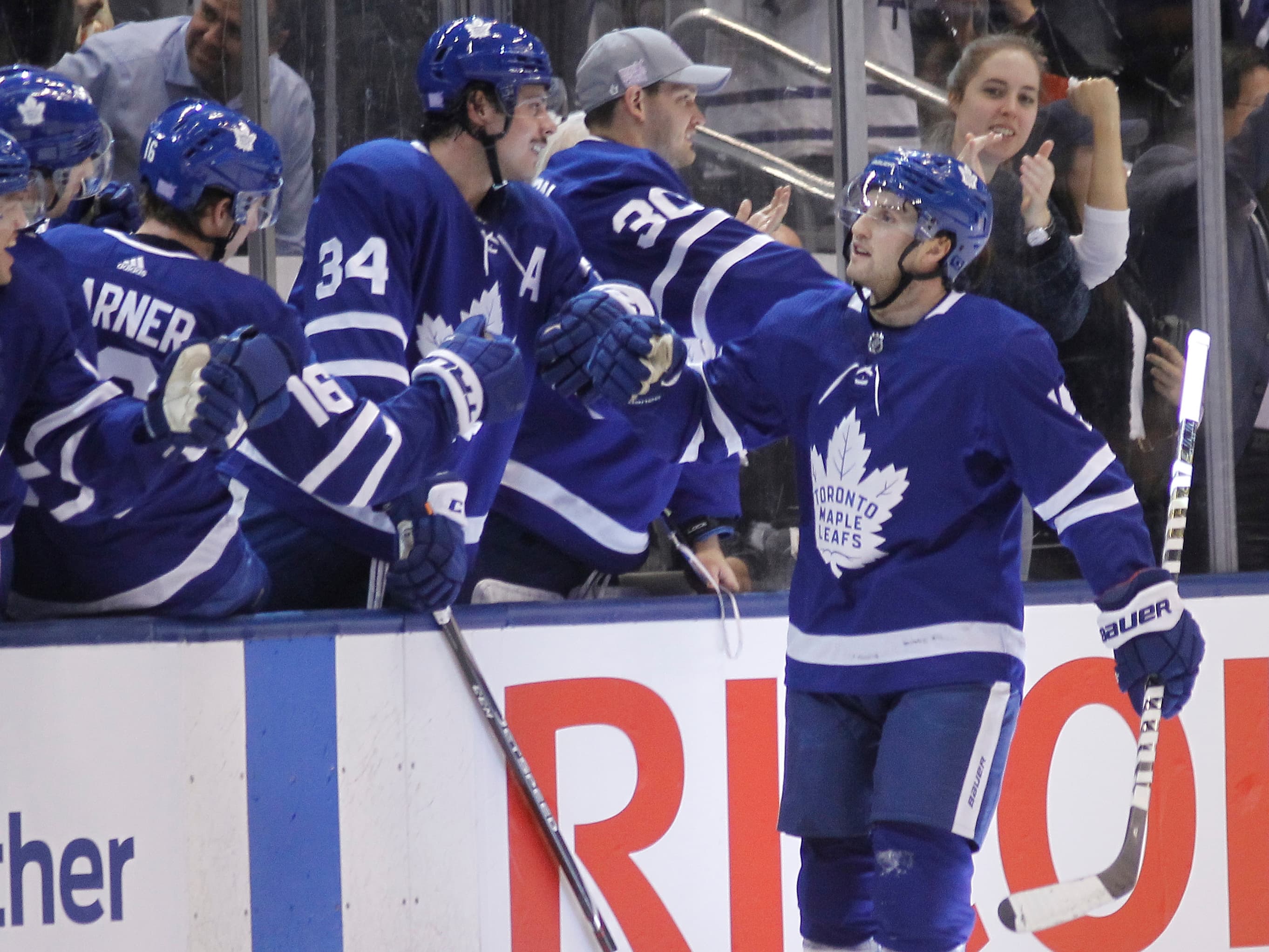 Photo credit:© John E. Sokolowski-USA TODAY Sports
Tomorrow, the calendar rolls into December. American Thanksgiving has come and gone, and we have completed over 25% of the NHL regular season. The Leafs have played 24 games, and currently sit at 14-5-5. They have 33 points, and trail only Boston (who are having a historic start).
Just like last season, they came out of the blocks a little slow. Also replicating last season – the Buds have absolutely torched November. They've lost only 1 game in regulation this month, and have done so with some major injuries on the back end and in net. Multiple early questions have been answered, and the overall feel in Toronto is positive.
The d-core has performed heroically considering the injuries, and the goaltending has been very impressive. Most of the forwards have performed adequately,
and there have even been some pleasant surprises up front
. So, who hasn't exactly pulled their weight? With more than a quarter of the 82 games played, our sample size is large enough to offer some evaluation.
Alex Kerfoot has had a lacklustre start to this campaign. In a season where many forwards are playing very well, Kerfoot would probably be the first to tell you he hasn't contributed enough. Given his contract situation, and how he operates within this forward group, #15 is an interesting player to examine.
It should be said, I have never been Kerfoot's biggest admirer. Nazem Kadri was my favourite Leaf, and that trade was undoubtedly underwhelming – but that's a song for another time. I do recognize that Kerfoot is a savvy and reliable defensive forward. He kills penalties, he can play up and down the lineup, and at times he has put up some impressive numbers. Kerfoot is also very well liked and respected within the group, and definitely adds value to the locker room.
Last season Kerfoot had a very solid campaign. He put up 51 points, with 50 of them coming at even strength. Those are very respectable numbers. It represented Kerfoot's largest offensive output in a season, and the expectation going into this year was to get some serious secondary scoring, particularly in the wake of Ilya Mikheyev's departure.
So, here we are through 24 games, and Alex Kerfoot has 0 goals at even strength. He has 1 goal on the year, which came on the power play, to go along with 7 assists. For anyone that has spent any time at all on the wing of Tavares and Matthews, that production isn't good enough.
In his defence (and only marginally in his defence), his offensive zone start % is down approximately 10% this year. Keefe has used him in more of a defensive role than he has seen in the past. That being said, other Leafs forwards that have an even lower offensive zone start % have found the net more so far (Kampf, Jarnkrok, ZAR, Engvall, Malgin).
Could it be his ice time? Well, Kerfoot so far this year has averaged 15:38, with 1:15 per game on the power play. That 15:38 is right around the league average. His CF% sits at 49.89, and his FF% is 51.16. Corsi and Fenwick are good ways to measure and analyze a player, but perhaps the most interesting numbers when it comes to Kerfoot are contract related.
Kerfoot is in the final year of his 4 year $14M deal. His cap hit is $3.5M, and he will be an unrestricted free agent this summer. Of that $3.5M, only $750,000 of it is actual base salary. This makes Kerfoot even more marketable. Kyle Dubas and his team have always tried to be shrewd when it comes to their asset management.
It begs the question, at what point should Dubas entertain moving Kerfoot? Surely he doesn't want to let any player leave for nothing, and any upcoming unrestricted free agent should be considered 'on the block'. Factor in that Kerfoot is underperforming, and perhaps we should keep our eyes on the Harvard grad between now and the deadline.
With the goaltending looking very solid and the d-core continuing to out-kick it's coverage, many have started to clamour that a top 6 forward should be on Dubas's agenda before the trade deadline. If so, I wonder if Kerfoot could get packaged, as his cap hit is large. It should be noted that he has a list of 10 teams he cannot be traded to, which kicked in this year.
In the meantime, Kerfoot will continue to get moved up and down the lineup and play with different line mates. For the record, no impending UFA's should be 'off the block', so while my attention is on Kerfoot, Engvall is another forward to keep an eye on. Let's hope Kerfoot can find his form, and more importantly that the Leafs keep rolling.