Auston Matthews is committed to winning the Stanley Cup as a Toronto Maple Leaf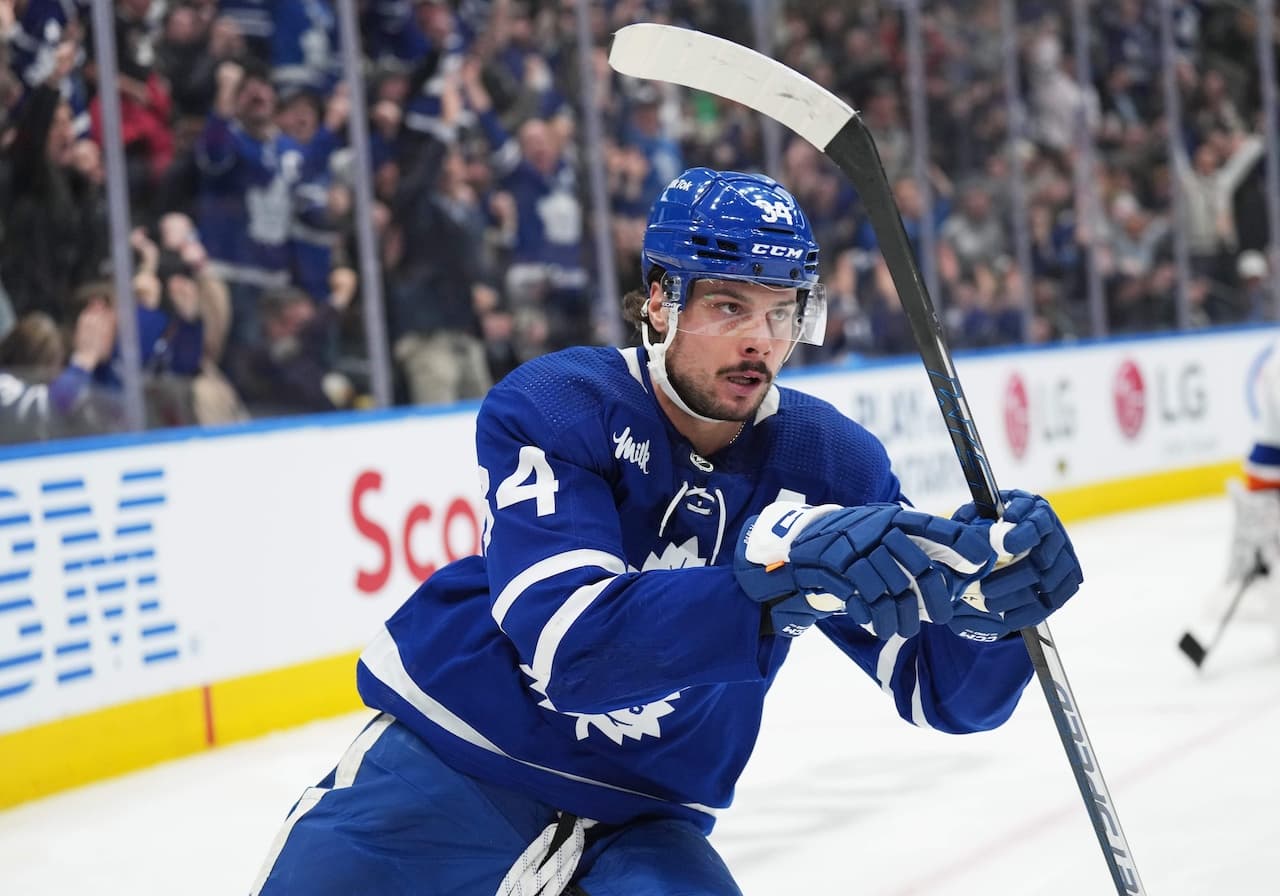 Photo credit:Nick Turchiaro-USA TODAY Sports
'Papi' isn't going anywhere, anytime soon.
Auston Matthews, in true baller fashion,
broke his own news
and has committed to winning as a Toronto Maple Leaf. His
four-year extension
which pays him $13.25 million per season, keeps Matthews in blue and white for the foreseeable future and now we all don't have to read any more bush league stories about replacing him or potential trade scenarios.
Leafs Nation should be celebrating in the streets because with #34 in the lineup for the next five seasons, the team has a legitimate shot at winning the Stanley Cup.
Matthews will become the NHL's highest paid player when his new deal kicks in next July and it's great to see the Leafs flexing their financial muscle, giving him most of the cash in signing bonuses.
$50 million of his $53 million
will be paid in lump sums, which begin next July with a $15.92-million cheque.
Matthews Has Love and Appreciation for Maple Leafs History
For a kid who grew up in Arizona, it's crazy how much love Matthews has for the Maple Leafs organization. Since day one of being drafted, he's done nothing but study the rich history, appreciate it, and now the desire to climb the ladder as one of the Maple Leafs all-time players is in full effect.
Matthews cares about the Maple Leaf logo, he cares about the city and he cares about winning for Leafs Nation, a fan base which he calls the best in hockey.
There's now a very good chance that when Matthews is done his tenure in Toronto, he goes down as the greatest Maple Leaf of all time. Legends row mid as well have a 'reserved' sign at the end of the bench,
Matthews is Committed to the Process
Winning the Cup is the hardest trophy in pro sports and Matthews isn't giving up any time soon. He's committed to putting in the work and there's no place he'd rather hoist Lord Stanley than in front of Leafs Nation cheering him on. His game continues to evolve and look for a very motivated #34 this upcoming season. He's healthy as ever and has been fine tuning his game to be a more versatile scorer and a stronger defensive forward.
Looking back at players such as Alex Ovechkin, Nathan MacKinnon and Steven Stamkos, there's no doubt winning in the league is hard and sometimes you have to grind it out for almost a decade before you reach the ultimate prize. Matthews is committed to this process and he wants to reach the top of the mountain with all his Maple Leaf teammates there to enjoy the moment.
New Contract is a Win/Win Scenario
Yes, the Maple Leafs tried hard to get Matthews' camp to agree to a longer extension, but his agent wanted nothing to do with anything longer than four years. It sets the Maple Leafs star up for another massive contract when he's 31 years old and
already with $114 million
in on-ice earnings.
Elite talent is expensive in this league, but this contract doesn't necessarily tie the Leafs' hands. The cap is expected to go up significantly over the next three seasons and frankly,
Matthews left money on the table
. Brad Treliving deserves a ton of praise and has done nothing but a
fantastic job since day one
on the job.
The Maple Leafs are set up for success. They have their number one centre locked in and with Matthews committed to winning in Toronto, expect much of the same when it comes to contract extensions for William Nylander at some point before July 1, 2024 and expect to see Mitch Marner reup next summer. The band is going to be sticking together, just watch.
Leafs Nation, you should be as happy as a pig in you know what right now. It doesn't get any better than this. Matthews wants nothing more but to bring a Stanley Cup to Toronto and will do anything in his power to make it happen. If these last seven seasons are any indication, breathe easy, the Leafs are in good hands.