Auston Matthews continues putting himself in Toronto Maple Leafs record books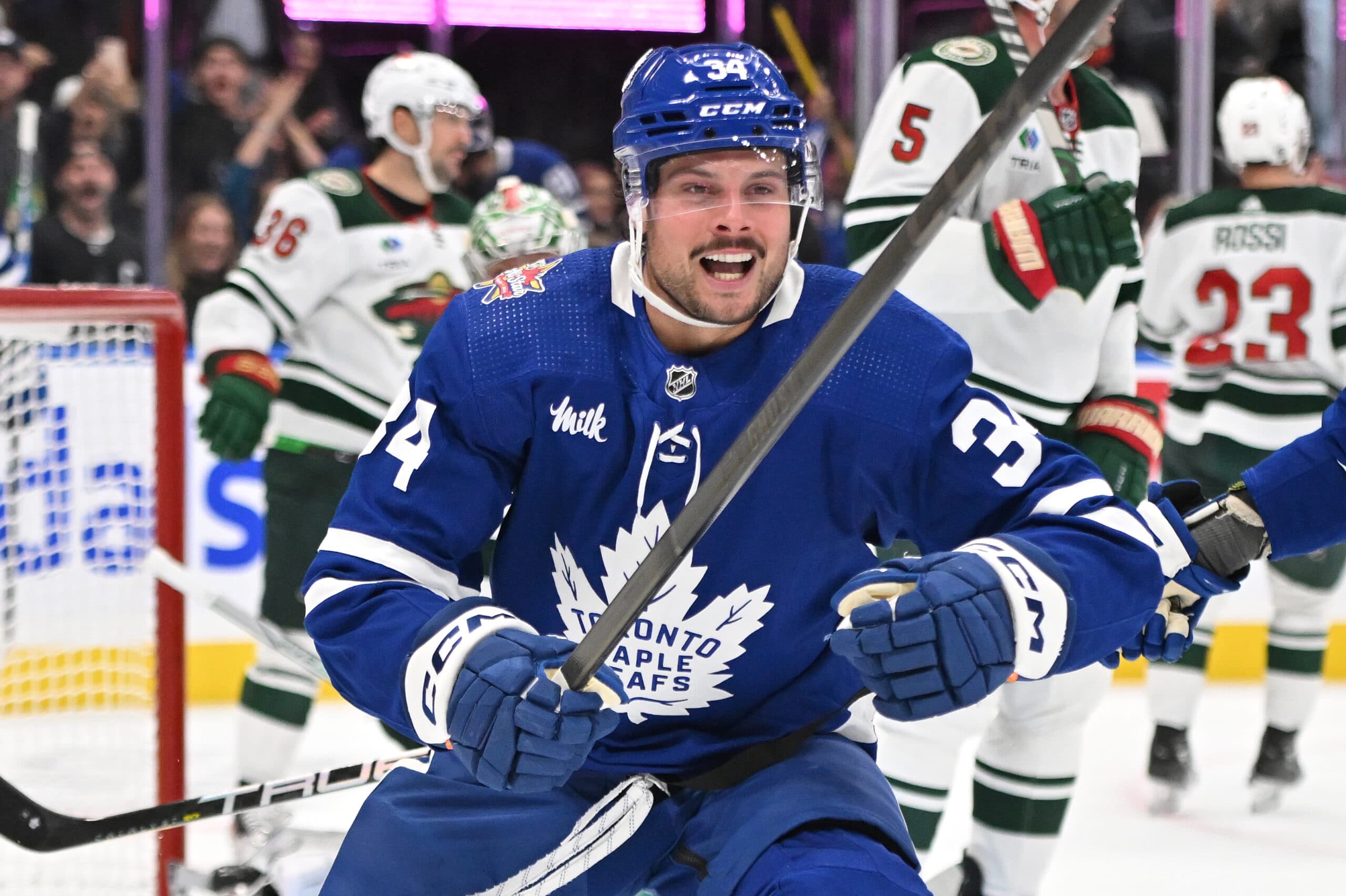 Photo credit:Dan Hamilton-USA TODAY Sports
Auston Matthews has begun the 2023-24 season on fire and he looks set to continue his record chasing for the Toronto Maple Leafs.
Just two games into the new campaign and Matthews is already up to six goals, courtesy of back-to-back hat tricks scored against the Montreal Canadiens and Minnesota Wild.
The Leafs have begun the year 2-0-0 thanks in large part to Matthews' scoring efforts, with the former 1st overall pick scoring half of the team's total goals across their first two games.
Scoring two hat tricks across the first two games of a season is quite a rare feat. In fact, Matthews became
just the fifth player
in NHL history to accomplish it.
He also became only the second player to achieve this since the 1917-18 season, 106 years ago.
He wasn't the first player in Toronto's history to accomplish the feat, with that honour going to Reg Noble of the 1917-18 Toronto Arenas, who scored seven goals across the opening two games that year, along with Joe Malone (Canadiens) and Cy Denneny (Original Ottawa Senators).
The only other played to do this since that year? Alexander Ovechkin in the 2017-18 season, in which the Washington Capitals finally won the Stanley Cup.
With yet another impressive record to his name, this season could see him continue to put himself firmly in the history books of the Toronto Maple Leafs organisation.
Auston Matthews Season Outlook
Entering the year, Matthews sat tied for fifth all-time top goalscorer for the Leafs, tied with Rick Vaive at 299. Now, he has jumped ahead of Vaive and is already staring down Ron Ellis' fourth place.
Matthews needs just 27 more goals to tie Ellis' 332 career goals with the Leafs, something that he should easily accomplish even when he is not operating at his best.
This was witnessed last season, when Matthews could not replicate his 60-goal season from the year before, struggling with his health throughout the 2022-23 season but still registering an impressive 40 goals.
This year, at full health, Matthews should be looking to target his own goalscoring record and attempt to create even more history for himself and the franchise.
If he were to at least match his career-high of 60, which he is already 10% of the way, he would find himself sitting just 6 goals back of third all-time for the Leafs, behind incumbent Hall of Famer Dave Keon.
Along with topping his single season goals record, Matthews has a chance to put himself atop yet another franchise record list with multi-goal games.
Currently, Matthews is
tied for third all-time
alongside former Leafs captain Mats Sundin, with 61, and is chasing down Vaive (64) in second and Darryl Sittler (71) in first.
Matthews' health will be the biggest decoding factor of how close he comes to achieving these historical moments, as it is clear that when he is at full health he is a genuine Hart and Rocket Richard candidate.
Having Matthews going gung ho and putting up the kind of numbers many could only dream of, it is astonishing to think about how many records he will own solely by the time his days in Toronto come to an end.
For now, though, simply enjoying the spectacle should be enough for fans of the team, especially if it helps them push towards the top of the standings and closer to their goal of lifting the Stanley Cup.