Auston Matthews is shooting his shot, differently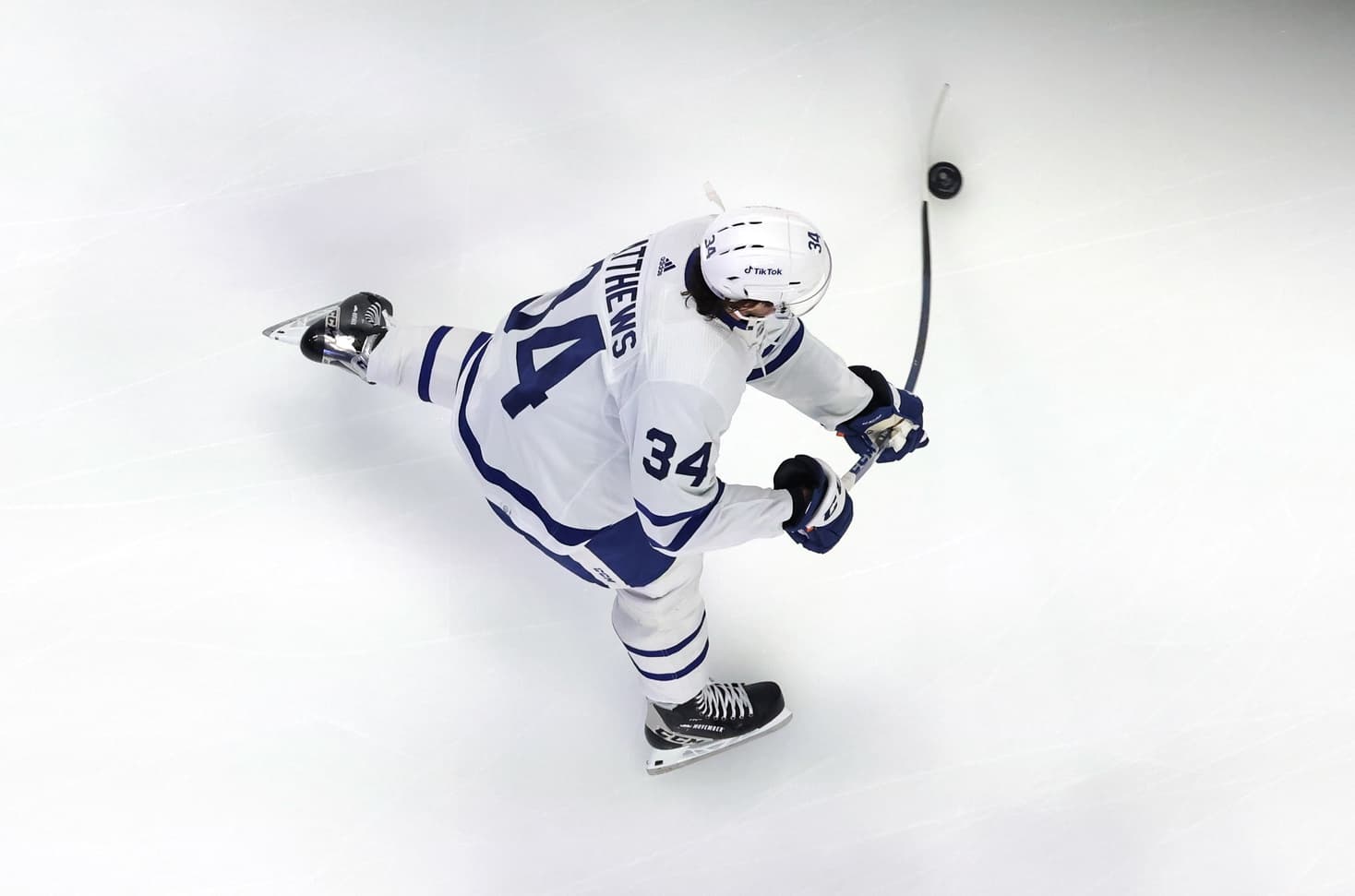 Photo credit:© Timothy T. Ludwig-USA TODAY Sports
Two truths can co-exist when it comes to @Auston Matthews' start to this season:
He remains one of the most talented hockey players in the world
He has, by his established standards, had a slow start to his season in the goal-scoring department
The second point is not meant as a criticism: just an observation based on facts. Matthews' eight goals through 18 games are the second-lowest totals of his career to this point of a season, just two goals ahead of his rookie campaign.
So why the slow start? Is it just poor luck or something more? His expected goals mark of 9.44 is slightly higher than his actual goal total of eight, so luck has not totally been on his side. The thing is, though, that a shooter of Matthews' calibre routinely outperforms expected goals models: through the first five seasons of his career, he averaged an outperformance rate of 135%, meaning he has historically scored 1.35x more goals than what models expect. That 1.35x rate multiplied against this year's expected goals total comes out to 12-13 goals, so we have definitely seen a regression from prior form.
Matthews had surgery on his wrist late in the offseason which resulted in him missing all of training camp plus the first three games of this season. While missing training camp could have had some impact on Matthews through the first few weeks of the season, what I'd like to focus on in this piece are some changes to his shooting habits that may suggest some physical limitations are impacting his shot.
Shot Selection
While Matthews is as shot-happy as ever this season, posting the highest shots-per-60 and shot attempts-per-60 of his career, his shot quality is slightly lower than normal. Per Evolving-Hockey, for every 100 shot attempts this season, Matthews has an expected goals total of 6.21, which is the second-lowest mark of his career (lowest: 5.89 in 2019-20).
| | |
| --- | --- |
| Season | xG (per 100 attempts) |
| 2016-17 | 7.54 |
| 2017-18 | 7.27 |
| 2018-19 | 6.98 |
| 2019-20 | 5.89 |
| 2020-21 | 7.45 |
| 2021-22 | 6.21 |
But the most interesting thing about Matthews this season is his shot selection.
Matthews' wrist shot rate has hovered around the 60% mark for the three seasons prior to this one, but he's at 55% at this point in 2021-22. Meanwhile, he's using his snap shot and slap shot slightly more frequently compared to last season. This matches the eye test: many have remarked that Matthews appears to be taking fewer wrist shots this season in favour of more passing and one-timers. When he has taken one of his patented wrist shots, more often than not it has looked slightly less powerful and accurate than normal.
Far be it for me to tell a goal scorer of Matthews' pedigree which shots he should be taking, but could this change in shot selection imply that there may still be a mechanical issue that's getting in the way of him unleashing more frequently the number one tool in his shooting arsenal?
Let's dive deeper into this. Shot attempts are made up of four things: goals, shots, missed shots, and blocked shots. Goals and shots hit the net (On Target), whereas missed and blocked shots obviously do not (Off Target). Is there anything about Matthews' wrist shots this season that would support the hypothesis that his wrist is not at a hundred percent?
Right off the bat, you'll notice that just 5% of Matthews' wrist shot attempts this season have resulted in goals, compared to 12% last season and a prior low of 8% in 2018-19. Also interesting is the fact that just 45% of Matthews' wrist shots are actually hitting the net this year (as goals or shots). This is far below his established yearly On Target rate of 55-65%. His wristers are missing the net 31% of the time, which is much higher than the 18-23% range he established through his first five seasons.
Now, we're dealing with a sample size in 2021-22 that is one-third the size of last season and one-quarter the size of a regular 82-game season, so this season's results are prone to a little volatility at the moment. But from what we've seen to this point in the season, Matthews' wrist shot has not been as effective or lethal as in prior years. We know Matthews loves to add new elements to his shot repertoire, so the downturn in wrist shot volume may be a conscious effort to work on other areas. But in terms of the lower efficacy and accuracy of the wrist shots he has taken, the most logical conclusion is he's not yet fully healed.
None of this is meant to incite panic. Auston Matthews is not broken or on the decline. In truth, there has been a promising trend recently: Matthews' wrist shot On Target rate is improving as the season goes on.
This is great news for the Leafs. If Matthews' shot is rounding into form then the final ~60 games of the season will be fun to watch, just to see how far he can climb up the goals leaderboard. All it takes is one two-week hot streak to propel himself back up into top-five of the NHL goal leaderboard, which is currently six goals away.
While the 60 goal mark may be out of reach, 50 goals is still achievable: as long as Matthews does not miss any more games, he would have to pot 42 biscuits in the next 61 games, which is equivalent to 56 goals over 82 games. Does he do it? I think we've all learned not to count him out.
Advanced stats courtesy of Evolving-Hockey.com