Auston Matthews is the perfect Toronto Maple Leaf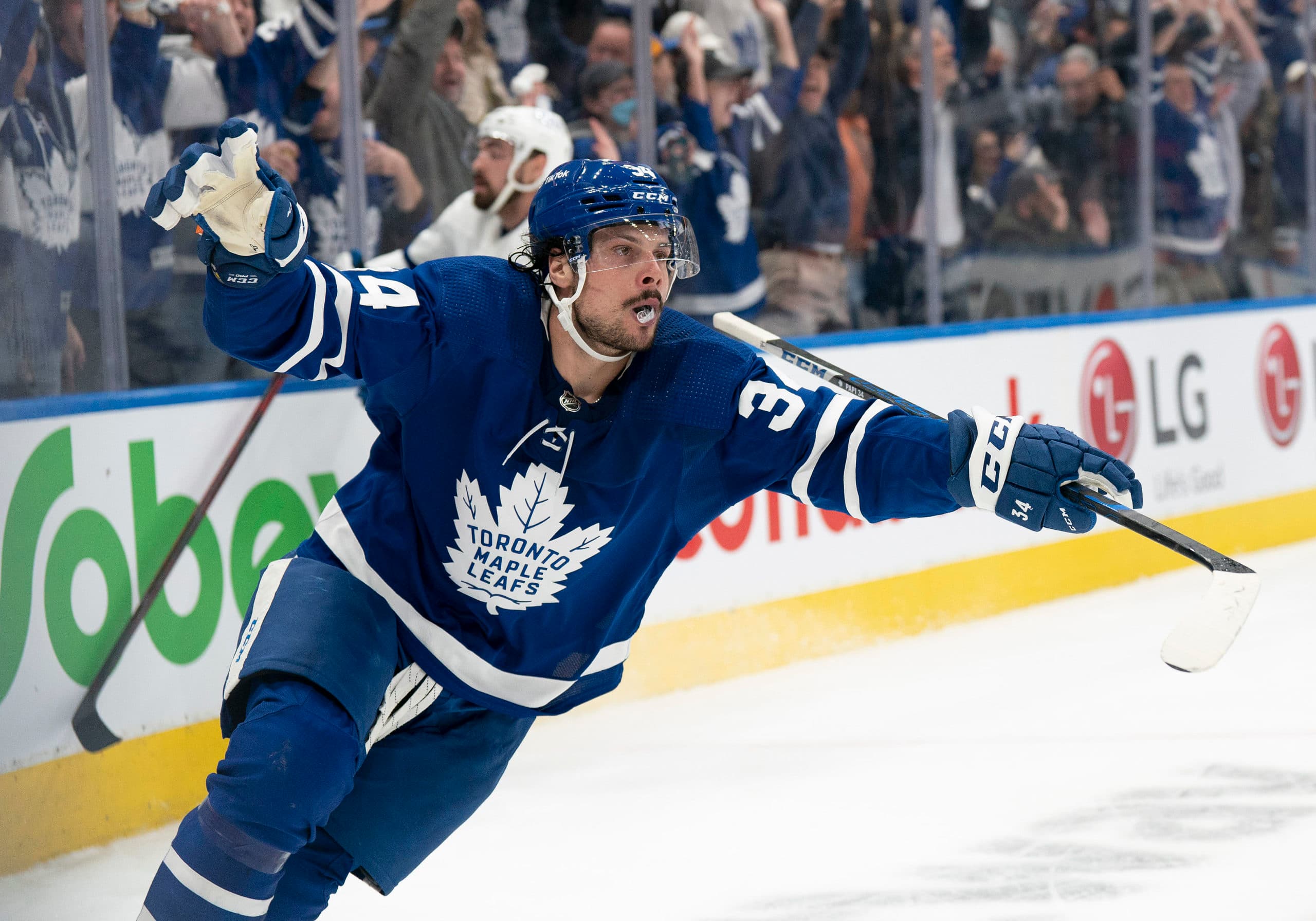 Photo credit:Nick Turchiaro-USA TODAY Sports
It's not easy to play hockey for the Toronto Maple Leafs. Massive expectations, constant drama and a fan base that tracks the team
among the closest
of any on an international scale. There's the history of the franchise to consider, there's the running jokes of failure and there's a media circus that can admittedly be a handful to deal with, regardless if it's leading up to the trade deadline or in the dreadful weeks of August.
Being a Leaf isn't easy, and neither is having sustained success while wearing the blue and white. Auston Matthews has made it all look very easy since being selected first overall in 2016 and has developed his game on the ice and matured himself off of it.
While there's no award to accept, there's zero doubt, Matthews is the perfect Toronto Maple Leaf.
Let's start with the on ice component of being a Leaf. Every little detail of your game is scrutinized. If you score goals, many goals, as Matthews normally does via his elite wrist shot, they'll wonder why you haven't scored at all on the backhand. Or, why there was a gap of three games since your last one.
Remember when Matthews started blocking all of those shots last season and everyone started crying out that he was going to hurt himself in the process and should be jumping out of the way of the puck. All he was doing was trying to find a way to influence the outcome of the game, any way possible. Blocking shots has become a part of his bag and it's one of the many tricks within it. Instead of having this 'skill' embraced, Matthews got chirped. Seems backwards, no?
Being a Maple Leaf is more than a full-time job, it's a lifestyle. The lights are brighter in Toronto. The road games are louder and are often in front of a sold out crowd, with 50% of the building, at least, being Leafs Nation. The fan base travels better than any other in the league. The Leafs often move start times in away buildings because of TV rights and ensuring Toronto is on at the brightest moments. It's just different and players have to accept the fact, embrace it and not shy away from the pressure-packaged environment. It should feel like an honour and a privilege and not a burden.
There's also the history to consider. The Leafs are one of the original six and have a rich legacy of championships, be it many moons ago. The winning tradition is something the organization wants to once again experience. It's becoming 'Stanley Cup or bust' around these parts and while the expectations, the legacy, and pressure is enough for several players around the league to avoid Toronto at all costs, Matthews sees is as an oppourtunity to embrace the lofty expectations and the immense pressure of trying to once again get the
Leafs back to the top of the NHL's mountain
.
He could have ran. He could have signed in Arizona next summer and told a home-coming feel-good story of an NHL superstar trying to save his home-town franchise. ESPN would have jumped all over it. Instead, Matthews found the balance he was looking for, and will be wearing the only logo which is near and dear to his heart. A move that's been underappreciated in my eyes.
While playing in Toronto is enough to make players sick to their stomachs and some even have the Maple Leafs on their no-fly zone when it comes to trades, Matthews has been doing his thing since opening night in 2016. He put a four-spot on the Ottawa Senators and all he's done ever since is put up 542 points in 481 regular season games, another 44 points in 50 Stanley Cup Playoff games. Add in some individual awards to his mantel and 'Papi' has put the Maple Leafs back on the map. There's no more crying about Mats Sundin leaving for Vancouver or how Tyler Bozak and Phil Kessel can lead the team back to the promised land. The almost two-decade long streak of losing in the first round is over. Toronto's once again a Cup contender, it's a destination city for free agents and a lot of this has to do with Matthews leading the charge both on and off the ice.
Matthews Makes the Off Ice Look Easy
While the on-ice pressure can be it's own monster, it's the off-ice circus that is the hardest to deal with in Toronto. From having 100 mics in your face after each game and practice or not being able to go grocery shopping without being asked to take 50 selfies with customers There's a number of off-ice elements Matthews has to deal with as a Maple Leaf and he's passed this test with flying colours.
He's diverse with his Mexican heritage and in a city as diverse as Toronto, it's a nice element for him to connect with his community in Toronto and embrace being a leader. Matthews does this seamlessly. He also does a ton of work with Sick Kids Children Hospital, unannounced and without the rest of his teammates. He doesn't do it for clout, or to be recognized, he does it because he cares and the hospital means a lot to him and his family.
Matthews stands up for himself and his teammates with the media. If it's a dumb question, you'll be able to tell by the look he'll give or the answer that follows. He has a backbone and isn't afraid to speak his mind.
Being a Toronto Maple Leaf is a lifestyle. One which comes with rich history and sky-high expectations on players to perform on the ice and for everyone in the organization to be good people off the ice.
Top-down, the organization needs a 'face of the franchise'. Auston Matthews is the absolute perfect fit for the job. The future of the Maple Leafs is in very good hands.