Auston Matthews scores 60th goal as Maple Leafs teammates make the case for him to win MVP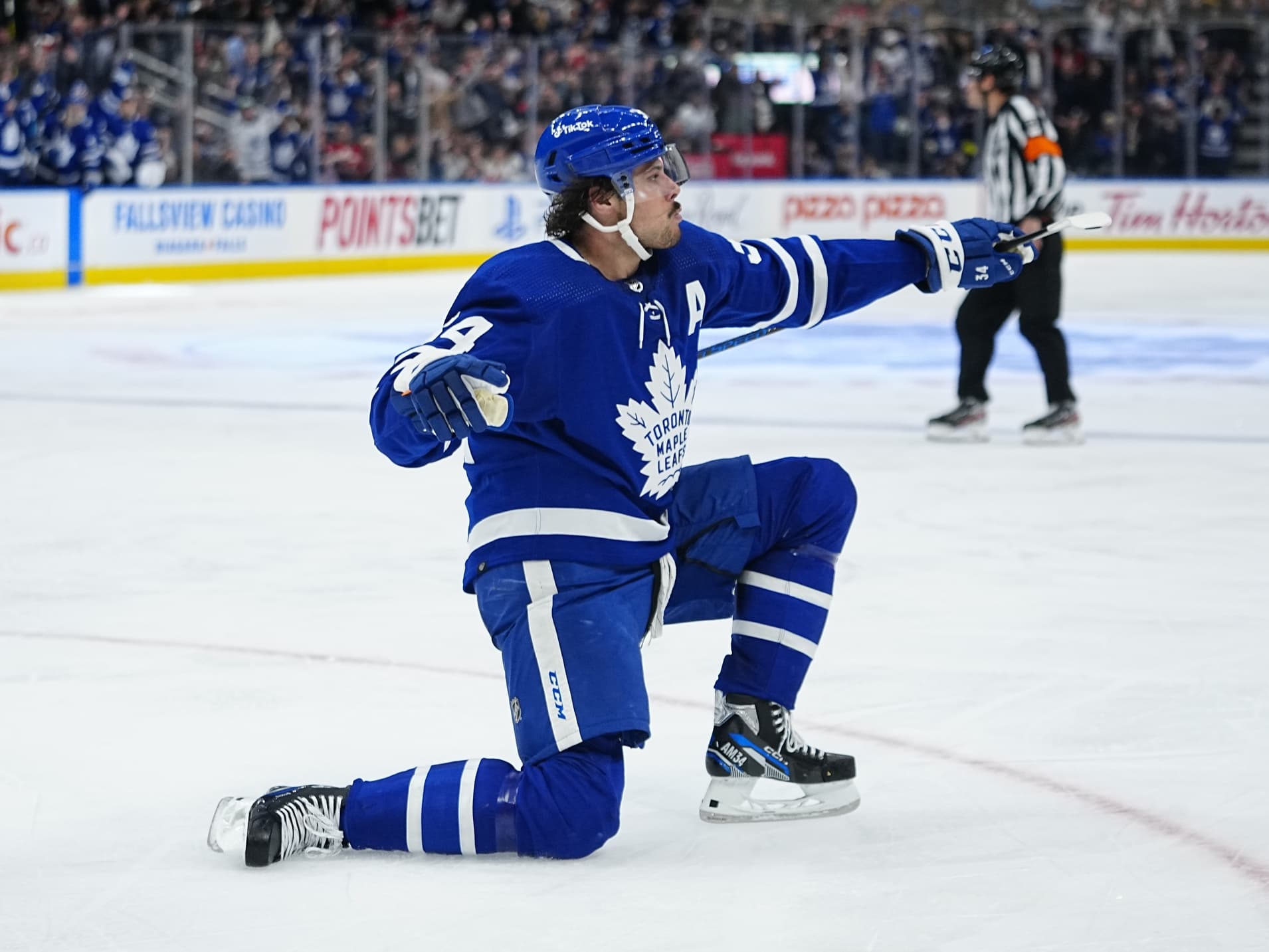 Photo credit:John E. Sokolowski-USA TODAY Sports
Sheldon Keefe was never concerned about Auston Matthews reaching the 60-goal mark.
The Toronto Maple Leafs coach joked that he's a "round-up kind of guy" and was never going to call him a 58-goal scorer had his star not potted two more goals this season.
But Matthews' got the job done anyway. He became the first Toronto Maple Leafs player to hit 60 goals in a season with a two-goal performance in a 3-0 victory against the Detroit Red Wings on Tuesday.
"It was pretty special honestly," Matthews said after the game. "Just the reception from my teammates, the crowd, I mean, everything. It just kind of sends chills down your bones."
Heading into the contest, Matthews had been on a season-high five-game goalless drought. In the middle of that span, the forward missed three games with an undisclosed injury. Yet he still became the first player the first American-born player to reach the 60-goal mark and the first player since Steven Stamkos did it with the Tampa Bay Lightning during the 2011-12 season.
And he did it in just 73 games.
"Just really happy for him," Keefe said of Matthews. " To see him at the top of his game and reach these milestones. It's outstanding. I'm really happy for him, you can tell he was really happy. And I just loved how our fans took care of him. The fans were outstanding in the recognition of his accomplishment."
The Maple Leafs clinched home ice in the first round and will host Tampa Bay Lightning or the Boston Bruins in the opening round. And although the game wasn't terribly exciting before Matthews' broke the game open with his 59th of the season to make it 1-0, the fans were in a playoff mood. They started chants of 'AUS-TON MAT-THEWS' and 'M-V-P' and those cheers grew louder when he's scored his 60th in the third period to make it 3-0.
John Tavares heard those chants and agreed.
I know I'm being biased but to me it's not close," Tavares said of the MVP nod. "He just wants to be a difference-make game in and game out."
It was a small taste of what the playoffs are going to be like with fans in the building in normal times, something they haven't experienced since 2019 and something Keefe never went through since taking over as coach of the Leafs in November, 2019.
Mitch Marner agreed with Tavares.
"Of course we're going to be biased, he's our guy," he said. "He deserves it, I hope he gets it."
Matthews has virtually locked up the Maurice Rocket Richard Trophy, handed out the player that scores the most amount of goals. But he's made quite the case for the Hart Trophy this year after finishing second in voting last season.
—
The Maple Leafs have just one game remaining in the season and with home ice secured, the focus shifts to who they might rest. Matthews is working through an undisclosed injury and it would make sense if he rests with nothing really left to play for.
Jack Campbell made 20 saves to pick up a shutout and the goaltender has found his groove after what's been a turbulent season.
"More importantly than just the shutout is how he looked," Keefe said. "He was super calm and relaxed. There were a couple of times we had some breakdowns — not a lot of them — but when we did, he was solid.