Auston Matthews wins at fashion, always: Maple Leafs Gameday Fit Week #3 Power Rankings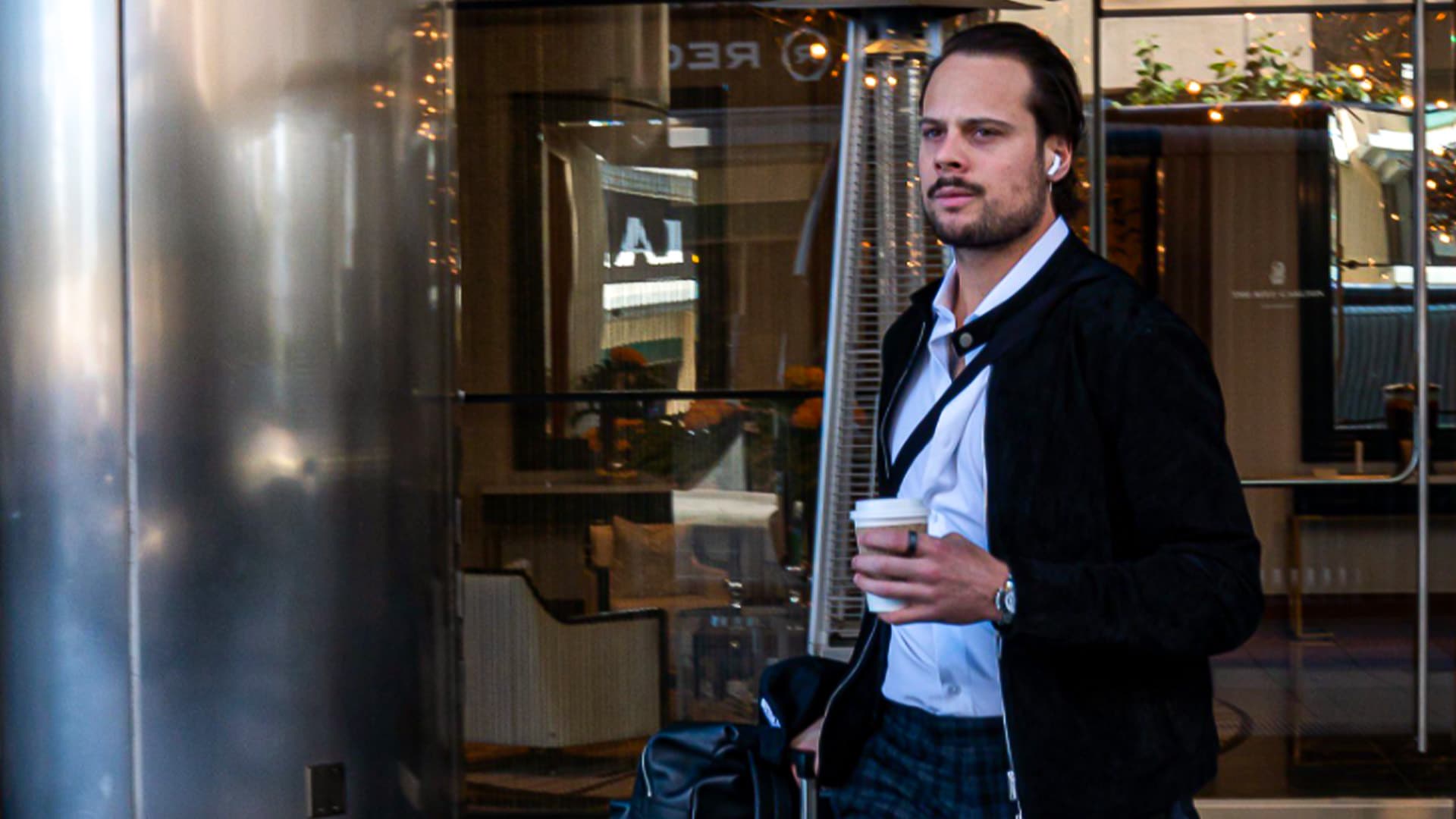 Photo credit:@MaplaLeafs / Twitter
Happy Sunday, or happy Maple Leafs Gameday Fit Power Rankings day.
The Maple Leafs are feeling good when they enter the arena. I'm not sure you can say the same when they're leaving it.
When Toronto is on the road, their social media team isn't often posting walk-ins of the players. But this week, we did get one batch of photos, and one of them featured a player who hasn't been in the power rankings yet.
I'm sure you can guess who that is, since he already catapulted himself to the number one spot. However, you can still make your predictions now and see if you were right.
Before we get started, I have one message to the Maple Leafs' social team: Please do this more often so I can do this series every week. I love it, and I'm sure a lot of others do too.
Honourable mention: Timothy Liljegren
Although he's down with the Marlies on a conditioning stint, Liljegren is still bringing his Swedish style when walking into the arena.
A greenish-blue suit with the top buttons of the shirt untucked, and Nike shoes — he's looked good in his conditioning stint and maybe that's because he feels great walking into the rink. Who knows.
I've argued with myself for the last 20 minutes about whether he should've been second place, but since he's with the Marlies, I have to keep him in the 'honourable mentions' because those are the rules.
Maybe those rules will break in the weeks to come. If they do, it'll be William Villeneuve who breaks them.
5th – TJ Brodie (⬇️ -2)
We got greyish white, black, and blue a polka dot tie. There is way too much going on with this suit, but I respect what Brodie is trying to do.
The more I look at it, the less I hate it honestly. For me, I believe Brodie is one of the only Maple Leafs who can pull off the greyish white suit. I don't know why, but that's just what I think. And again, he's got his Chelsea Boots on, so that's a positive.
Brodie is trying to be creative, and for this series, that's all we need out of Toronto's players. Just next time, use a different tie. Please.
4th – Morgan Rielly (✅ NEW)
Rielly is mostly on this list because I had no other options, and because I love this colour of green as a suit. You'll see it similar with someone else lower in the rankings.
My only gripe on this suit is that there's nothing creative. Maybe Rielly doesn't want to be creative, and that's okay. But if he wants to get a better ranking in Nick Barden's books, there has to be more creativity.
I'm happy that the tie matches the suit since there are a few players (…Brodie) who like to not wear a matching tie. Again, this needs more creativity, but I'm a big fan of the green.
🥉 – Mitch Marner (⬆️ +3)
The perfect L.A. look doesn't exi-.
Marner looks like he's getting ready to check into a fancy hotel after having a weekend full of meetings somewhere in California. I'm not too sure what kind of shoes he's wearing, but they do go with the suit.
If only they weren't high(er) top shoes. Actually, I probably am not the biggest fan of high-top or regular dress shoes either way.
Marner still looks good, though.
🥈 – Michael Bunting (⬇️ -1)
I'm going to honest here: Bunting would've been in the top spot for the first time in this series if he didn't wear socks.
Listen, I'm a huge fan of funky socks, but there's a time and place to wear them. This is most definitely not that time nor place. If Bunting just stuck to
what he wore last week
, again, he would have found himself higher up in the rankings.
However, still for him, I'm pretty sure the number two spot wouldn't be that bad.
🥇 – Auston Matthews (✅ NEW)
Matthews has finally made it onto the Maple Leafs gameday fit power rankings, and boy did he begin his journey with a bang.
This is the definition of business casual.
He perfectly ties in his business; a dress shirt and dress pants, along with his casual; a fall jacket and some sporty shoes. Matthews always makes having style look so easy, and he's doing it again here.
Welcome to the show, my friend.