Bobby McMann: From the ECHL to a two-year contract with the Maple Leafs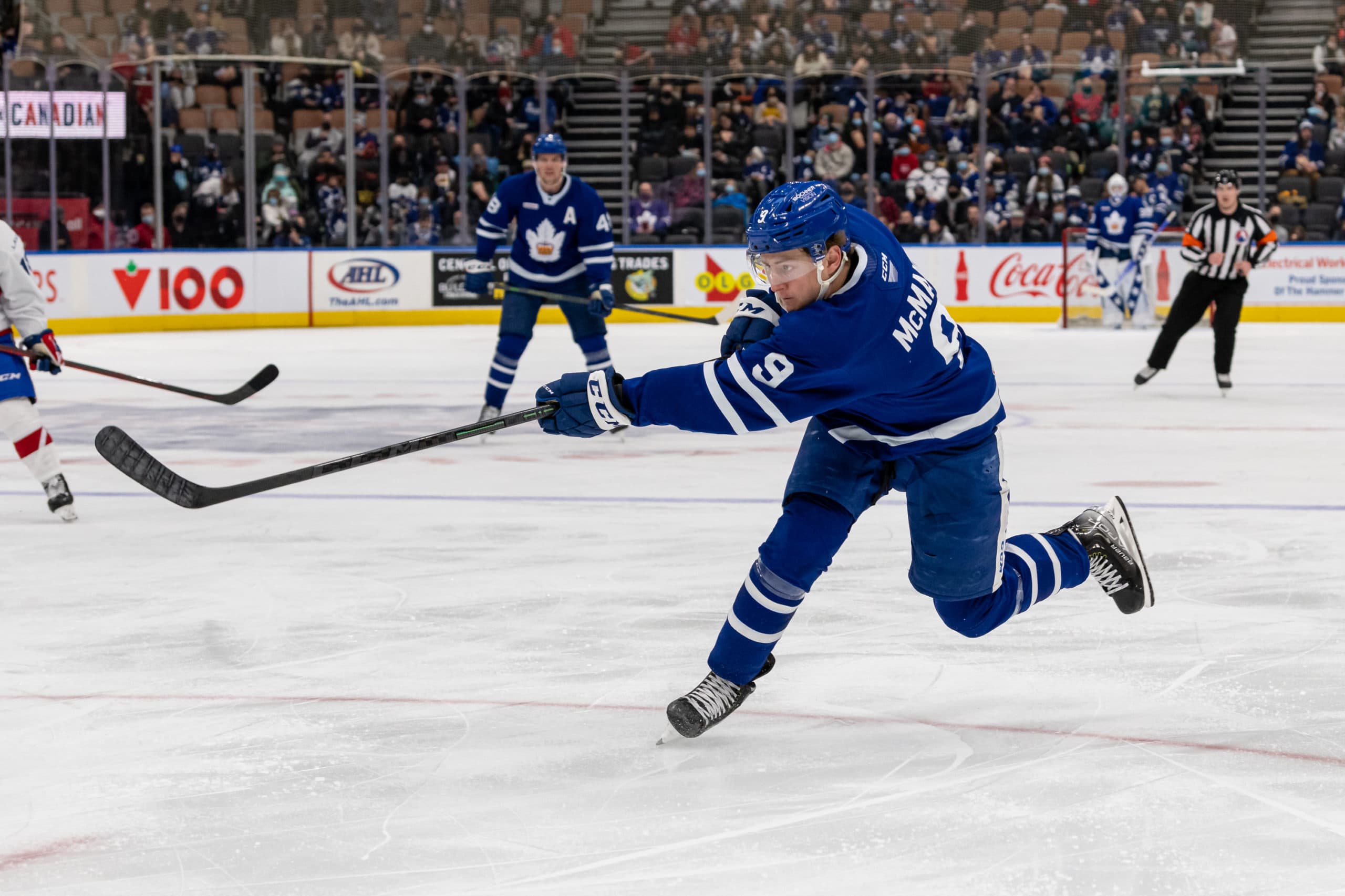 Photo credit:Christian Bonin/TSGphoto.com
Bobby McMann began this season with the Newfoundland Growlers in the ECHL, but after four games, everything changed.
His four points in four games was good enough to get a call-up to the Marlies after Nick Robertson went down with an injury. Once he was called up, the 25-year-old never looked back.
McMann's first full AHL season started with him in the Marlies' bottom-six, not really getting much opportunity. Slowly but surely, throughout an injury riddled season for Toronto, the 25-year-old got his chance higher in the lineup, and that's where he stayed.
Although he found himself lower in the lineup, at times, it wasn't due to a lack of good play. At one point back in February, the Marlies had a top-nine with Nick Ritchie, Brett Seney, Joey Anderson, Joseph Blandisi, Semyon Der-Arguchintsev, Nick Robertson, Kyle Clifford, Antti Suomela, and Nick Robertson.
But McMann stuck with his hard work and eventually found his opportunity back in the Marlies top-six, and he even secured a job on the first power play unit where he's now a mainstay.
"I'm confident and happy with where I'm at right now, definitely not content." Said the 25-year-old in a 1-on-1 interview earlier this season. "I always want to be better and obviously I think I'm showing that I wanna continually work every day at practice and in games, watch video and do all the things I can to improve my game, therefore improve our team's game, hopefully win more games, and then everybody wants a player that knows how to win."
Most recently, the 25-year-old added to his accolades becoming the first Marlies rookie to score 24 goals in a season, passing Josh Leivo's record of 23 goals he set back in 2013-14.
"It's been an adjustment playing a full season of pro like this,"
McMann said after a 5-4 loss to Laval in the game he set the new record
. "I've been lucky enough to play with a lot of great players, all up and down the lineup, both five-on-five and power play. And then, I had some good coaching teaching me how to best be in the scoring areas, best get my opportunities, and be able to put the puck in the back of the net."
McMann's great play hasn't just stemmed from the opportunities he's gotten in games. The 25-year-old has worked incredibly hard to get to this point, and it's showed in practices where McMann can be seen working on his craft all by himself after a 40-minute team skate and usually is one of the last players off the ice.
"Bobby's been very impressive. You could argue he might be one of our most valuable players on the team." Said Marlies head coach Greg Moore with a big grin on his face in early April. " Power play, penalty kill, he's starting to take more faceoffs now, willingness to block shots — just his ability — his power and strength to transport the game from top of the circle to top of the circles, set up the o-zone, grab depth, forecheck and hit as F1 (forward one), and then a scoring touch around the net.
"He's really starting to round out his game and his playmaking to move the puck and make his teammates around him better has really elevated."
McMann has now signed a two-year two-way future contract with the Maple Leafs which will begin next season. He'll likely get a chance to prove his worth in training camp and show everyone the player he's become so quickly over the last year and a half.
When I spoke with the 25-year-old earlier this season, he said he reflects a lot in the summer. That's where McMann's noticed that he's close to making his dream a reality.
"You can't help but realize a little bit when there's guys on your team playing up with the Leafs," McMann said back in February about achieving his dream. "You see that obviously they're exceptional players and they know how to play the game at a very high level. But you definitely see that you're not far off."
And now, after a few more months of hard work, the 25-year-old is as close as he's ever been, and next year could be the year his dreams come true.
POINTSBET IS LIVE IN ONTARIO
PointsBet Canada has officially launched in Ontario! Get a $25 free bet just for 
signing up right here!