Breaking down the Maple Leafs rookie tournament roster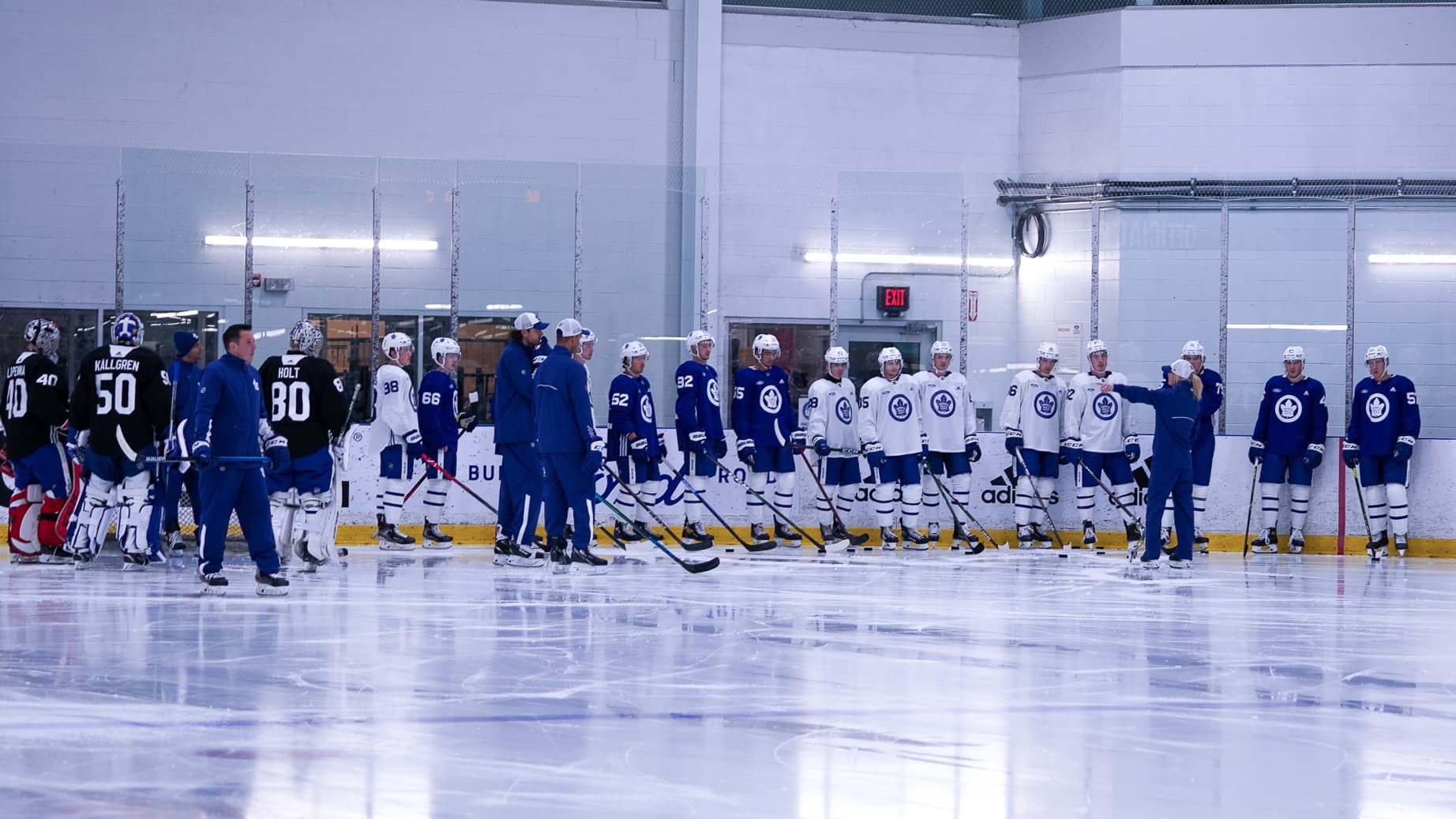 Photo credit:@MapleLeafs
With development camp all wrapped up, the Toronto Maple Leafs officially announced their roster for the upcoming Traverse City rookie tournament, which begins Thursday.
The 39 man development camp roster was cut down to 28 players, with just one player not at development camp being added to the rookie tournament roster in Marlies signing Matt Hellickson.
Let's begin with the players that attended development camp that won't be going to Traverse City with the Leafs.
| | |
| --- | --- |
| Player | League |
| Landon Cato | OHL |
| Ryan Del Monte | OHL |
| Christian Fitzgerald | USHL |
| Taylor Gauthier | WHL |
| Jacob Guevin | USHL |
| Lukas Gustafsson | USHL |
| Braden Holt | WHL |
| Filip Kral | AHL |
| Francesco Lapenna | QMJHL |
| Joe Miller | USHL |
| Ethan Peters | WHL |
| Theo Rochette | QMJHL |
| Sam Sedley | OHL |
| Lawson Sherk | OHL |
Of this group, just two were not invites and are prospects affiliated with the Leafs. @Filip Kral suffered a rib injury at development camp, while Joe Miller is returning to Chicago ahead of the USHL season which begins next week.
Given the USHL were sent back to their club teams due to the start of the season next week, the only real surprise cut from the group of invites was Theo Rochette. A skilled playmaker who had received some draft hype over the past two years, he's the most notable name to not be travelling with Toronto to Traverse City. An argument could be made for Taylor Gauthier as well, a WHL goaltender with Hockey Canada pedigree. The only issue for Gauthier is that the Leafs already have three goaltenders that are signed heading to the rookie tournament, leaving him as the odd man out with no room for an invite goaltender.
Most of the group going to Traverse City are affiliated with the organization. 10 prospects are either signed with the Leafs or have their draft rights owned by Toronto, eight are signed with the Marlies, and eight are free agent invites.
The top names such as @Nicholas Robertson, @Mikhail Abramov, and @Semyon Der-Arguchintsev will steal the limelight, but the focus at Traverse City should be further down the lineup for the real stories to follow. How does 2021 draft pick Ty Voit look in some of his first game action in over a year? Can 2020 selection William Villeneuve make an impression to earn an entry-level contract? And how does Ian Scott perform heading into his first healthy season in two years?
In addition to these questions to be answered regarding prospects already in the Leafs system, there's also the focus on the eight invites and if any of them can earn an entry-level contract.
| | |
| --- | --- |
| Player | League |
| Brett Budgell | QMJHL |
| Jordan Frasca | OHL |
| James Hardie | OHL |
| Braeden Kressler | OHL |
| Lleyton Moore | OHL |
| Cedric Pare | ECHL |
| Colby Saganiuk | OHL |
| Vincent Sevigny | QMJHL |
Keep an eye on the trio of James Hardie, Braeden Kressler, and Lleyton Moore. These are the three players that are in the hunt to be signed by the Leafs, something Toronto may look to do following a small 2021 draft class. Hardie has the edge in terms of OHL pedigree with his 34 goal season in his draft year, but Kressler has been playing with the likes of Robertson and Abramov at development camp. Don't sleep on Moore either, a superb skater who we didn't get a good read on at development camp without live-streamed games as a defenceman.
Brett Budgell, Jordan Frasca, Cedric Pare, and Vincent Sevigny will be in the conversation for AHL contracts. Budgell, Frasca, and Sevigny all have the option to return to their junior teams as overagers, but could look to turn pro if the opportunity arises with the Newfoundland Growlers. As for Pare, he's currently signed to play for Utah (ECHL) this season, but that could be overridden if he were to sign with the Marlies. Expect him to remain with this group until the Marlies camp.
Finally for the invites, it's nice to see Colby Saganiuk remain and get a shot this weekend. An illness kept him out of on-ice development camp activities, so he'll get a chance to prove himself at the rookie tournament instead. A diminutive scorer set to play in the OHL this year, Saganiuk is the grandson of former Leaf Rocky Saganiuk.
We'll see plenty of different combinations over the tournament, but here's a potential look at how the Leafs may lineup this weekend.
| | | |
| --- | --- | --- |
| LW | C | RW |
| Nick Robertson | Mikhail Abramov | Alex Steeves |
| Pavel Gogolev | Semyon Der-Arguchintsev | |
| Cedric Pare | Curtis Douglas | |
| James Hardie | Ryan Chyzowski | Ty Voit |
| Brett Budgell | Jordan Frasca | Colby Saganiuk |
| | |
| --- | --- |
| LD | RD |
| Matt Hellickson | Joey Duszak |
| Matteo Pietroniro | |
| Vincent Sevigny | |
| Riley McCourt | Lleyton Moore |
G
Erik Kallgren
Ian Scott
Keith Petruzzelli
Though it isn't confirmed, you will almost certainly be able to catch the four rookie tournament games live-streamed over the weekend. The Leafs schedule is as follows:
| | | |
| --- | --- | --- |
| Opponent | Date | Time |
| COLUMBUS BLUE JACKETS | September 16 | 3:00 PM EST |
| ST. LOUIS BLUES | September 17 | 3:00 PM EST |
| DALLAS STARS | September 19 | 2:00PM EST |
| COLUMBUS BLUE JACKETS | September 20 | 1:00PM EST |