Breaking down the Toronto Marlies five NCAA free agent signings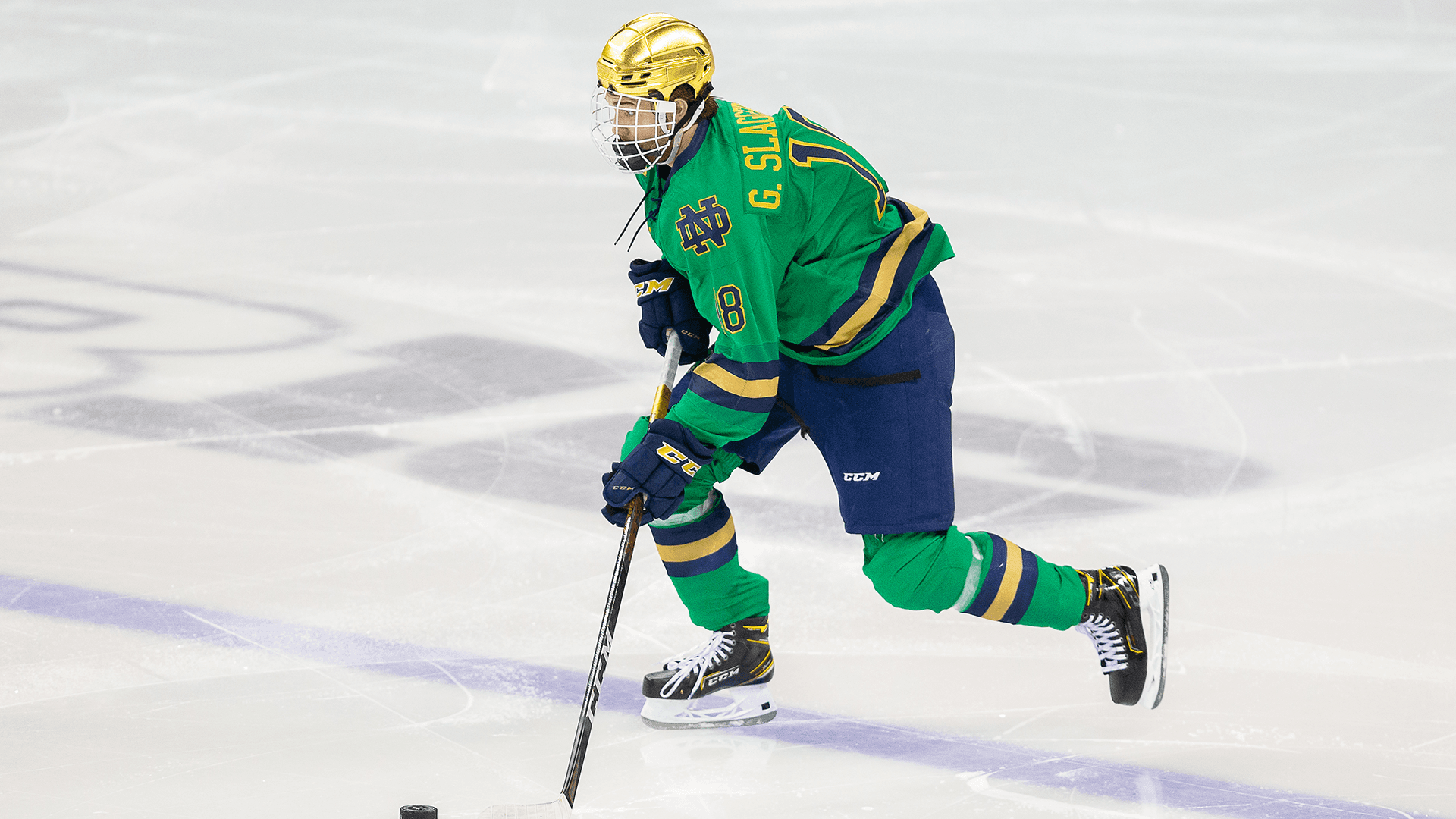 Photo credit:@NDHockey
Each spring, the Toronto Marlies begin their annual search for free agent players to bring into the organization to fill out their AHL depth and ECHL roster for the following season. Given the organizational stance on development and how to use the minor league affiliates, the Marlies bring in multiple NCAA and CHL free agents every year to fill the aforementioned needs while also bringing in players that have the potential to develop into something more.
Since 2018, three prospects that have signed with the Marlies have later been upgraded to NHL contracts in @Kristians Rubins, @Pavel Gogolev, and @Curtis Douglas. Goaltender Keith Petruzzelli is making a strong case with the Newfoundland Growlers to earn an ELC too, while Bobby McMann remains on an AHL contract but has become a dependable top-nine forward for the Marlies this season.
Though we will have to wait a few more weeks to see what CHL free agents are brought into the organization, GM Ryan Hardy has already been active in the NCAA free agent market, inking five players to 2022/23 AHL contracts.
Marshall Rifai | LD | Harvard (ECAC)
The Marlies first signing for 2022/23 came when they announced the addition of Harvard defenceman Marshall Rifai.
A teammate of Toronto Maple Leafs prospect @Nick Abruzzese's, Rifai enjoyed a breakout season with the Crimson, emerging as one of the league's top defensive defencemen. While acknowledging the limitations of plus/minus, the 6-foot-1 blueliner led Harvard at an impressive +23. He was a positive impact player in terms of shot share as well,
according to EP Rinkside's data
.
Though Rifai's 13 points in 35 games don't stand out as a 23-year-old player, it's important to note he did not play on the powerplay. He's by no means an offensive defenceman, but 12 even strength points are a respectable total. Rifai is also a bit of a later bloomer, making his NCAA debut at 20 years old and not becoming a regular in the Harvard lineup until the following season.
Despite being 24 years old, Rifai has just 71 games of NCAA experience under his belt due to the limited playing time as a freshman and a missed season as a junior due to Harvard's COVID cancellation. Overall, look for Rifai to provide a nice compliment to the numerous offensive-leaning blueline prospects Toronto has in the system, whether as a depth option for the Marlies or a regular with the Growlers.
Graham Slaggert | C/LW | Notre Dame (Big Ten)
The Marlies next two signings were announced together, so let's begin with Graham Slaggert.
Slaggert's best season with Notre Dame came in 2020/21 when he finished second in team scoring with 25 points in 27 games. It was a breakout campaign for the junior, who had scored 19 points over his previous two seasons with Notre Dame combined. This breakout came playing alongside non-other than current Marlies forward and Leafs prospect @Alex Steeves.
Though his rate of production did take a step back this past season, scoring 25 points in 39 games in his senior year, Slaggert did see more progression as a two-way player and set a career-high in goals.
Slaggert is a player that Greg Moore and Ryan Hardy have familiarity with as well, having played with the USNTDP when Moore was on the staff as an assistant and in Hardy's final year as Director of Player Personnel.
Already with the Marlies on a try-out basis to finish the season, Slaggert already made his AHL debut last week against the Grand Rapids Griffins.
Slaggert is exactly the type of forward prospect that ticks the boxes the Marlies are looking for. He's versatile, with the ability to play at centre and on the wing, plays a responsible 200-foot game, and can chip in on the penalty kill. At 23 years old, he could be a significant contributor for the Growlers next year or just as easily serve as a depth piece for the Marlies. Of the signings made so far, I think Slaggert has the best chance of playing regular games for the Marlies next season.
Tommy Miller | RD | Northeastern (H-East)
Northeastern's Tommy Miller was the other signing announced with Graham Slaggert, a 6-foot-2 right-shot defenceman who is coming off of his fifth year in the NCAA.
After four years at Michigan State, Miller transferred to Northeastern for his extra year of NCAA eligibility (COVID rule). The captain of a poor Spartans team in 2021, Miller stepped into a much more competitive team with Northeastern and into a big role as well. Miller was often paired alongside Montreal prospect @Jordan Harris on the Huskies' top pairing, complementing Harris as a shutdown defender.
None of Miller's offensive stats will stand out, he scored 36 points in 174 career NCAA games, but that isn't what he brings to the table either. Miller is a defensive defenceman, looking to provide value in preventing chances against and on the penalty kill rather than lighting up the scoresheet.
He racked up blocked shots in his time at Michigan State, finishing third in the NCAA with 71 blocks in the 2020/21 season. Playing on the nation's fourth-ranked penalty kill at Northeastern, Miller blocked his fair share of shots in 2021/22, finishing the season with 58 blocks to rank second on his team.
We don't have any public shot-share results for Miller, though his on-ice goal shares haven't been great by any means in the NCAA. It's always tough to gauge defensive results in non-NHL leagues without these public metrics, though (Jaccob Slavin was a -28 in his final NCAA season and almost immediately became a top NHL defensive defenceman the next season).
Similar to Slaggert, Greg Moore and Ryan Hardy both have familiarity with Miller from their time at the USNTDP as well.
I would expect Miller to be a player that spends more time with the Growlers than the Marlies. While Rifai and Slaggert could fill a need at the AHL level, there is already a logjam forming on the Marlies' right side with @Mac Hollowell, @William Villeneuve, and @Axel Rindell all signed to NHL contracts going into next season, not to mention @Joseph Duszak as an RFA as well.
Nolan Walker | C | St. Cloud State (NCHC)
The most recent two signings announced by the Marlies came on April 5, beginning with Nolan Walker.
A consistent scorer during his time with St. Cloud State, Walker has a longer track record of performance than any of the other four signings made so far. Other than a disappointing sophomore season, Walker scored at very similar rates as a member of the Huskies, with 24 points each of the last two years and a career-high of 27 points as a freshman.
Even before his time in the NCAA, Walker's one and only year in the USHL was a near point-per-game effort with Sioux Falls, where he scored 50 points in 55 games.
Standing at 5-foot-10, Walker has good hands in tight situations and a knack deflecting shots, but has had an average assist rate and shot rate in his NCAA career. A teammate of Leafs prospect Veeti Miettinen (but not playing on the same line), Toronto's staff will have seen Walker quite a bit over the past two years.
While Slaggert has a strong 200-foot profile, Walker's is average at best. He will likely begin his pro career with the Growlers and look to work his way up to the Marlies from there.
Michael Joyaux | RD | Western Michigan (NCHC)
The last of the Marlies signings so far is also the oldest, in 25-year-old right-shot blueliner Michael Joyaux.
Joyaux also has the most interesting statistical profile of the group of five signings so far. Where most of the signings have been two-way or defensive-oriented players in Rifai, Slaggert, and Miller, Joyaux bucks this trend.
In 2021/22, Joyaux emerged as one of the NCAA's top powerplay quarterbacks. No NCAA defenceman scored more primary points on the man advantage than Joyaux's 16 last season. He was effective at even strength too, adding another five goals and 12 points in addition to his elite powerplay results.
Where things take a step back for Joyaux is the overall even-strength results. In his four years with the Broncos, Joyaux finished bottom three among team regulars in plus/minus (again, not a perfect stat) in each season.
Joyaux is a fun, low-risk roll of the dice that at worst will be a sheltered powerplay quarterback for the Growlers next season. Though he is already 25 years old, I'm intrigued to see what he will be at the pro level coming off of his breakout offensive season but with consistently subpar goal-share results.
Finally, in prior years nearly all of the Marlies signings out of the NCAA and CHL have been to two-year AHL contracts. So far, all five signings have been to one-year contracts. Just a minor note, but something that will see much more annual roster turnover if the one-year contracts do remain the status quo for any future AHL signings going forwards.
POINTSBET IS LIVE IN ONTARIO
PointsBet Canada has officially launched in Ontario! Get a $25 free bet just for 
signing up right here!