Bruce Boudreau should come home to the Toronto Maple Leafs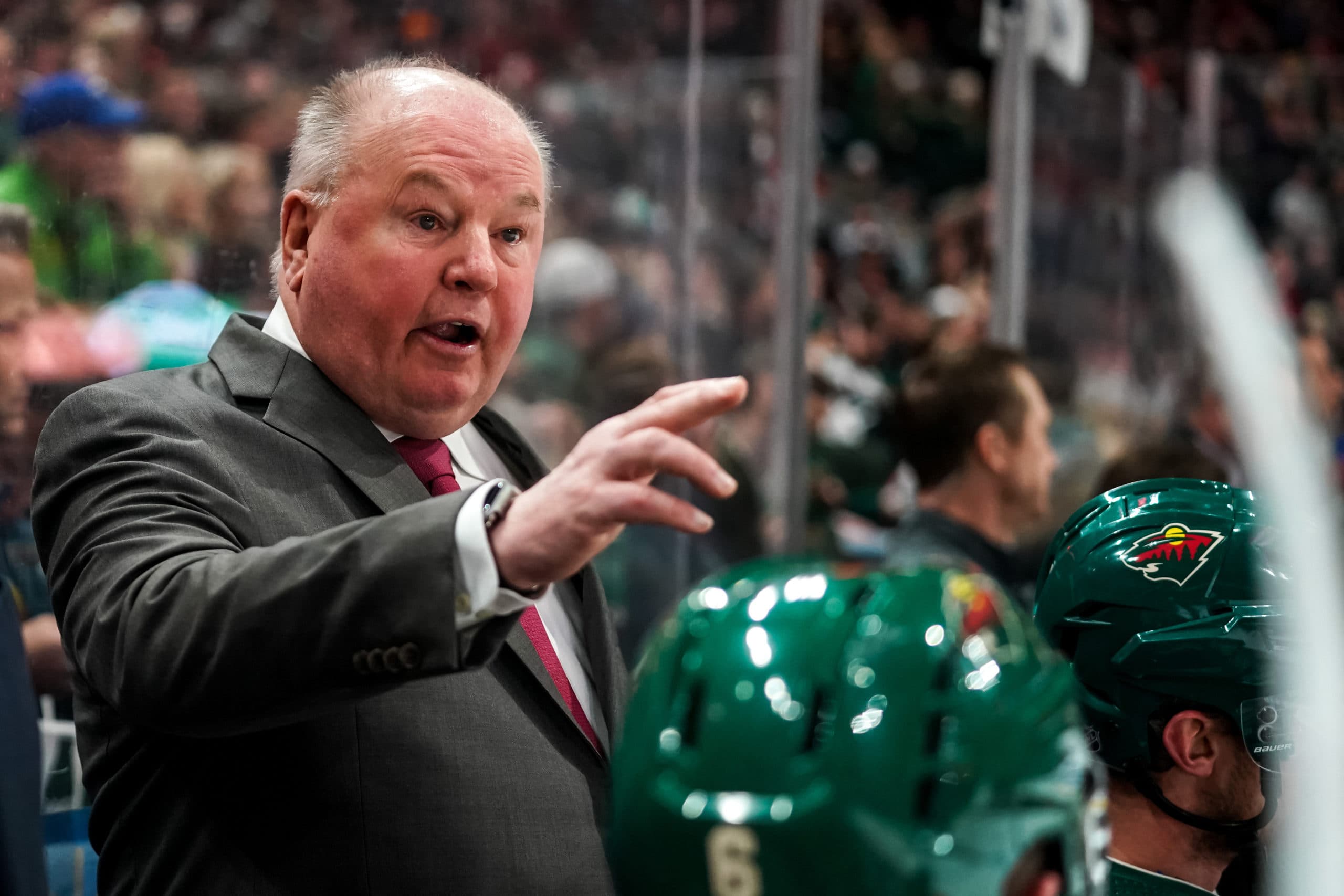 Photo credit:Brace Hemmelgarn-USA TODAY Sports
Yesterday morning news broke that the Seattle Kraken were set to announce their first head coach in franchise history. Elliotte Friedman, along with other NHL insiders tweeted out on Twitter that one of the candidates to take the head coaching job in Seattle was Toronto Maple Leafs' assistant coach, Dave Hakstol. It was honestly shocking news to me and I'm sure it was to others as well as we never really heard his name in any rumours as a potential candidate to become a head coach again, especially in Seattle.
With Hakstol off to Seattle next season, there is now a hole on the Maple Leafs bench and they need to fill it ahead of next season. The first man that popped in my head when this news broke yesterday was the same man that was rumoured to have talked to Sheldon Keefe and Kyle Dubas to join the coaching staff for this season, Bruce Boudreau. I know I'm not the only person that would be more than willing to bring Boudreau on board and be a part of this coaching staff next season as a lot of Leaf fans have made it clear that they've been wanting him here for some time now.
Bruce Boudreau's Resume
Boudreau was most recently the head coach of the Minnesota Wild before he was replaced during the 2019-20 season. Other than the Minnesota Wild, he was the head coach for two other NHL teams, the Washington Capitals from 2007-08 – 2011-12 and the Anaheim Ducks from 2011-12 – 2015-16 before he ultimately went to the Wild from 2016-17 to 2019-20. In his 14-year coaching career, he has coached in 984 career games and has coached some pretty good teams.
Here are the teams he coached, along with his record and points percentage with each franchise during his time there.
Washington Capitals 2007-08 – 2011-12:
201 W – 88 L – 40 OTL – .672% PTS%
Anaheim Ducks 2011-12 – 2015-16:
208 W – 104 L – 40 OTL – .648% PTS%
Minnesota Wild 2016-17 – 2019-20:
158 W – 110 L – 35 OTL – .579% PTS%
After 984 career games over three different NHL teams, Bruce Boudreau has a total record of 567 wins, 302 losses, 115 overtime losses and a points percentage of .635%, and on top of that record, he also brought home the 2007-08 Jack Adams Award in his first year as coach with the Washington Capitals.
Now that we've gone over his regular-season resume with those three NHL teams, his playoff resume isn't that bad either, but he's never done the thing and gone all the way to win the Stanley Cup with either team. He made the playoffs in his first four years with the Capitals, losing in the first round twice, losing in the second round twice and getting fired in his fifth year.
With the Ducks, he missed the playoffs in his first year there which was only half a season, but then made the playoffs four years in a row after that. Losing in the first round twice, losing in the second round once and losing in the Conference Finals to the Blackhawks in 2015.
He then went to the Wild for the 2016-17 season and made the playoffs twice in his three and a half years there. Losing in the first round twice and missing the playoffs once before getting fired in the 2019-20 season.
Boudreau's Role
If this even happens and Bruce Boudreau comes to Toronto and joins the coaching staff next season, I can only see him taking over the power-play, however, that job is currently taken by Manny Malhotra. Although, with Dave Hakstol now gone to Seattle, I'm wondering if Malhotra could take over the penalty-kill/defence and Boudreau could take over the power-play, given that Malhotra was an elite penalty killer himself when he was in the NHL. It only makes sense, right?
All signs point to Boudreau and the Maple Leafs as a potential fit in my opinion, given that he was born in Toronto, grew up a Maple Leafs fan and even played for the Toronto Maple Leafs as well during his NHL career, so it would make sense to why he would come to Toronto and take a position on the bench as part of the coaching staff.
Although it would be very cool and awesome to see him come home and take a job here, I don't know what route Boudreau and the Maple Leafs are going to take moving forward here. Meaning if Boudreau even wants to get back into coaching or if Toronto already has other candidates in mind right now that could potentially replace Hakstol's role and they don't even bother contacting Boudreau at all. It'll be interesting to see though as the off-season rolls around and there is now a hole to fill on the bench in Toronto.