Calling on Källgren; Toronto visits the Shark Tank: Leafs Tailgate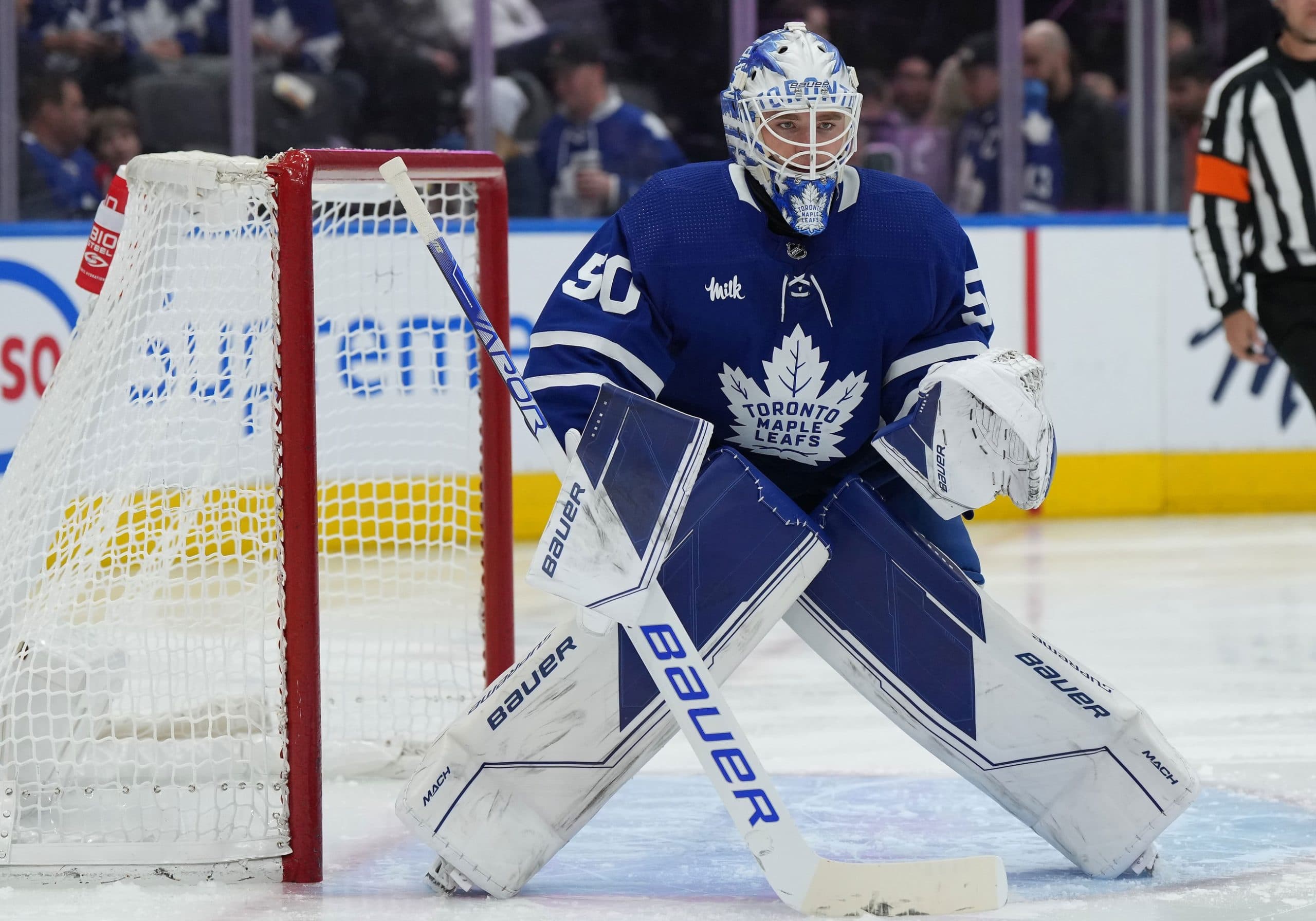 Photo credit:Nick Turchiaro-USA TODAY Sports
What do the Toronto Maple Leafs (4-3-0) and the San Jose Sharks (2-7-0) have in common? They both lost to Phil Kessel and the Vegas Golden Knights last time out.
It goes without saying, but the stakes for tonight's showdown at SAP Center couldn't get any higher.
On one side you have the Leafs, who've had two days to dwell on an uninspiring 3-1 defeat at T-Mobile Arena on Monday night. On the other, you have the Sharks, who were dumped 4-2 on home ice on Tuesday night in Adin Hill's return.
Toronto is 1-1-0 through two games of its five-game road trip. The two squads split their two-game season series in 2021-22.
Time: 10:30 PM EDT (Sportsnet Ontario)
Starting Goalies:
TOR Erik Källgren– CONFIRMED (0-1-0, 3.05, 0.833)
@
SJS Kaapo Kahkonen – CONFIRMED (0-3-0, 3.46, 0.873)
Projected Lineups:
Three Storylines:
START ON TIME
Desperate times call for desperate measures, hence the utilization of a Mike Babcockism. For all intents and purposes, the Leafs have been late to the party on more than one occasion through seven outings. After scoring the opening goal in the first two games of the season, they've now trailed 1-0 in five consecutive contests. Yeah, that's no recipe for success.
Furthermore, they've had a difficult time starting periods in general. Monday's masterpiece was a prime example of that as Toronto surrendered a goal early in the first and early in the third. It's time to wake up, this glaring trend is getting ridiculous.
CALLING ON Källgren
After whatever that was last Monday against Arizona, logical thinking suggests the Leafs should be motivated to deliver a much better effort in front of Källgren this time around. In his first appearance of the season, the 26-year-old surrendered three goals on 18 shots, but again, it was a complete no-show by his teammates. All things being equal, I think it's a peculiar decision by Sheldon Keefe to go with his No. 2. Toronto plays a back-to-back versus Los Angeles and Anaheim, respectively, this weekend, so does this decision mean Kallgren is starting two of the next three games? We all know how the analytics community feels about taking the Martin Brodeur approach to goaltending. Anyways, considering Matt Murray's history, the Leafs need to see what they have in Källgren.
NEW LINES
In an attempt to get some guys going, Sheldon Keefe once again shuffled the deck chairs at practice on Wednesday:
It's a long season, I don't mind tinkering with things from time to time. That said, Pierre Engvall must have something on somebody, he doesn't deserve to be playing right now. Also, it appears that Michael Bunting has become the new whipping boy, how many times has he been pulled off that top line already? I get it, though, you're not splitting up Matthews and Marner, so Bunting is the only option to go elsewhere. We
'll see what Kerfoot can bring to the table.
BETTING:
(As of 12:30 p.m. EDT)
Prop Play:
Battle of backups
Kahkonen – 10 goals against in 3 appearances (NJD, CHI, NSH)
Kallgren – 46 goals against in 15 career NHL appearances (3.07 goals per game)