Campbell, Muzzin return to action as Maple Leafs continue search for optimal look on defence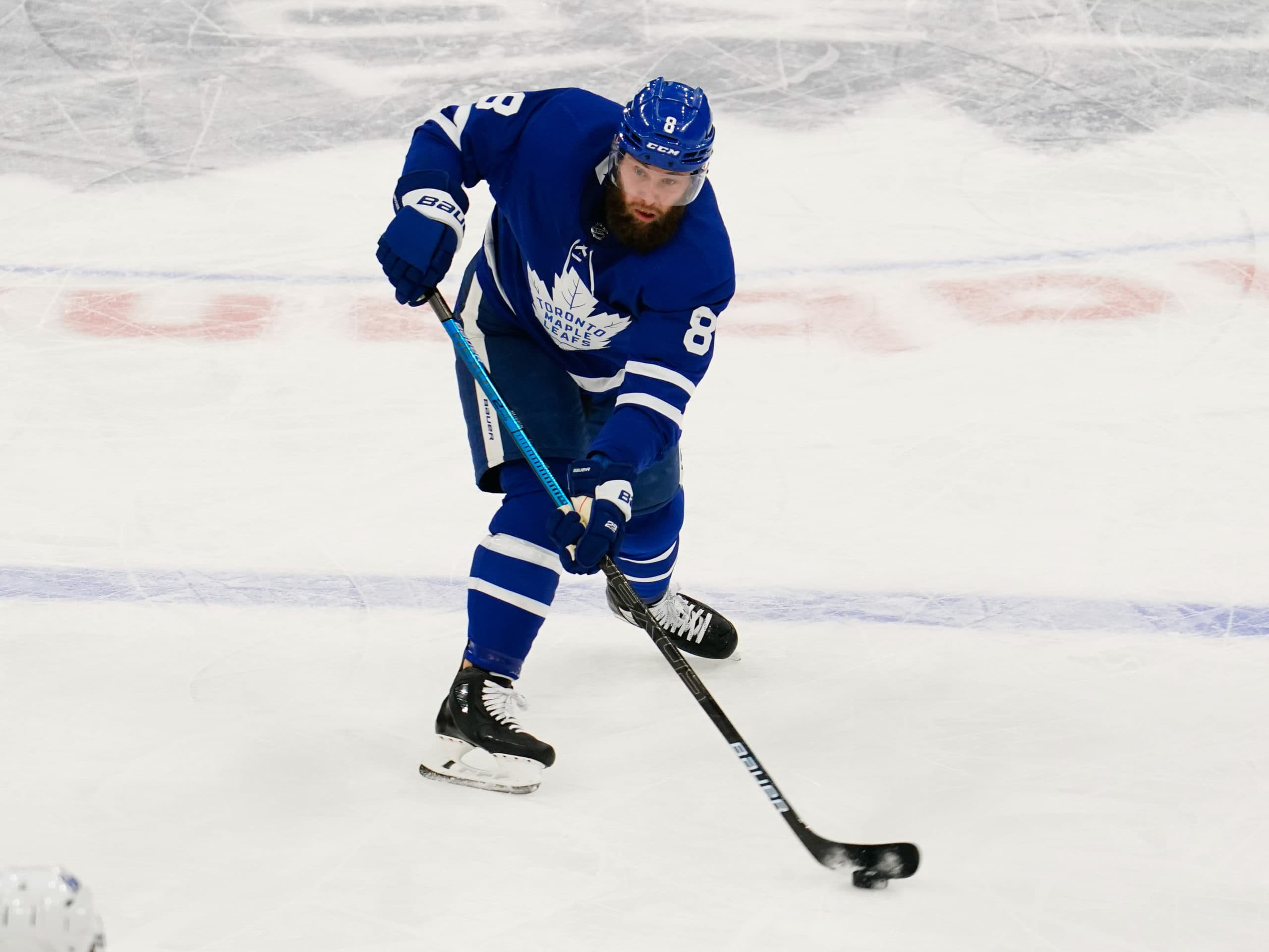 Photo credit:John E. Sokolowski-USA TODAY Sports
Jack Campbell and Jake Muzzin will both return to action when the Toronto Maple Leafs host the Washington Capitals on Thursday.
Campbell served as a backup for the past two games as Erik Kallgren handled the workload in a 3-2 win against the Montreal Canadiens on Saturday and a 5-2 loss to the Buffalo Sabres on Tuesday.
Head coach Sheldon Keefe had indicated that Campbell was "not quite 100 per cent" ready to play on Tuesday due to an ailment not related to the rib injury that forced him to miss nearly a month of action. That resulted in backup Erik Kallgren making consecutive starts in goal.
"We think it was more just something where you haven't played in a while and you play a lot more than you expected on the road trip," Keefe said of Campbell following the team's morning skate. "With goalies, you're managing them every day because it's such a taxing position."
Since returning from the rib injury, Campbell is 3-0-0 in four appearances with an .891 save percentage.
The Maple Leafs have been thin in goal with Kallgren serving as the everyday backup since Petr Mrazek was shut down for the remainder of the regular season with a groin injury.
The club acquired Carter Hutton in a trade with the Arizona Coyotes in late February. At the time, Hutton wasn't expected to be an option for the Leafs in goal as the veteran was loaned to Arziona's AHL team in Tucson up until approximately one week ago.
Hutton took the ice to get some work in before the team's morning skate. He's wearing blue and white gear and sporting a Leafs-branded mask. There's no timetable as to when Hutton would see action, if at all. Keefe indicated last week that Hutton would likely be with the Marlies if cleared to ready to return.
Hutton has dealt with knee and ankle injuries this season.
Jake Muzzin will also return to the lineup tonight after he sat out the last game with an undisclosed ailment. Muzzin was scratched in the game against the Sabres and will return to skate on the second pair alongside TJ Brodie.
Justin Holl will be a healthy scratch as the Maple Leafs try to figure out their optimal look on defence between now and the postseason.
Right now, Keefe has identified Morgan Rielly, Brodie, Muzzin and Mark Giordano's as staples of the team. That leaves just two remaining right-handed defencemen to fill the other spots.
Since Muzzin returned from his second concussion on Apr. 5, Timothy Liljegren and Ilya Lyuvbushkin have taken turns as a scratch. It appears now it's Holl's turn.
"Hollsy in particular, certainly of all the right shots but amongst any of our defence has probably played as difficult a minutes as any. Other than Rielly and Brodie for most of the season, Hollsy is right there," Keefe said. "Yet you look at what Lyubushkin has brought and his physicality and the way he kills plays and covering defensively and Liljegren, the steps that he's taking to rounding out his game. We've got some difficult decisions that are good problems for you to have as a coach and obviously from a players' standpoint as we're trying to sort through things here and these games are really important for everybody to be at their best."
That list of defencemen doesn't include left-handed shot Rasmus Sandin who skated before practice. He's been out with a knee injury and it's expected to return until the final week of the regular season at the earliest.
POINTSBET IS LIVE IN ONTARIO
PointsBet Canada has officially launched in Ontario! Get a $25 free bet just for 
signing up right here!