Can the Maple Leafs have their own Davis Schneider this season?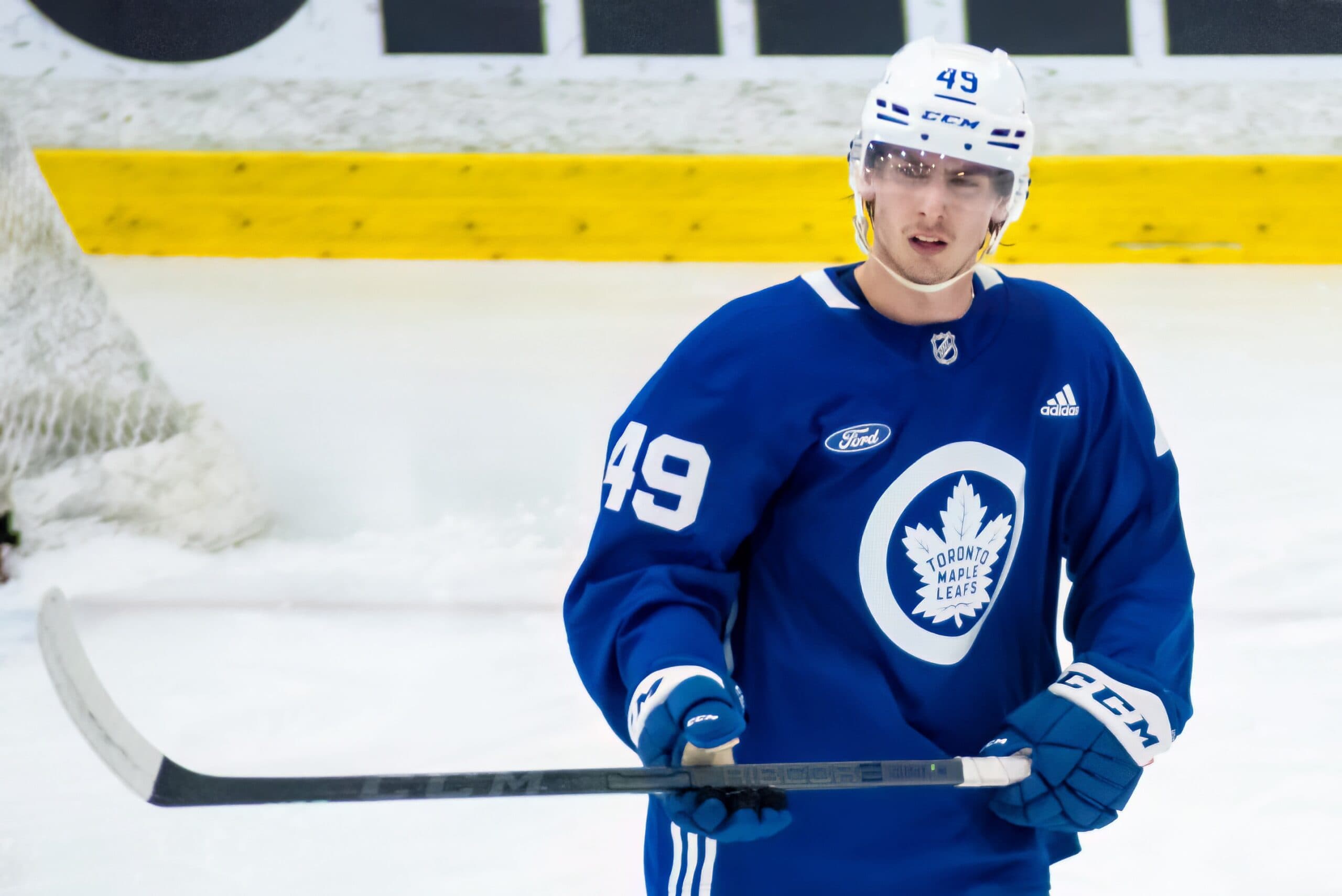 Photo credit:(Photo by Steven Ellis/Daily Faceoff)
While the Toronto Maple Leafs may be in their offseason, the Toronto Blue Jays are currently in the midst of battling for a playoff spot in the MLB's toughest division. While injuries and some struggling starters has hurt their season, one positive addition for Toronto's baseball club has been the emergence of rookie utility fielder Davis Schneider, a 28th round pick in the 2017 MLB draft, who against all odds has not only found his way onto an MLB roster, been proven to be an immediate contributor. 
While debuting, Davis Schneider tied the MLB record for most hits in a player's first three games, notching nine hits, two of which were home runs, during a series against the rival Red Sox. Even when his barrage of hits slowed down, Davis continued to show his value, getting on base five times over the next four games, with four walks and a double, all while providing consistent fielding at both second base and left field.
For the Toronto Maple Leafs, this serves as a vision board for one of the best things that could happen to their season. While the additions of players like Max Domi and Tyler Bertuzzi have assisted in filling the void being left by departures such as Michael Bunting and Ryan O'Rielly, the Maple Leafs will be hoping for at least a handful of prospects to make the jump into capable NHLers to help provide some much needed depth to their roster.
Of course, everyone expects top prospects Matthew Knies and Joseph Woll to make the jump, but what's so fascinating about a player like Davis Schneider was his ability to come out of seemingly nowhere. No one expects a 28th round pick to make the majors, and while Schneider could still be sent back down to the minor leagues to make room for regular roster players returning from injury, there's no denying the value of depth the Blue Jays have gained since his emergence.
So who are the potential candidates for being the Toronto Maple Leafs' own Davis Schneider? A late round draft pick from years back that has remained relatively anonymous in the minors and is now ready to burst onto the scene as a valuable asset who can serve as more than a bench player, providing bursts of value when called upon. Previously we've seen players such as Connor Brown, Pierre Engvall, and Andreas Johnsson fill that role for the Maple Leafs, with each of them being drafted in the 6th or 7th round and developing into competent middle of the lineup players for the Maple Leafs. With each being traded away to clear up salary cap space, it's time for a new crop of prospects to make the leap.
The most likely candidates
Over the past two seasons, we've seen a handful of late round picks get a cup of coffee call-up with the big squad, showing some promise over limited action. The most notable of such players is Pontus Holmberg, a 2018 sixth round pick who lost his official rookie status after playing 37 NHL games last season and looked like a competent bottom of the lineup player, recording 13 points along the way. Holmberg is largely expected to battle for a fourth line spot in training camp this year, meaning that while he won't be the sort of midseason surprise that Schneider was for the Jays, he still provides some solid budget-friendly value.
2019 fourth round pick Nick Abruzzese is another Maple Leafs prospect who has already had his first taste of NHL action. After showing glimpses of excellence while playing his first professional season with the Marlies last season, Abruzzese excelled to become a point per game contributor when it mattered most, putting up seven points in seven AHL playoff games, and even notching two assists during his two-game NHL call-up.
The dark horses
This is where the real Davis Schneider types are found. While everyone in the aforementioned section would be a pleasant surprise if they forced their way into the lineup over the course of the season, none would be quite as shocking as Schneider's rise for the Blue Jays. Here we'll take a look at some former late-round draft picks yet to make their NHL debut who have been signed to NHL contracts and therefore have an outside chance at earning themselves some time on the Maple Leafs roster.
Drafted in the seventh round of the 2020 NHL draft, Ryan Tverberg was not only a late-round pick, but one of the very last picks, the 213th of 217 selected players. After spending three years playing for the University of Connecticut, the 21-year-old centre turned pro last season, making his debut with the Marlies. Despite being held off the scoresheet over his seven AHL games, Tverberg showcased his offensive talent during his NCAA career, leading his team in goals each of the past two seasons. While he'll likely never lead an NHL team in scoring, Tverberg has some outside potential at becoming a consistent 20-goal-scorer, offering bottom-of-the-lineup offence for a Maple Leafs team that has spent the past few seasons trying to find exactly that.
After being drafted in the fifth round of the 2021 NHL draft, the Maple Leafs quickly signed Ty Voit to an NHL contract, doing so later that year. It's unusual for a late round pick to be signed the same year they were drafted, suggesting that the organization quickly saw something they like with the pick. Their faith in the pick was quickly rewarded, with Voit's OHL point totals rising exponentially over the following seasons, culminating with finishing second in the league in scoring last year, after recording 105 points in 67 games. While he'll only be making his AHL debut at the start of this season, if Voit's game continues to grow as rapidly as it did in the OHL, it could be only a matter of time before he's in the NHL.
Lastly we have William Villeneuve, another player selected in the back-half of their draft year, after the defenceman was selected in 2020's fourth round. The offensive defenceman consistently flirted with being a point per game player during his time in the QMJHL, and continued to find the scoresheet last year during his first professional season, managing 25 points in 54 games with the Marlies. While Rielly and Klingberg provide plenty of bluelining scoring for the Maple Leafs, Villeneuve may be called upon to make his NHL debut should one of them go down with injury, and the team is suddenly looking to try out a new power play quarterback.
From Davis Schneider to Tom Brady, pro sports is filled with moments of late round draft picks stepping up and shocking the world. For the Toronto Maple Leafs, getting such an unexpected surprise work in their favour could go a long way in helping this team finally get over the hump and make a deep playoff run.