Captain John Tavares is prepping for a much tougher Atlantic Division in 2023-24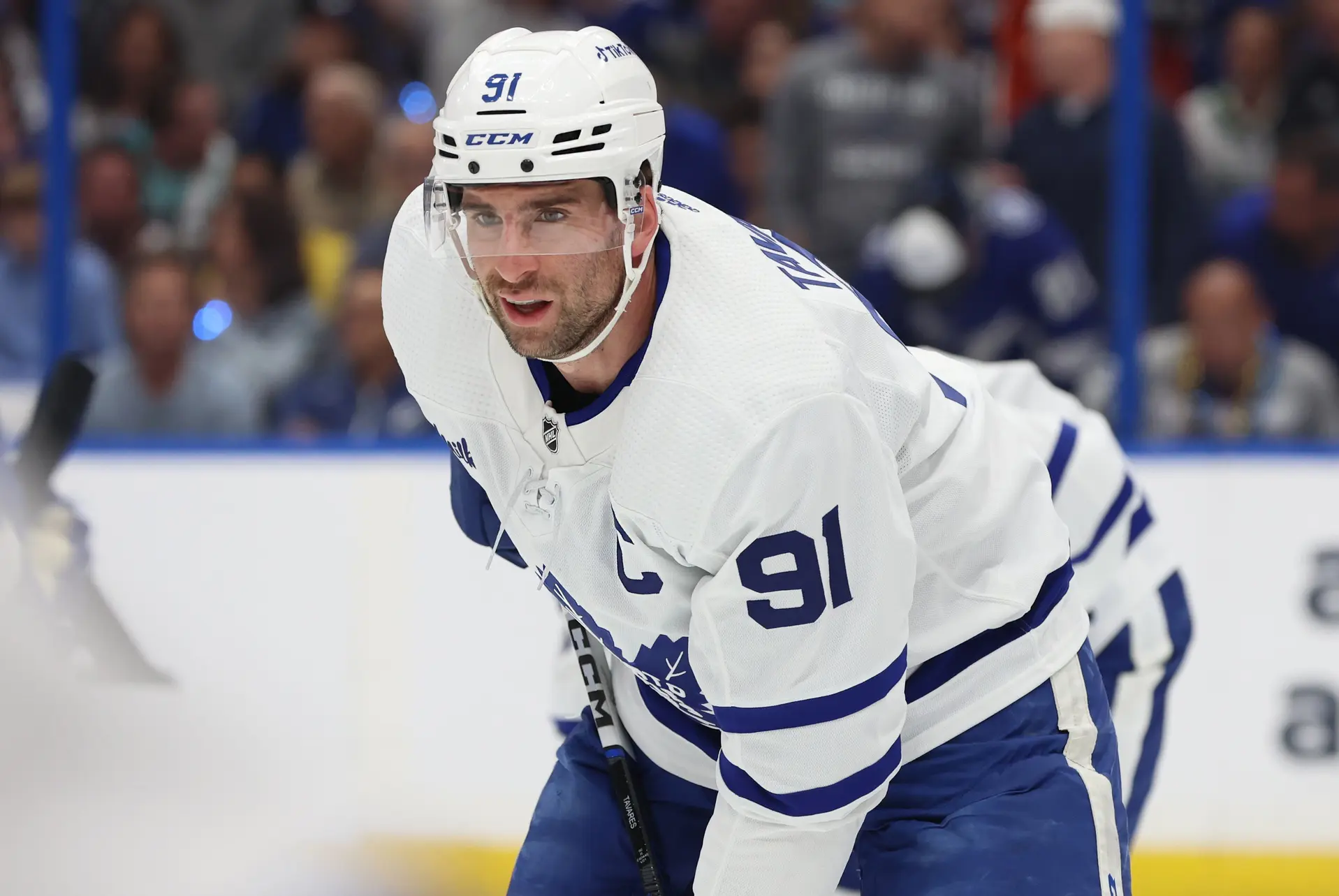 Photo credit:Kim Klement-USA TODAY Sports
Toronto Maple Leafs captain John Tavares knows next season can be a storybook season for his team. He also knows it's going to be much tougher to win games in the Atlantic Division.
It's been a summer of transition for the Atlantic as a number of teams have added some serious talent. The parity will be tough to navigate through to the top as the Leafs have a massive challenge ahead of them next season. A challenge their captain thinks they're ready for.
Tavares recently caught up with
NHL.com's Dave McCarthy
had mentioned " the steps that Detroit, Buffalo and Ottawa … are taking, you see the talent they are developing and the season some of their guys have had (last year) and the way their teams are growing and the challenges they present. They obviously feel they are ready to start contending and be playoff teams. There is no doubt it's only going to continue to get harder and harder, so we are aware of that challenge and know what's ahead. We certainly respect what they bring to the table, but we have to be prepared and we expect a lot of ourselves and have high expectations to still be one of the top teams, if not the top team, in our division."
While Tavares should be more worried about the Tampa Bay Lightning, Florida Panthers, and Boston Bruins of the world, there's no doubt the Senators, Red Wings, and Sabres are going to take steps forward next season. The question is: How far forward?
The Sens landed a new number one goalie in Joonas Korpisalo and have a number of young players who are starting to hit their prime. Ottawa should be on watch. The Wings added some more complimentary pieces, but still do have a number of question marks throughout their lineup, including in goal with Ville Husso and James Reimer leading the charge. As for the Sabres, it seems like every season they create a summer buzz and while they will be a better team on paper entering next season, the jury is still out on their young defense and thin goaltending depth. The Maple Leafs should be able to keep themselves separated from these three in the division.
The Bruins, to me, took a step back with the retirements of David Krejci and Patrice Bergeron and should be considered wild cards. The Lightning and Panthers will both be beasts of the east and should be near the top of the conference standings. The Leafs know both teams well and it will be curious to see how they shape up to them throughout the season and it will be fun to compare the transactions made to improve their clubs leading up to the trade deadline.
Tavares knows it's not easy to win in this league. He's felt the highs and gone through the lows. It takes a consistent effort night in and night out and he's ready to once again lead the Leafs to the promised land. Toronto's captain is set to start
next season as the second-line centre
and will likely have William Nylander and Matthew Knies on his wings to start the 2023-24 campaign. This trio could put up massive numbers.
A big change could be coming when it comes to power-play time as there's been some rumblings about having him start on PP2. I recently
published a predictions piece
on the power play units for the Leafs and showcased how things could shape up. Change is inevitable over the years and this small move, will help balance out both units and really shouldn't impact the captain's game very much.
The Maple Leafs are gearing up to once again try and win the Atlantic Division. A division which Tavares sees some significant improvements. Toronto and their captain have come up short the past couple of seasons. While the divisional crown doesn't mean much, it would be a nice feather in the cap as the team heads into the Stanley Cup Playoffs next spring.