Carl Dahlström returns, Toronto facing adversity, injury updates, and more: Marlies Weekly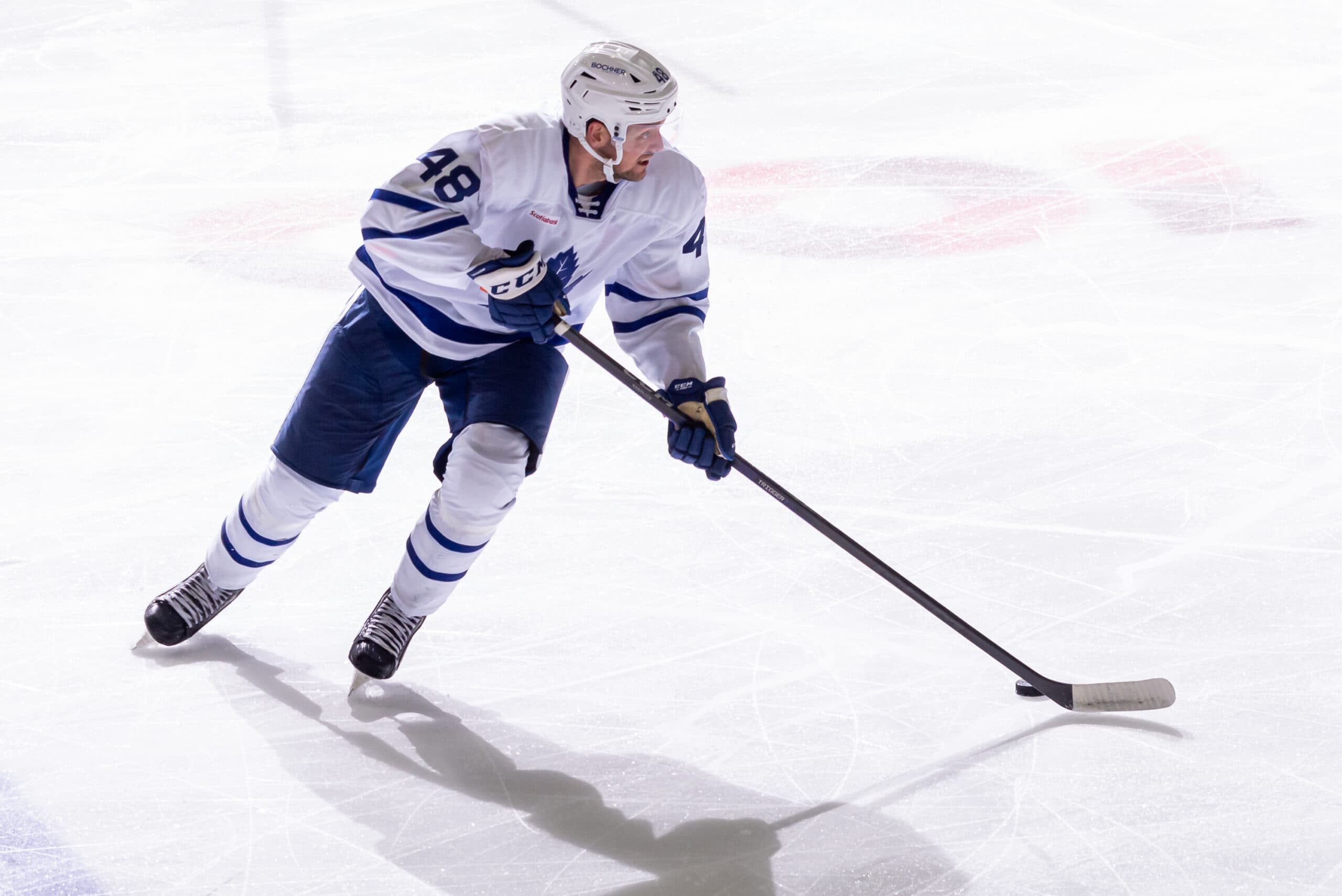 Photo credit:Christian Bonin/TSGphoto.com
Three games this week for the Marlies which all resulted in losses as the clock ticks down on the regular season.
Wednesday night saw Toronto host the Milwaukee Admirals in their second matchup of the season. Their first game against each other, earlier this year, had 11 goals including one from the Marlies in overtime, giving them the 6-5 win in that one.
The game on Wednesday had a similar outcome with the game going to overtime, however it actually went even further, to the shootout.
Yaroslav Askarov was in net for Milwaukee and he stopped every shootout attempt from the Marlies, including this one on Logan Shaw. Toronto would evidently lose that game 2-1.
The Marlies had a day off before travelling to Cleveland for a home and home series, on Friday night and Saturday afternoon vs. the Monsters.
Kyle Clifford and Max Ellis had the goals for Toronto on Friday night against Cleveland. Ellis' goal, in particular, may have been his best of his young professional career.
Overtime was a lot of fun for both teams. They each traded chances, and with 1:16 left, Alex Steeves was slashed on a breakaway and was awarded a penalty shot because of it.
A great chance for him to end the game though he couldn't do that unfortunately as his shot was stopped by Daniil Tarasov.
20 seconds later, Cleveland entered Toronto's zone quick off the transition and Trey Fix-Wolansky was able to get a stick on the puck as it was sent in front, finding the back of the net.
The Monsters defeated the Marlies, giving Toronto their fourth-straight loss. Something that hasn't happened this season, until now.
And it didn't get better on Saturday as Toronto lost again, this time 4-0 to Cleveland — now their 5th-straight loss. The Marlies came out flying and created a lot of chances in the first period, though as the game went on, those opportunities faded.
The Monsters scored three second period goals and one empty netter at the tail-end of Saturday's game to seal their win over the Marlies.
Although Toronto has lost five-straight, no one should be worried about the team and their chances once they enter the playoffs. Adversity is good at this point of the season, and even Marlies head coach Greg Moore agrees.
"We definitely have the group of guys in the room to correct where we're at right now," he said. "There hasn't been long stretches or big moments of the season where the team has really had to get through a losing streak, and we're in one right now, it can be very much a positive thing going into the end of the season here.
"And again, we have the right group of guys, I know that they care a lot. We've talked all year about the culture, the quality of character that we have in the room, and there certainly will be a response in guys continuing to push to get better. I have all the belief and trust in this team."
Moore, after Saturday's game, also addressed the injuries that have been plaguing the team at the moment.
Nick Abruzzese is day-to-day with a lower body injury, Joseph Blandisi is day-to-day with a "nagging" upper body injury, and Erik Kallgren, who got hurt in Saturday's game, also has a lower body injury, but Moore didn't know the extent of the injury just yet.
Semyon Der-Arguchintsev has also been missing from the lineup as he recovers from a concussion.
Carl Dahlström's return after a six-month recovery from shoulder surgery
Although the Marlies did lose on Saturday, it was nice to see Carl Dahlström back on the ice at Coca-Cola Coliseum for the first time this season.
The 28-year-old suffered a shoulder injury during Maple Leafs training camp and needed surgery, putting him out of any game action for six months.
"A big relief," Dahlström said defining the emotions of this return. "Finally getting cleared and you wait so long. You wait a full summer and then you play maybe two or three games in the preseason and then obviously luck wasn't there for me again.
"But it feels good to be back even though we lost. For me, to just get back in it even though the outcome wasn't what we wanted. But I feel like we have the guys in this room that can definitely pull this off and pull this around."
Dahlström made his season debut with the Marlies paired up alongside Noel Hoefenmayer. The 28-year-old really didn't seem like he missed a beat out there, playing plenty of five-on-five and even having some time on the penalty kill.
It was really the best outcome for him in his first game back, though like he said, he would've liked to get the win too.
"I thought, for a first game back all season, his puck play was as good, if not better than what we saw last year," Moore said of Dahlström. "That's great for the work that he's put in in the off-season, during the season in his return to play, the work that our development staff has done with him on the ice.
"You could tell he came in felt very confident and very comfortable in the game."