Checking in on the Toronto Maple Leafs depth chart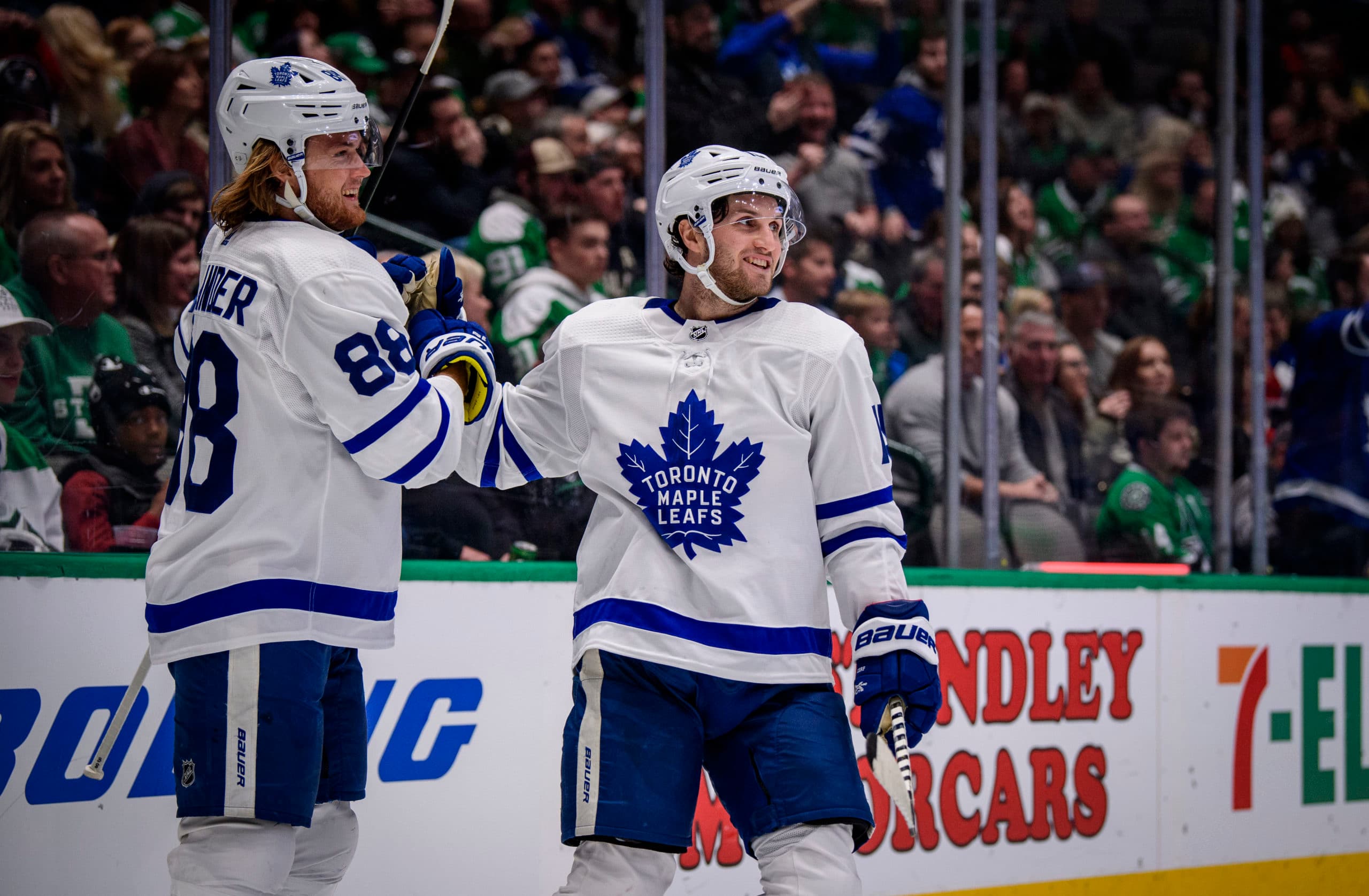 Photo credit:Jerome Miron-USA TODAY Sports
We're officially into the dead of the offseason. Just about every notable free agent has signed for next season and the last trade was almost three weeks ago. Any news coming across the timeline is incredibly minor with maybe the exception of arbitration settlements, of which the Toronto Maple Leafs have none to deal with.
Though the depth chart is not complete yet with plenty of time for more moves to be made, the general outline of the Leafs organization to begin the 2021/22 season is set. So today, let's take a look at where things stand from a projected Leafs roster all the way down the organization.
If you follow me on Twitter (@Kyle_Cush), you'll be familiar with the organizational depth charts I put out fairly regularly. I'll still be putting them out frequently on Twitter, but I'll also be diving into more detail with updates on the organization here throughout the season.
As of August 18, here is where the Toronto Maple Leafs organizational depth chart stands:
Currently, the Leafs can only afford one extra skater while remaining cap compliant. Toronto would need to shed about $1.4M in cap space to make room for another extra skater, though both the replacement and the new extra would have to make league minimum ($750k). Unless an @Ilya Mikheyev or a @Travis Dermott is moved, or a bigger trade involving @Alexander Kerfoot is done, it's likely the Leafs only carry one extra skater to begin the season.
In terms of the line by line breakdown, there are numerous options available. I think the most likely is a Kerfoot-Tavares-Nylander second line, given their familiarity and past success in a smaller but not insignificant sample. @Nick Ritchie takes an early spot on the Matthews-Marner line to give Sheldon Keefe a defensive, checking third line featuring Mikheyev, @David Kampf, and @Ondrej Kase. That would allow @Michael Bunting to play alongside @Jason Spezza and @Pierre Engvall or @Adam Brooks in a more offensive fourth line.
There are many potential line combinations for the Leafs up front, so this is more an outline than anything. Bunting could start higher in the lineup, with Ritchie partnering Kämpf and Kaše for a more traditional third line. It's also likely that @Wayne Simmonds factors in more regularly than I have outlined given Keefe's unwillingness to scratch him last season.
Defence and goaltending, on the other hand, is much more straightforward. The top four is set with no additions and no departures. The bottom pairing seems to be set as well with Dermott returning and @Rasmus Sandin's involvement in the Leafs playoff lineup. @Timothy Liljegren will push for minutes, but the lack of cap space to allow Toronto a second extra skater means some cap creativity will be required for him to feature in NHL games.
In net, @Jack Campbell and @Petr Mrazek will split starts. Who starts more remains to be seen, but those will be the two for the Maple Leafs this season.
The Rest of the Organization
As of now, it seems unlikely that taxi squads will be returning, allowing the AHL to return to full strength. The Leafs have a few candidates that could be claimed on waivers but will have lots of depth options regardless. @Joey Anderson and @Teemu Kivihalme will require waivers for the first time this upcoming season, with Anderson a decent candidate to be claimed.
There are two names that I'm not entirely sure where they fit into the picture here in @Denis Malgin and @Kirill Semyonov. Malgin is the lone remaining RFA for Toronto, a surprisingly young and skilled player who spent last year as one of the best players in the Swiss league. There is a scenario where Malgin's rights were tendered just to keep them and he will continue playing in Europe, but I'd imagine he returns to North America for 2021/22. His lack of contract so far is a curious one to me.
Additionally, Semyonov is projected to battle for the fourth line centre position, but the signings Toronto has made in addition to their limited space for extras leaves him in a peculiar position. I can't see him beating out any of the players I have listed on the Leafs roster, but I also can't see him playing the year with the Marlies as a 26-year old that left the reigning KHL champions.
To round things out, the Newfoundland Growlers situation remains up in the air. The local government and Growlers ownership have had a strange battle going on over financials and their lease agreement for the use of Mile One Arena. Regardless of what happens with that battle, I would be stunned if the Leafs don't have an ECHL affiliate playing for a second straight year. They have put too much emphasis on the "baseball model" of using the ECHL as a developmental league to lose out on another year of having an affiliate, and their signings appear to back that up. It's a situation to keep an eye on, but the Leafs and Marlies moves have indicated the intent to have an ECHL affiliate for the 2021/22 season.
The next deep dive into the Leafs organizational depth chart will come once we reach the beginning of training camp, where we will begin to see how Toronto's management and coaching staff see their roster playing out.