Colin Blackwell has done well so far and should get a longer look in the Leafs' top-nine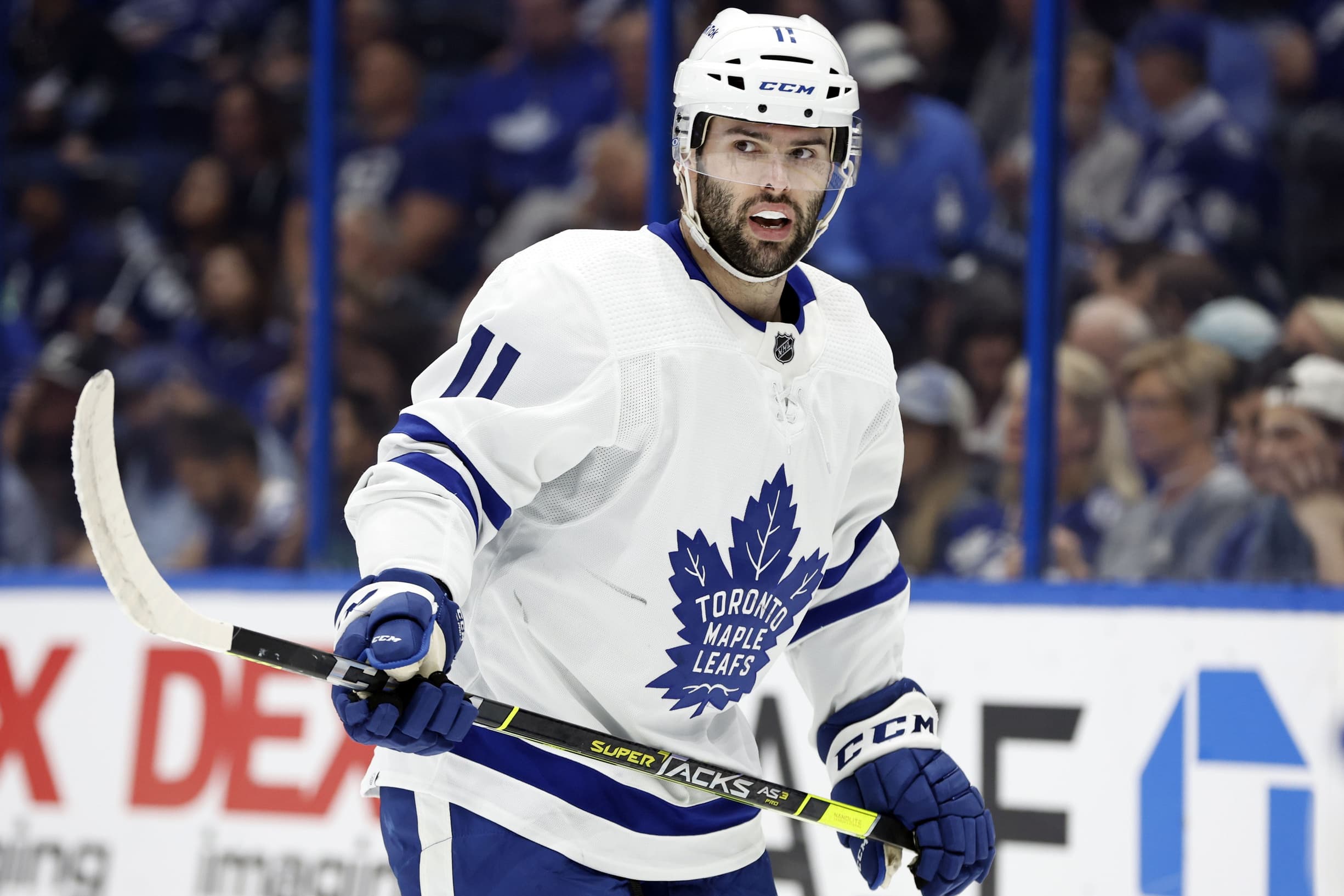 Photo credit:© Kim Klement-USA TODAY Sport
He may not have been the most established player available on the trade market, but his versatility and effective two-way play made him an ideal target for Kyle Dubas to add to the lineup. We may only have seven games to go off of (it would have been eight if it weren't for a healthy scratch against the Jets last week), but Blackwell has done well thus far with his hustle, puck retrievals, and nose for the net that has quickly given him a leg up over established veterans like @Jason Spezza and @Wayne Simmonds.
In those seven games played, he has scored two goals and both of them were
converted in similar ways
. Blackwell was able to use his speed to get to the front of the net and wreak havoc by making life difficult for the opposition to contain. Some of his
best scoring chances
have come this way, proving he does not let his 5'9" height prevent him from making an impact.
It's not just through scoring chances that Blackwell has proven his worth. He does a great job in protecting the puck and is
able to maintain possession
with his strong on-ice awareness. During Tuesday night's game against the Panthers, that skillset was able to draw
a tripping penalty
that led to
a power-play tally
from @William Nylander.
Just based on the eye test alone, Blackwell has been as advertised since joining the Leafs and should be a mainstay in the lineup down the stretch and going into the playoffs. He won't light up the goal sheet on a nightly basis, but his strong play will make him a vital piece that will ensure that the Leafs' depth is well accounted for should the primary options go cold.
However, he has only been limited to the bottom six so far and we are not seeing the full extent of what he can bring to the Leafs.
As it stands right now, Blackwell has been almost exclusively placed on the fourth line with a revolving door of teammates. There is no doubt that he is giving it his all every single night, but the lack of a stable line combination is affecting his underlying metrics when compared to his time in Seattle.
| | | | | | | | | | |
| --- | --- | --- | --- | --- | --- | --- | --- | --- | --- |
| BLACKWELL WITH THE… | CF% | FF% | SF% | GF% | XGF% | SCF% | HDCF% | HDGF% | PDO |
| KRAKEN | 51.46 | 50.86 | 50.97 | 46.67 | 50.00 | 51.96 | 58.04 | 56.23 | 0.986 |
| LEAFS | 47.62 | 47.62 | 45.90 | 75.00 | 53.09 | 45.83 | 58.33 | 70.00 | 1.077 |
All stats are at 5v5.
Playing primarily in the bottom-six and getting assigned to defensive situations has been a factor in the drop in possession and scoring chances since joining the Leafs.
Heading into tonight's game against the Stars
, Blackwell's most common linemates so far have been Spezza, Simmonds, and @Kyle Clifford. It isn't a reflection of his decline in play, it more so reflects the on-ice situations Sheldon Keefe has placed him in up to this point.
Considering his strong showing with the Rangers last year and the Kraken before the trade, Blackwell is more than capable of handling bigger minutes and will continue that trend with the Leafs when he is granted the opportunity.
He was primarily slotted between @Yanni Gourde and @Mason Appleton during his brief tenure in Seattle,
which was their second line
for much of the year. Last year saw him mostly on New York's second line alongside @Artemi Panarin and @Ryan Strome. Apart from the fact that both line combos fell in the same pecking order of the respective team's forward unit, the other thing they share is the underlying numbers were strong all across the board.
| | | | | | | | | | |
| --- | --- | --- | --- | --- | --- | --- | --- | --- | --- |
| LINE COMBINATION | CF% | FF% | SF% | GF% | XGF% | SCF% | HDCF% | HDGF% | PDO |
| BLACKWELL-STROME-PANARIN | 50.43 | 51.12 | 50.79 | 73.33 | 51.05 | 52.57 | 45.90 | 60.00 | 1.071 |
| BLACKWELL-GOURDE-APPLETON | 54.90 | 53.25 | 55.05 | 66.67 | 49.27 | 51.96 | 55.56 | 50.00 | 1.026 |
All stats are at 5v5.
Even though Blackwell only recorded 22 points in Manhattan last season and 17 points in Seattle before getting dealt, his play was a factor in why Panarin and Strome had a solid offensive output and why Gourde is tied with @Jared McCann for the Kraken scoring leader. I'm not suggesting that Keefe needs to immediately move him up to the second line alongside @John Tavares and @Ilya Mikheyev, but what this shows is that Blackwell can take on tougher opponents and not look out of place in that situation. It's part of the reason why he was picked up by the Leafs and he should be given a chance to see how he does when slotted alongside the team's more skilled forwards.
It may seem unwise for Keefe to break up a combination of the middle-six that has
had immediate success in limited action,
but the likes of Alex Kerfoot and @Pierre Engvall are also capable of rotating around the lineup that could make way for Blackwell into the top-nine. Here are some potential combinations that could work well for the 29-year-old:
Option 1: Blackwell-Tavares-Nylander
Option 2: Blackwell-Kampf-Engvall
Option 3: Mikheyev-Blackwell-Kase
Option 4: Mikheyev-Tavares-Blackwell
While the underlying numbers do not paint the whole picture, Blackwell has been a solid addition to the lineup with his versatility, tenacity, and speed. His limited offensive output is only scratching the surface of what he could bring to the Leafs on a nightly basis if provided with a shot at a larger role. He has done well enough with his current duties on the fourth line from the defensive side of things and he should therefore at least get a game or two slotted in the top-nine at some point.
His Swiss Army knife skill set and ability to play anywhere in the lineup will make Blackwell a critical secondary piece should the Leafs find success this spring. It's time to get a head start on finding a place for him higher in the lineup to see how he does with Toronto's top guns.
POINTSBET IS LIVE IN ONTARIO
PointsBet Canada has officially launched in Ontario! Get a $25 free bet just for 
signing up right here!