A confident Ilya Samsonov offers up a new opportunity for the Maple Leafs in the playoffs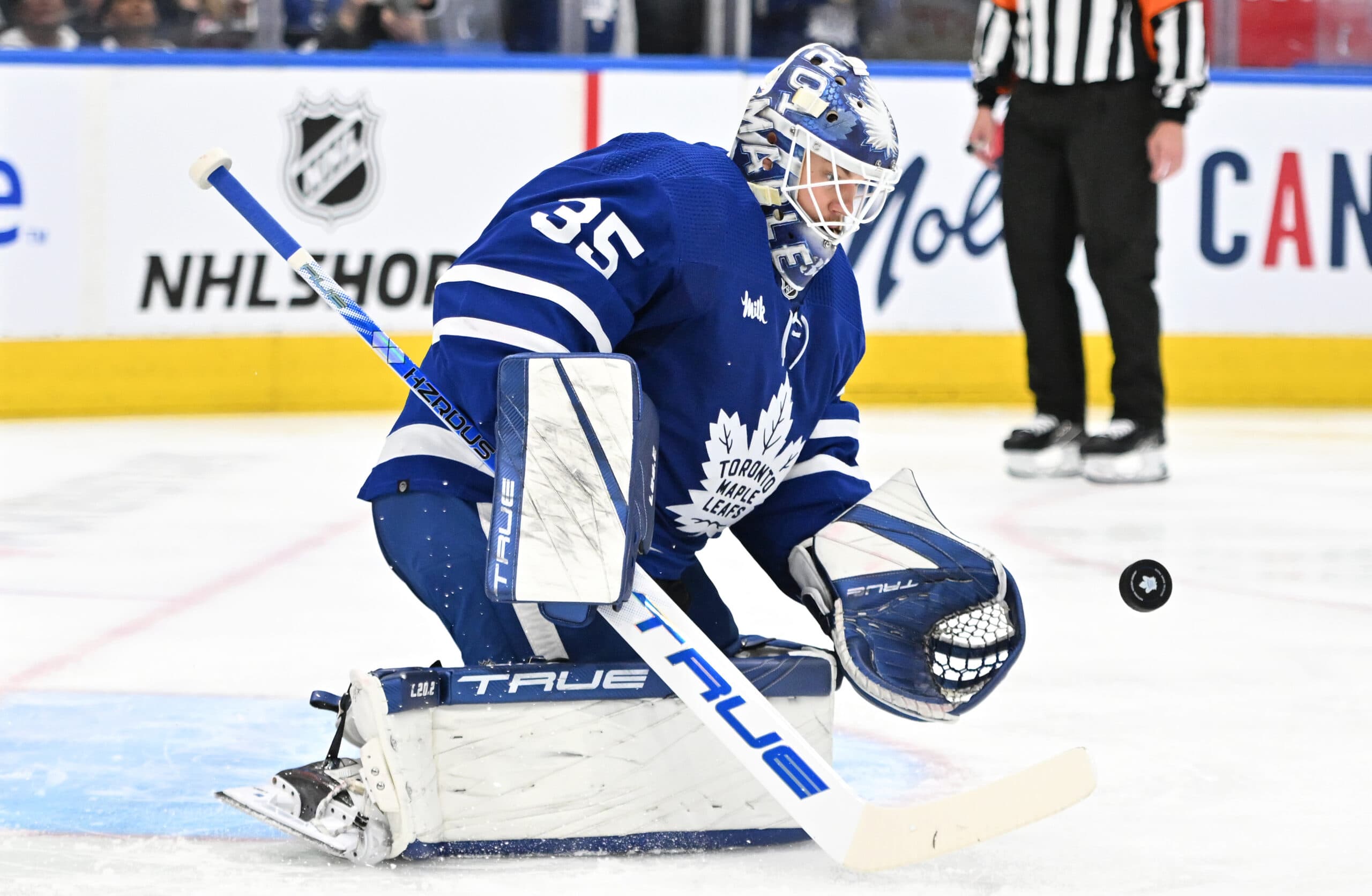 Photo credit:Dan Hamilton-USA TODAY Sports
Ilya Samsonov has not only been a pleasant surprise for Toronto, but is arguably one of the Maple Leafs' MVP's this season.
When the 26-year-old signed with Toronto this summer — after the Washington Capitals elected not to qualify him — there was a lot of pressure. Not just on him, but on the Maple Leafs too for taking that risk.
Only once before has Samsonov had a season save percentage over .910, and that was in his rookie year. He joined the Maple Leafs with one thing on his mind: to prove the people who doubted him wrong.
42 games, 27 wins, and a .919 save percentage — Samsonov's season has been nothing short of remarkable. The 26-year-old is 8th in the NHL in save percentage, 11th in wins, and 5th in goals against.
He's having the best NHL season of his career and is on the cusp of helping the Maple Leafs do something they haven't done since 2004.
"He's been great, I can't say enough great things about him."
Said Auston Matthews to reporters
after Samsonov's 45-save performance against the Florida Panthers on Monday.
"Just night in, night out, he gives us a chance to compete in these games, a chance to win. He's just such a competitor in there and I really just admire his mindset and the way he goes about his business.
"It's just a lot of fun to see him do his thing in there and like I said, he's been so solid for us all year, so I can't say enough good things about him."
It's safe to say that the 26-year-old is proving the doubters wrong, right?
In just over a week's time, Samsonov will face a different task — taking on the Tampa Bay Lightning in a first-round playoff series. It's yet another shot at redemption for the 26-year-old, but also a chance to show the Washington Capitals what they missed.
As the Maple Leafs step foot in the first round for the 7th-straight season, their confidence should be as high as ever. They've had Frederik Andersen, they've had Jack Campbell, though never have they had a netminder like Samsonov.
The way he competes, night in, night out — like Matthews said — is stunning. There've been many times this season where the 26-year-old looks like he's picked up an injury while in net, but he stays in and battles it out until the final whistle.
And he plays incredible during those stretches, too.
Every player, every staff member, and every fan should be incredibly confident in the goaltending that Samsonov will provide in the postseason against Tampa Bay.
After all, Andrei Vasilevskiy, too, will be standing at the other end of the rink, which will give Samsonov another reason to play like a lights out goaltender.
One thing that makes a goaltender very successful is how calm they are in net. Covering the Marlies this season, I've seen that aplenty with Joseph Woll. When a goaltender is calm, and doesn't let things get to them, that's when they're at their best.
I don't think there's been an instance this season, with Samsonov, where I haven't seen him composed in the Maple Leafs' net. Whether they're behind in a game, ahead, or just need a desperation save, the 26-year-old is there to keep pucks out, while looking calm in the process.
Even if he's tweaked something, that doesn't phase him. He's dialed in at every point of the game, injured or healthy.
But as I said, the biggest test — arguably of his career — will come in just over a week when the Maple Leafs meet the Lightning in the first round. It'll be an opportunity for him, and the players, to prove plenty of people wrong if they can win.
It'll also be a chance for Samsonov to cement himself as the Maple Leafs' starting goaltender for the years to come, if he hasn't done that already.