Connor Bedard could learn a thing or two from Auston Matthews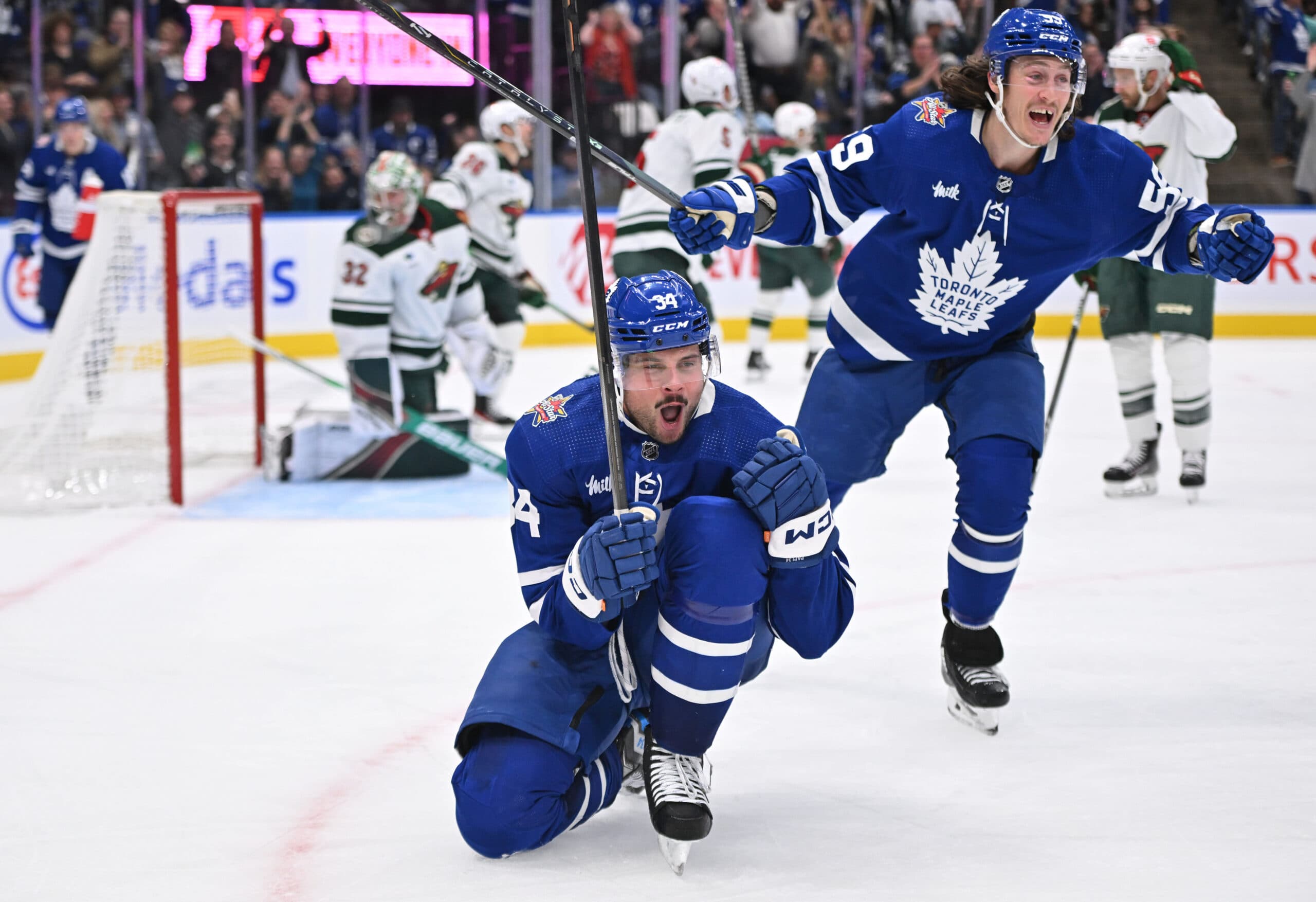 Photo credit:Dan Hamilton-USA TODAY Sports
The Connor Bedard show hits Toronto as the Maple Leafs host the Chicago Blackhawks on Monday. Bedard has been everything as advertised since being the first-overall selection at the 2023 NHL Entry Draft, recording three points in his first three games, including his first career goal.
Is his game a finished product? Of course not, he's only 18 years old entering game #4 of his NHL career. This is where Maple Leafs superstar Auston Matthews comes into the equation. If Bedard wants to round out his game throughout the early stages of his career and evolve his tool box, he should be watching #34 in blue and white on a nightly basis.
Admittedly, when it comes to Bedard's shot/release, there's not much to work on there. 'Bedsy' has zeroed in on Matthews and his ability to quickly drag the puck into space to create a shooting lane. The youngster looks up to the
Maple Leafs star
and is one of his favourite players to watch from around the league. The admiration should continue for the Blackhawks star.
Both players have absolute lasers and could score potentially 100 goals combined this season. It's not the offensive side of the game that Bedard should really be worried about, his natural abilities and instincts for the game will lead the way there. It's on the defensive side of the puck where Matthews' shines and has begun to take his game to another level. In order for Bedard to become a complete player and dominant number-one centre in Chicago, he'll need to continue to add to his game and insert more tools into his tool box throughout his career which includes modelling some of his craft after Matthews.
Matthews Becoming Elite 200-Foot Player
When it comes to the NHL's most complete players, Matthews is near the top of the list and this has a lot to do with his puck pursuit, closing speed, and commitment to both sides of the puck. Yes, the goal scoring helps sell tickets, but playing defense is what will take the Maple Leafs to the top of the mountain.
We've already seen it on display in his first couple of games this season and throughout last season with
Matthews' willingness to use his body
to influence the game. He led all forwards in shot blocks, and by joining the Leafs' penalty kill this season, his defensive skills are only going to get better. While the hat-tricks are worth writing home about, it's his commitment and willingness to get better defensively that make me feel it's going to be a monster season for #34 on the Leafs.
We've seen some Maple Leafs pick Matthews' game apart to try and model their craft after him as Matthew Knies is slowly becoming a Matthews 2.0 in some regards. Knies is a work horse who loves to battle defensively and do his best to get into passing lanes, close in on puck carriers and stick-check like a mad man. These are the parts of a player's game that shouldn't be taking a night off and Matthews leads the way in Toronto. Night in and night out he's becoming more and more consistent defensively, and as he continues to master his craft, the Selke votes for league's best defensive forward will continue to roll in.
Bedard is a great student of the game who, like Sidney Crosby, watches a ton of hockey and tries to learn from each team around the league. Recently, ex-Maple Leaf and current teammate of Bedard,
Nick Foligno told a story
of how when the Blackhawks drafted Bedard he called the first-overall pick to wish him well and welcome him onto the 'Hawks. After Bedard said thanks, he quickly asked the veteran forward if he could ask him a question and promptly inquired about what the hell went on in Boston to make the Bruins such a powerhouse during the regular season. 'Bedsy' wanted to know what made the Bruins so great to pull off their historic season, so he could take a few things into consideration in Chicago. Always learning, always finding ways to get better. Impressive stuff.
The Blackhawks/Maple Leafs' first matchup of the season could be a barn burner at Scotiabank Arena. And while all the attention will be on who gets on the scoresheet, it's the defensive battling that will really make the difference in the end. Goal scoring sells tickets, meanwhile defense wins championships. Matthews is starting to learn how to juggle both and the rest of the league, including Bedard, should be on notice.