Conor Garland could be a useful option for the Leafs in their middle-six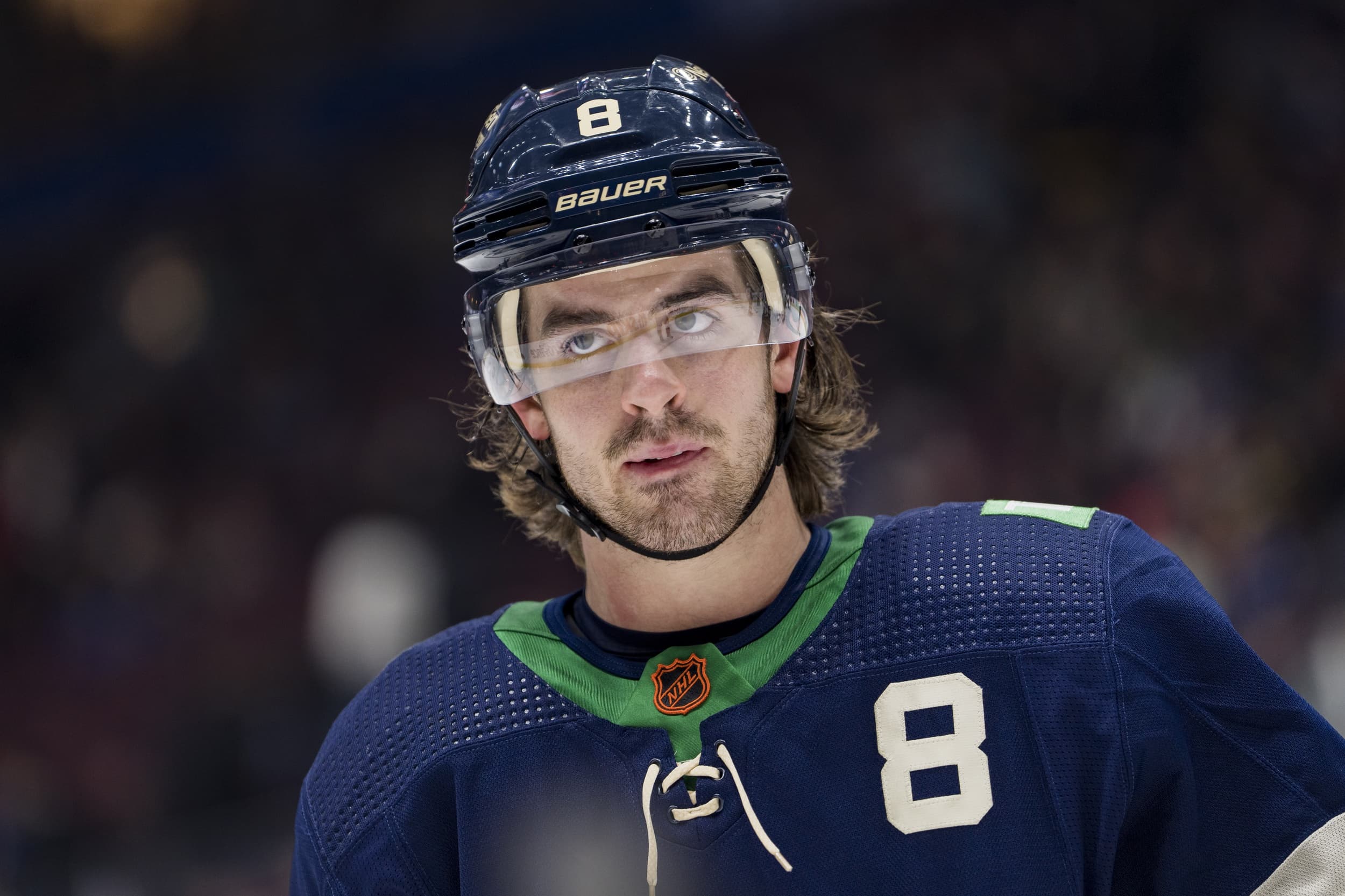 Photo credit:© Bob Frid-USA TODAY Sports
It feels inevitable that the Leafs are going to make a trade or two to help make their team better leading up to the trade deadline.
The only question is: who will they get?
Timo Meier and Ryan O'Reilly seem to be the popular picks whom fans want to see make a move. The likes of Jake McCabe, Sam Lafferty, and Vladislav Gavrikov have been connected to Toronto via rumours in recent weeks. And given that Kyle Dubas does not reveal much to the press regarding his plans, perhaps there is a player no one is thinking of that ends up being the target.
There is one player that has been connected to the Leafs about a year ago and could make sense to go after him now. Given that the team that currently possesses him is likely to move on either at the trade deadline or in the summer, his asking price could be one that is affordable for Dubas.
I am, of course, referring to Conor Garland.
Garland is in the midst of a down year offensively as he only has nine goals, 15 assists, and 24 points through his first 48 games. It is certainly a step back in contrast to last season, where he had a career-high 52 points, yet he is currently ranked seventh on the Canucks in scoring.
With Garland being mired in an offensive slump, the current management group in Vancouver not being responsible for his arrival, and the Bo Horvat trade kicking off their fire sale,
Garland could soon be on the move as well
. And if that's the case, the Leafs should be keeping tabs on him because he could be what they are looking for in their middle-six at a fair price.
| | | | | | | | | | |
| --- | --- | --- | --- | --- | --- | --- | --- | --- | --- |
| SEASON | CF% | FF% | SF% | GF% | XGF% | SCF% | HDCF% | HDGF% | PDO |
| 2021-22 | 53.05 | 53.65 | 54.37 | 61.46 | 54.52 | 53.05 | 50.26 | 60.42 | 1.024 |
| 2022-23 | 50.73 | 49.10 | 49.37 | 46.67 | 48.47 | 50.42 | 48.09 | 47.83 | 0.992 |
Let's start with his underlying metrics, which have taken a hit when equated to his previous season. While his numbers this year do not seem that impressive, they have less to do with his performance going down and more to do with the Canucks being significantly worse this season.
Remember, Vancouver catapulted themselves into the playoff race down the stretch last campaign and finished five points back of the Predators for the second Wild Card spot in the West. Garland was a major factor in their successful turnaround as he finished tied for fourth on the team in scoring. How he did the previous campaign is closer to what he is capable of compared to how things have gone this year.
Then you have to consider what he would bring to the Leafs in terms of on-ice impact.
Much like Michael Bunting, Garland plays with a chippiness by being aggressive on the forecheck and battling for loose pucks. Despite being listed at 5'10 and 165 pounds, he makes up for it with a strong work ethic and an edge that makes him
annoying for opposing teams to deal with
, resulting in a lot of drawn penalties. He is reliable at both ends of the ice, can slot right into the Leafs' second power-play unit, and may have some untapped potential on the penalty kill. Despite being a right-shot forward, he could still make the second line better at both ends of the ice.
That certainly seems like a solid upgrade over Alex Kerfoot as evident from the chart below.
While he certainly checks off a lot of boxes, getting him into the folder will take a bit of cap maneuvering to pull off. Garland is in the second year of a five-year contract he signed after being acquired in the infamous OEL trade that earns him $4.95 million a season. The contract does not have any no-trade protection, so the only obstacle is making it work financially.
Kerfoot would almost certainly need to be one of the pieces going the other way because he has the closest cap hit of the players the Leafs would be willing to give up in a trade. How much else the Leafs need to send over to Vancouver depends on whether or not Garland's salary is retained.
Adding Pierre Engvall to the deal could be more than enough to make the money work and save the Leafs a bit of cap space for this season, but I imagine they would prefer to keep him. Instead, I think Toronto would try and ask Vancouver to retain 25% of Garland's salary to get his cap hit down to $3.7125 million. Any more than that and Leafs may have to give up this year's first-round pick, but perhaps they can get away with giving up next year's second instead. The money saved will make all the difference to ensure they can keep Auston Matthews and William Nylander on the books when they are due for an extension.
Here are two hypothetical trades the Leafs could make:
Scenario 1
To TOR: Conor Garland
To VAN: Alex Kerfoot, Pierre Engvall, 2023 third-round pick (via Ottawa)
Scenario 2
To TOR: Conor Garland (25% retained salary)
To VAN: Alex Kerfoot, 2024 second-round pick, a B-tier/C-tier prospect
Garland should be a player the Leafs have their eyes on leading up to the trade deadline. He has been a productive forward being snakebitten by bad luck and a bad team while bringing a feistiness to his game that will come in handy down the stretch. While his cap hit is quite steep, he will remain under contract for the next three seasons and is right in the midst of his prime.