The Countdown: 4 Maple Leafs Who Could Win Awards This Season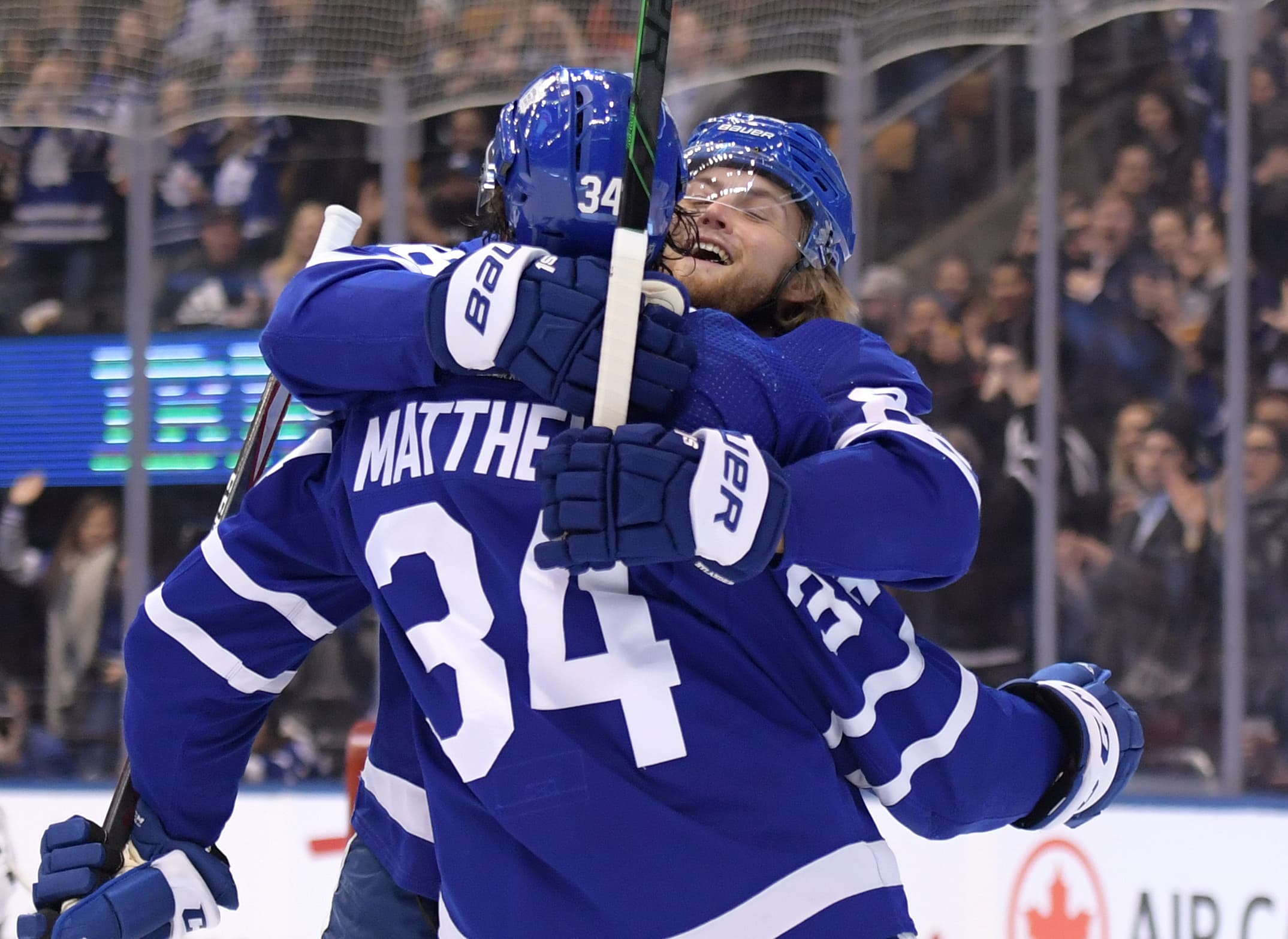 Photo credit:Dan Hamilton-USA TODAY Sports
Welcome to the Halloween edition of The Countdown where we'll dive into who has been scary good so far for the Maple Leafs. One month into the season, Toronto has a number of players who are off to great starts and could be on pace to be in the conversation for a major award this season.
Auston Matthews: Rocket Richard Trophy
After starting the season with back-to-back hat-tricks, Matthews has only one goal in six games. I guess you could say he's due. The Maple Leafs star currently sits two goals back of the NHL lead, and no offense to Frank Vatrano, Alex DeBrincat, and Travis Konecny, but I don't like their chances of keeping up to #34 in blue and white.
Matthews has admitted lately that he's felt a little disconnected on his line with Mitch Marner and Calle Jarnkrok so this could be a story to watch. Tyler Bertuzzi didn't work out on the top line and now it's only a matter of time before head coach Sheldon Keefe gives Matthew Knies a look. Expect to see Matthews burst out of his little mini-slump against the Los Angeles Kings on Tuesday night. He needs to get engaged physically which normally help him get his legs going. These past four games he's only managed one hit and didn't register a blocked shot in any of the contests.
Matthews is healthy, he's looked fresh and if can get his line going and become more connected with his line mates, look for the Leafs superstar to get hot in November. There's no doubt he's set himself up nicely to be in the Rocket Richard conversation throughout this season.
Joseph Woll: Calder & Vezina Trophy
Before you start throwing eggs and screaming about over reacting, there's no denying the fact Joseph Woll has been lights out this season and it's ok to enjoy the run he's on. He's started off like a house on fire, with a 3-1-0 record to go along with an impressive 1.33 goals against average and a .961 save percentage, both among the league leaders. By the end of this season, I predict he will be in the conversation for two major awards including the Calder trophy for rookie of the year and the Vezina as the league's best goaltender.
With Ilya Samsonov battling some demons
, Woll will get an extended look in November. If he can continue his hot streak and put up results, the sky's the limit. It's an open competition in the crease for the Maple Leafs and right now they have two goalies who are trending in opposite directions.
The 25-year-old Woll has looked very calm, cool and collected in net and it's been noticed by his teammates which does nothing but boost their confidence when he's in there. It's such a great set up to have an elite number one goalie getting paid $766,667 against the cap this season and next. If things continue to progress for Woll, some new hardware could be coming soon.
Matthew Knies: Calder Trophy
Knies has put up four points in eight games this season and that's coming after he was blanked off the score sheet in his first four games of the season. It's only a matter of time before Keefe moves him up to the first line with Marner and Matthews and once that happens, look for the points to come in bunches.
Right now, he continues to get his feet wet on the third line with David Kampf and Max Domi. Knies is just starting to get some reps on the Leafs second power-play unit and you can start to tell how Keefe will be using the rookie forward as the season progresses. Like his coach mentioned after a few games this season, there's plenty more Knies can give the Leafs, now they just need to put him in the best situation to succeed.
Knies and Woll will have to hope Connor Bedard stays in the shadows, however it would be safer to assume he breaks out in a major way at some point. He's lurking with six points in nine games and there's no doubt the former number one pick will be their biggest competition when it comes to the Calder trophy.
William Nylander: Art Ross Trophy
Yes, a lot will need to continue for William Nylander to be in the Art Ross trophy conversation at season's end, but you can't fault him for playing himself out of the conversation early. Nylander has been lights out and currently sits only six points back of the league leader Jack Hughes.
The Swedish forward has been Toronto's most consistent forward so far this season and frankly it's been refreshing to watch.
Contract-year Nylander
could be the best version yet.
Nylander just seems more engaged this season. He's killing penalties more than he ever has, his puck possession and ability to get the puck back continues to be so impressive. There's a sense of calm when Willy Styles is on the ice and GM Brad Treliving is going to want to get that contract extension completed sooner than later. Nylander will need a lot to go his way including slowing down Hughes and Connor McDavid, Leon Draisaitl, among others, but this could he's year. Coach Keefe is playing #88 over 20 minutes a night so far this season, which is over 1:30 more than he was playing last season, a year he enjoyed a career season statistically. What's in store for the rest of 2023-24? Don't let it scare you, but Nylander could be standing on top of the league when it's all said and done.
The Maple Leafs are off to an impressive 5-2-1 start and with the parity among their division, it's a good thing their latest road trip was a success. The Leafs have been led by their big guns up front and a rookie netminder who is starting to turn some heads around the league. If the good times continue to roll for Matthews, Knies, Woll and Nylander, it could be an award-winning season in Toronto.