The Countdown: Top-5 Maple Leafs observations three games into this season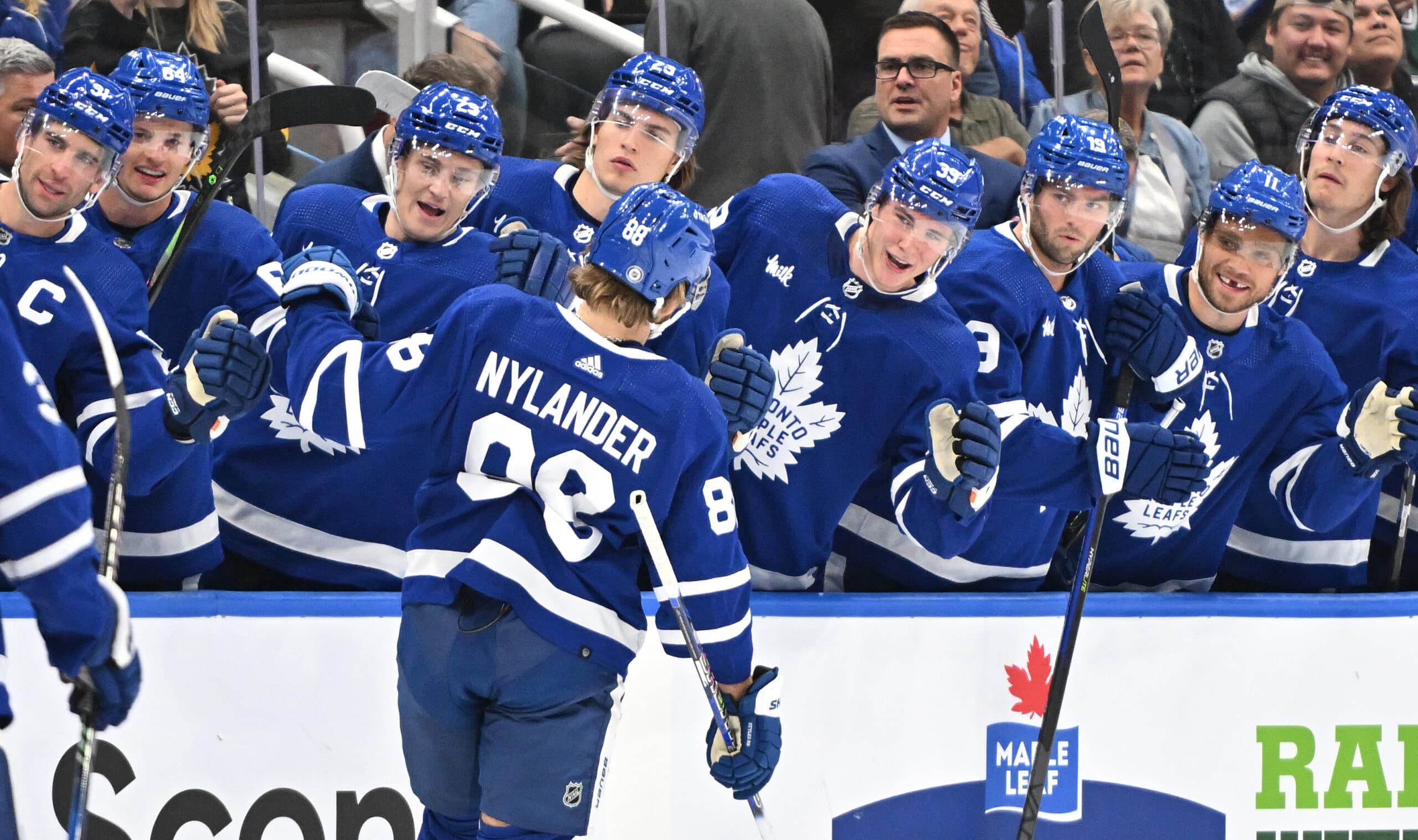 Photo credit:Dan Hamilton-USA TODAY Sports
Welcome back for another rendition of The Countdown, our weekly break down of a top-five list related to the very latest around Leafs Nation. Last week we showcased five storylines to follow to kick off the 2023-24 season and for today's piece, let's focus on some early season observations we've seen out of the Maple Leafs.
Toronto sits 2-1-0 after three games to kick off the new year and while there's been some flashes of brilliance, there's little doubt this team is far from a finished product. Without further ado here's five observations from the Maple Leafs three games into the new season:
William Nylander is on Another Planet
Yes, back-to-back hat tricks from Auston Matthews has been impressive, but the play of William Nylander has turned a lot of heads among his team and throughout the league. He looks as engaged as ever and his compete level is through the roof. He's being so patient with the puck on his stick and his ability to get the puck back in his own zone and help out defensively is not going unnoticed. He has also been lighting up the scoresheet, with three goals and six points in his first three games. There has to be a 100-point season coming, no? Regardless of the point production, it's Nylander's newfound maturity defensively that has fans screaming for a contract extension. When did you ever think you'd see Nylander taking the occasional penalty kill rep and flourishing? What a time to be alive.
'Hatty Matty' Doing His Thing
Matthews wasn't able to hit the scoresheet against Connor Bedard and the Chicago Blackhawks, however that shouldn't take away from his early heroics. Back-to-back hat-tricks is a hell of a way to kick off a season, and it's obvious Matthews is as healthy and motivated as ever to win. While the goal scoring is it's own story, it's Matthews commitment to the defensive side of the puck that should do wonders when the games start to matter more. He's enjoying himself on the penalty kill and as of right now, he's leading all Leafs' forwards in time-on-ice shorthanded. Matthews game has never been this close to complete.
Yes, the Stanley Cup Playoffs are several months away, but the Leafs stars need to get into good habits for when it's crunch time and so far it's trending in the right direction. Also – six goals in three games to start the season is no joke. Bring on 65 tucks for #34.
Gregor and Reaves Making Early Impacts
Ryan Reaves has been absolutely everything as advertised to start the season. He flexed his muscles when he was introduced ahead of the home opener, and he's been flexing ever since. From huge hits, to dropping the mitts, to chirping from the bench, we've seen it all from the veteran enforcer.
Matthews has been very vocal
about the type of impact Reaves has had on the team so far this season, and while Leafs GM Brad Treliving was given some heat for signing 'Reavo' to a three-year deal, the early returns have been immediate.
Speaking of Treliving, another gem of a move was bringing in
Noah Gregor
into Leafs training camp. A PTO has turned into a one-year contract and after three games of action, Gregor has looked good. The former fourth-round pick of the San Jose Sharks scored the Maple Leafs' first goal of the season and has shown he's capable of making an impact from the Leafs fourth line, using his speed and tenacity to make opponents lives miserable. Gregor isn't afraid to put the puck on the net, with one goal and eight shots in three games, and even though he's last on the team in average ice-time, he's made the most of his first few games.
The Struggle is Real for Some
After the Leafs got rid of Justin Holl, it made you wonder who the team's whipping boy would be for Leafs Nation. Turns out it could be
Leafs blueliner Jake McCabe.
The veteran defenseman is not off to a great start this season, looking a step behind and making some horrible reads. So far through three games McCabe is a minus-5 rating and he's among the league leaders on being on the ice for goals scored 5vs5.
The scary part is the fact the Leafs need McCabe to have a strong season. He's a cap steal at just $2 million this season and next and with Treliving having to navigate the hard salary cap, the Leafs need McCabe to work out. It would do wonders for money management in Toronto.
While it doesn't appear to be on the front burner at this point, it's worth noting McCabe has a seven team no-trade clause. But again, with only a $2 million cap hit this season and next, the Leafs need to figure out how to get the most out of him instead of dealing him away.
Another Leaf struggling to kick off the new season is left winger Tyler Bertuzzi. He's managed only one goal in three games, all while playing on the top line with Matthews and Mitch Marner. But the more concerning aspect of Bertuzzi's game is the fact he's taken five minor penalties in three games. And while there's some penalties which can be considered 'good penalties', that hasn't been the case at all for the Leafs pest. He's taken all five minors miles away from the Maple Leafs goalie.
Captain Tavares Off to a Hot Start
Every year, people stress about John Tavares and the prospect of him losing his legs and a level of effectiveness. So far, the chirps are mighty quiet as the Maple Leafs captain is off to a blazing start with six points in his first three games. Tavares looks strong on his skates, he's managed to create lots of offense and his foot speed hasn't stood out once in a negative way.
The Leafs will only go as far as their stars can take that and that includes getting the most out of their captain this season. With Nylander and Tavares producing at an elite level, it's a luxury for head coach Sheldon Keefe to consider them his 'second line'.
Thanks for stopping by for an other edition of The Countdown. Two wins in three games for the Maple Leafs but miles to go as a team. It's going to be an entertaining season in Toronto to say the very least.