The Countdown: Top-5 Maple Leafs' surprises through two weeks of the season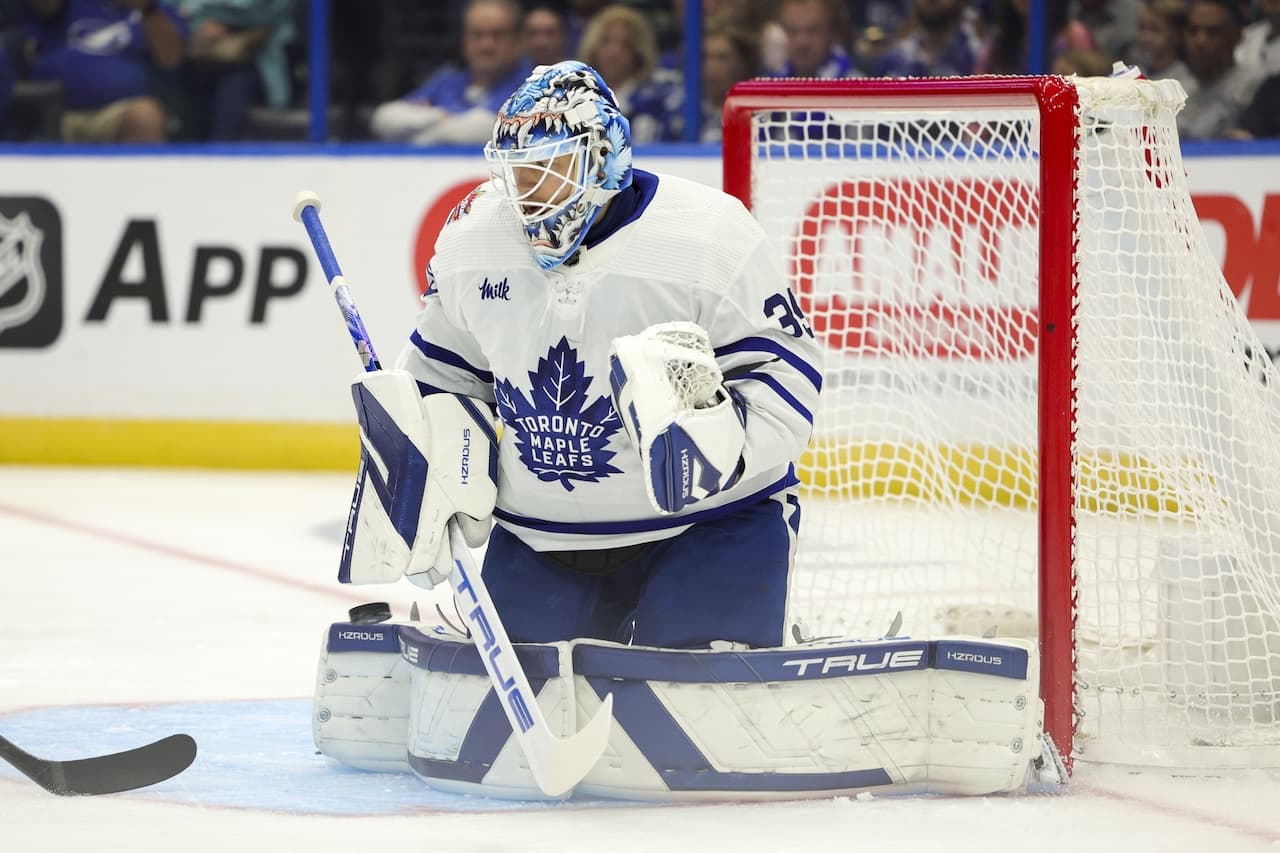 Photo credit:Nathan Ray Seebeck-USA TODAY Sports
It's Tuesday which means The Countdown is live! The Maple Leafs have put Leafs Nation through a roller coaster of emotions and we're only two weeks into the season. Would you really expect anything less? For today's countdown, let's dive into the top-five biggest surprises we've seen so far from the Maple Leafs as there's been a number of things that have resulted in some head scratching for Leafs Nation:
Fan Base Is Giving Up on Samsonov
Yes, Ilya Samsonov is not off to a hot start and it seems that most of Leafs Nation has forgotten this is the goalie who carried the load when times were tough last season and was one of the biggest reasons why the Leafs were able to get to the second round of the Stanley Cup Playoffs for the first time in nearly two decades.
Samsonov was horrible against the Tampa Bay Lightning last Saturday night, and has been for most of the season, but that doesn't mean he should be written off by anybody. He's looked sharp throughout training camp and parts of the preseason, and considering he set career highs in basically every major goaltending category last season, there's no need to push him aside just yet.
Yes, Joseph Woll is legit and yes, there's a very good chance he starts game one of the playoffs, but that doesn't mean the Leafs won't need Samsonov in the mix. Both goalies are a huge part of this team and Toronto will be at their best with them pushing each other for the crease. Let's all pump the brakes on pushing Sammy out of town.
Coach Keefe Can't Find Line Combinations
After just five games head coach Sheldon Keefe has tried just about everything when it comes to line combinations and frankly it's a touch worrisome. All four lines continue to be juggled almost every game as Keefe loves to tinker throughout the game and look for what's working on each night.
It's a tough situation for new players such as Max Domi and Tyler Bertuzzi, who haven't been able to find much chemistry with anyone to this point. Domi and Matthew Knies hooked up a couple of times in Tampa Bay which was great to see, however Bertuzzi was given the golden ticket of playing alongside Mitch Marner and Auston Matthews and that's already been taken away as
Calle Jarnkrok now makes
his way back to the top line after some cameos last season.
Keefe needs to do his best to give trios a chance to form some chemistry together because this is going to be vital for Stanley Cup Playoff success. Last season he was juggling too much and looking for the right combination in the playoffs, when really all lines should be set and firing for a long run in the Spring. You shouldn't be looking for a new combination when the games matter most. Let's hope for everyone's sake, the lines get sorted sooner than later.
Ryan Reaves Missed His Cue
While Reaves was flexing during the opening night introductions and has laid out some big hits and thrown some big haymakers, he missed his cue in Florida last week. William Nylander was cross-checked from behind into the boards, which almost was really bad, and for the rest of the game, Reaves didn't seek revenge.
Considering Florida is where Matthew Knies was laid out last postseason which resulted in some piss and vinegar being brought into the lineup this season, it was the perfect chance for Reaves to send a message to the Panthers that this style wasn't going to fly anymore against the Leafs. Instead, the Panthers continue to push the Leafs around.
Reaves should have dropped the gloves on his next shift with Panthers defenseman and yes, taken the instigator penalty and a misconduct and played the role of security. He wasn't
signed to a three year deal
to score goals. He's literally brought in to protect and to intimidate and against the Panthers there was none of that.
The Speedy John Tavares
I'll admit, I've been critical of captain Tavares at times but so far this season there's been nothing but rainbows and lollipops for #91. While he's been busying mentoring a couple of Leafs rookies off the ice and helping them with their laundry, on the ice Tavares looks as fresh as ever, light on his skates and the production is coming in bunches.
Recently the NHL released some tracking data on
'NHL Edge'
and sure enough there was a huge surprise to see as Tavares ranks third on the Maple Leafs for fastest skater:
Fastest Skaters (in MPH)
| | | |
| --- | --- | --- |
| | | Top Speed |
| 1 | Gregor | 22.65 |
| 2 | Minten | 22.28 |
| 3 | Tavares | 22.25 |
| 4 | Rielly | 22.10 |
| 5 | Jarnkrok | 21.93 |
See it for your own eyes, just when everything starts writing Tavares off and shouting to the clouds he needs to move to the wing cause he can't keep up, he spends the entire offseason increasing his foot speed and the results speak for themselves.
Tavares is off to a blazing start with nine points in the first five games and he and William Nylander look like they'll be pushing Marner and Matthews for the best Leafs duo this season. What a great problem to have.
There's Issues on the Back End
The majority of Leafs Nation felt if the team just got rid of Justin Holl, their defensive group would be just fine and frankly that hasn't been the case at all this season. So far through five games, the blue line has not scored and the likes of TJ Brodie and Jake McCabe have looked horrible at times.
Sure, there's plenty of time to turn it around so avoid the panic button just yet, but the first two weeks of the season haven't gone as planned and it's ok to point that out.
McCabe needs to keep his game simple and realize he needs to be the shut-down d-man the Leafs desperately need. Hit, block shots and move the puck, keep it simple and McCabe has a chance for a big season. At just $2 million against the cap this season and next, he needs to be solid so the Leafs can take advantage of the discounted rate.
Brodie is in the final season of his contract and is a notorious slow starter. He and Brad Treliving have quite the history together so it's going to be interesting to watch how it all plays out for the veteran defenseman this season and beyond.
The Leafs defense need to do a better job of hitting the net, getting pucks through and ensuring to close gaps on a much more efficient manner. There's been too many times opposing forwards have been able to come in and get shots off without much contest. There's no doubt this is a giant area of concern for this hockey club and something management is keeping a close eye on.
There we have it folks, another countdown in the books as the Maple Leafs continue their five game road trip into week three of the season. Leafs Nation, let's not get carried away, the sky isn't falling, but it's ok to admit there's been some worrisome moments through the opening couple of weeks.