Couple mistakes and another dominant performance from Bobrovsky leaves Toronto down 2-0 in series: Maple Leafs postgame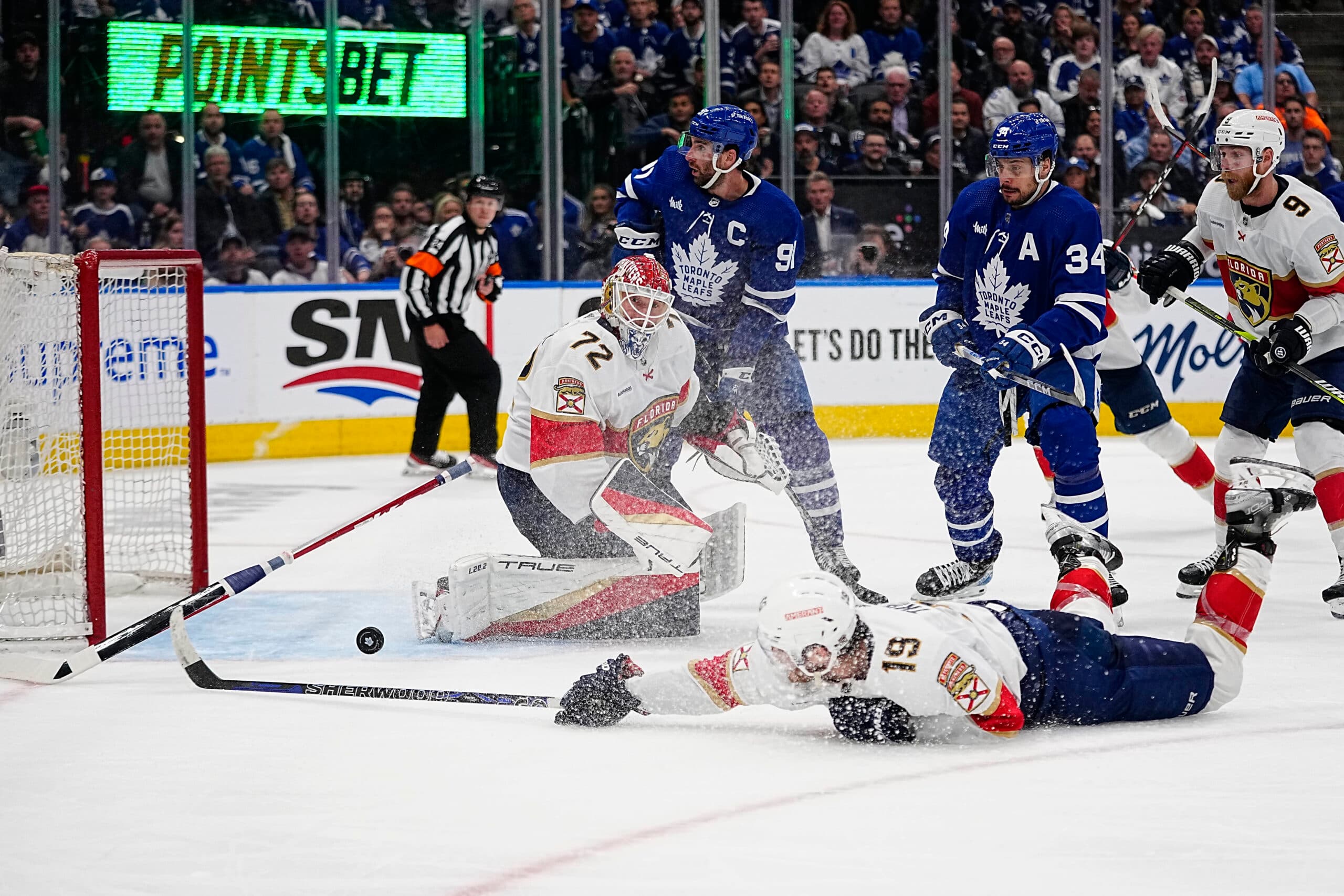 Photo credit:John E. Sokolowski-USA TODAY Sports
After a pretty good effort from the Toronto Maple Leafs in game one of the second round against the Florida Panthers, they weren't the ones who came away with the win. They fell short with a 4-2 loss, yet there were some good things to take from game one, and hope that things could go their way in game two.
Heading into game two there weren't any major lineup changes other than Sam Lafferty coming into the lineup for Zach Aston-Reese on the fourth line, as well as a couple of players swapping positions that played in game one.
Michael Bunting went from the third line to the first line and Matthew Knies, playing first-line left wing was put into Buntng's old spot from game one.
First 20 minutes:
Kind of like game one, Toronto came out with a lot of jump and created a lot of scoring chances early. However, unlike game one of the series, Toronto capitalized on their chances and jumped ahead of Florida early with a 2-0 lead.
Just 2:20 into the game, Toronto's fourth line went to work in the offensive zone and the game-four overtime hero from the first round – Alex Kerfoot – opened the scoring and got the building jumping early on.
Morgan Rielly pinched along the wall to keep the puck in the offensive zone, and it eventually worked its way to the other side of the ice where Luke Schenn was. Schenn waited until there was a lane to shoot the puck on net, and once he did that, there was a rebound from Bobrovsky, and Kerfoot made no mistake there. His second of the playoffs gave his team the early lead.
Toronto then got another early power-play opportunity – similar to game one – and this time, the Maple Leafs cashed in on their chance and made the Panthers pay. A great start to the power play created a couple of chances. Eventually, Mitch Marner found Ryan O'Reilly on his one-timer side and he potted home his third of the playoffs to give Toronto the multi-goal lead.
However, an offensive zone face-off for Toronto just over midway through the first period didn't go as planned as the Panthers went the other way not long after the puck dropped and scored on one of their few chances at the time to cut the Maple Leafs' lead in half.
Last 40 minutes:
The opening minute of the second period was a minute the Maple Leafs want to forget, but also a minute where they need to realize they need to be better and that type of stuff can't happen again, especially in the Stanley Cup playoffs.
After going into the second period with a one-goal lead, the Panthers scored twice within the blink of an eye and took a 3-2 lead.
After their two quick goals, they continued to pin the Maple Leafs in their zone for a bit and Florida honestly came close to scoring a fourth goal, but with a couple of misses and big saves from Samsonov, they weathered Florida's storm and Toronto started to pick up from where they left off from the first period.
Despite not scoring a goal in the second period, Toronto had a lot of things to be proud of, but there was one problem, a goalie named Sergei Bobrovsky was getting in the way of almost everything and the Maple Leafs couldn't find the tying goal.
The third period was somewhat similar to the first period in which Toronto continued to press and look for another goal but that wasn't going to happen. All the goals in this game were scored in the first 21 minutes and the last 39 minutes weren't enough for Toronto to find a third goal to tie the game up and try and force overtime for the fourth time in these playoffs.
What went right:
After going 0-4 on the power-play in game one, Toronto's power-play came up huge for them early in the game and that's what kind of sparked their big first period, despite only holding a one-goal lead after 20 minutes.
They had themselves two power-plays within the first six-ish minutes of the game and they both came in a two-and-a-half minute span. As we know, O'Reilly put the Leafs ahead by two with his third goal of the playoffs and Toronto continued to pour on the chances as they looked to extend their multi-goal lead, but Bobrovsky had other plans.
The Maple Leafs continued to push and push for the tying goal in the third period, but again, Bobrovsky – similar to game one – was making everything look so easy and wasn't allowing Toronto to score a third goal. However, if the team can take anything from game two into game three when they go to Florida, it's their third period and how close they were to tying this thing up, but that's about it. The result is tough to swallow given they dropped not one, but both home games in the franchise's first second-round series in almost two decades.
What went wrong:
Not a lot went wrong for the Maple Leafs tonight when you look at how they played, in my honest opinion, other than them falling asleep early in the second period and allowing the Florida Panthers to score two goals in 47 seconds.
After a pretty dominant first period for Toronto, they completely fell asleep to start the second period and it ultimately cost them their lead at the time. A once two-goal lead was now a one-goal lead and then back-to-back goals made it 2-2 and then 3-2 for the Panthers.
A couple of brutal mistakes in the neutral zone and defensive zone ended up in Toronto's net in less than 10 seconds and that's the frustrating part about this game.
Another thing that went wrong for Toronto is the injury to Matthew Knies in the first period from a play involving Sam Bennett.
Here is what Sheldon Keefe said postgame about the 20-year-old who didn't return to the game at the start of the second period…
Who stood out:
In a losing effort in game two, the Maple Leafs did have a handful of players who stood out to me. Their top players were their best players despite only getting one goal from them on the power-play, however, they continued to create scoring chances all game long but just couldn't solve Bobrovsky in the end.
I also thought the pairing of Rielly – Schenn had yet another good game. Not only did they help set up Toronto's first goal of the game, but they also made smart plays all over the ice, and, as we know, both made some pretty massive hits last night that deserved another look.
Highlight of the night:
Outside of the Maple Leafs scoring two goals in the first period and laying some pretty big hits, nothing else made their fans happy about the result of game two of the series.
Here are some clips of some pretty big hits that we saw tonight by the Maple Leafs last night.
The Maple Leafs and Panthers will meet in Sunrise, Florida, Sunday night for game three of their second-round series. Toronto will be looking to grab their first win and not go down 3-0 in their first second-round series in 19 years. Puck drop is scheduled for 6:30 pm ET.