Curtis Douglas is playing his way into a contract with the Maple Leafs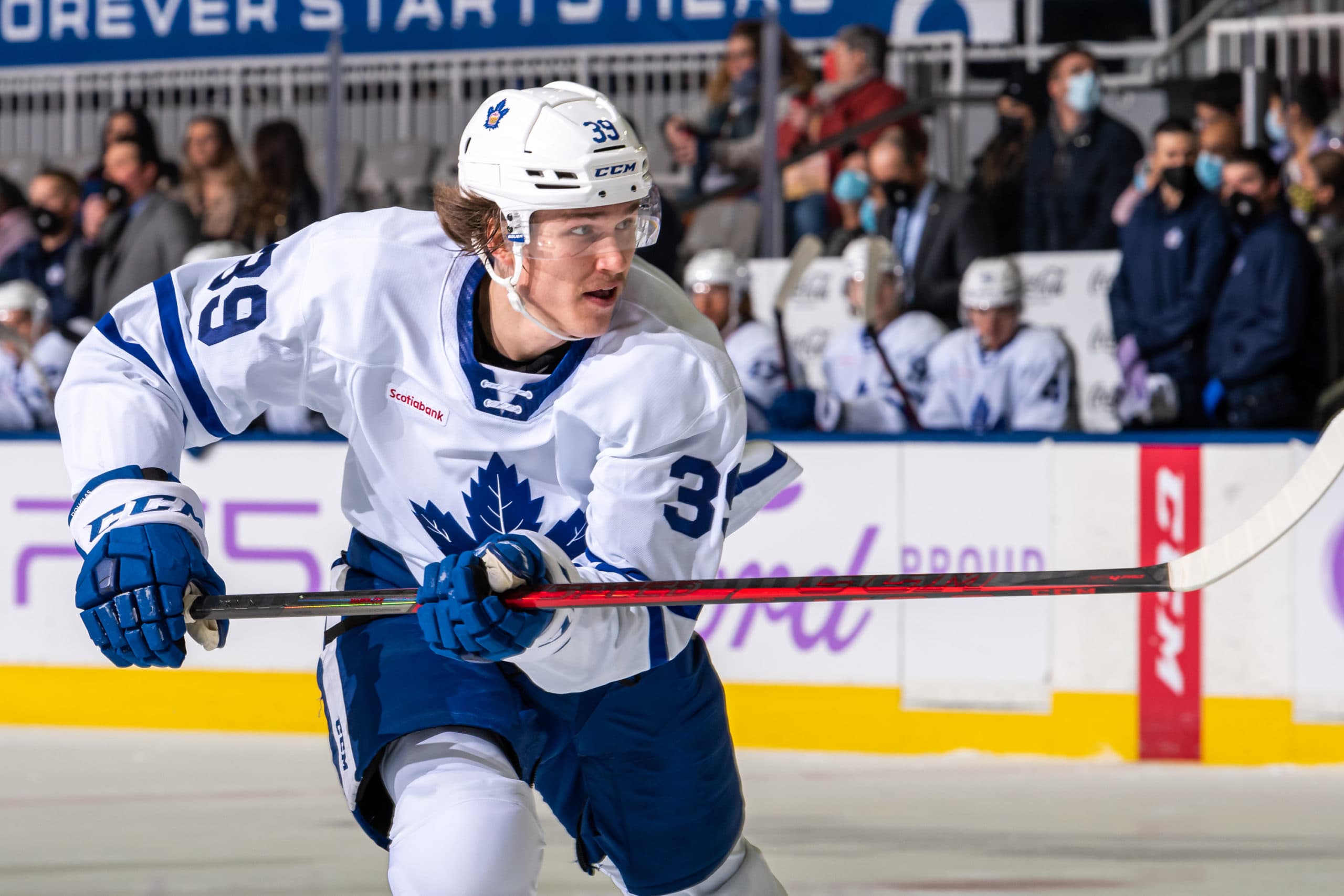 Photo credit:Christian Bonin/TSGphoto.com
While everyone discusses who the Maple Leafs might trade for ahead of the deadline, one Marlies player on an AHL deal is making a case for himself to be signed by Kyle Dubas.
Curtis Douglas is having a season with the Toronto Marlies.
The six-foot-eight centreman has tallied 26 points over the span of 46 games this season, while spending a majority of his time in the bottom-half of the lineup.
Coming into this year, one of Douglas' major goals was to build up his skating. With his size, if he was able to level up that skillset, he would become a much more dangerous player.
After most practices, the 22-year-old would be seen working with Maple Leafs' Skating Consultant, Randi Milani, trying to better his skating. While putting that together with his size and utilizing all of his tools he has, Douglas has become as effective as ever.
"I think he's a player, I've told him that personally," said Marlies defenceman Alex Biega of Douglas. "I think he's slowly gaining that confidence. He reminds me of a guy like Paul Gaustad, that just wins draws, he's big and heavy, he's not afraid to fight and be an intimidating factor on the ice.
"I think you're seeing right now his game just evolve from just a guy who could maybe be a fourth line guy, but a key contributor all of the ice. I think for him, he's got a bright future and he just has to continue to evolve and have a growth mindset."
In his latest stretch of games, Douglas has leveled up his point contribution, scoring eight points in his last six games, while playing on the fourth line.
And like Biega said, the 22-year-old isn't afraid to fight.
"He's playing a style and a brand of hockey that suits his body type," said Marlies head coach Greg Moore.
The 22-year-old wins just about every faceoff he takes, outmuscles most opponents, and is a big player to have in front of the net when a screen is needed.
At this point of the season with the way he's playing, Douglas could be a player the Maple Leafs could sign to an Entry Level Contract and use in the playoffs. There's not many guys, other than Zdeno Chara, who challenge in height, so the 22-year-old could be an effective centre.
Signing him would allow Jason Spezza to move to the wing full-time as Douglas would take over down the middle on the fourth line. He could be used in many situations, allowing for other key contributors to be placed elsewhere when needed as well.
For Toronto to sign him, though, they need cap space and that's still a question mark as Jake Muzzin slowly returns from a concussion. This signing solely depends on the Maple Leafs' trade deadline plans and whether or not they'll have enough money to sign Douglas.
If the 22-year-old continues to play like he is, though, it's not a matter of if, but when Dubas puts a contract in front of him.