Dahlin and Stamkos set records, Panthers sign Staal, Grzelcyk returns: Around the Atlantic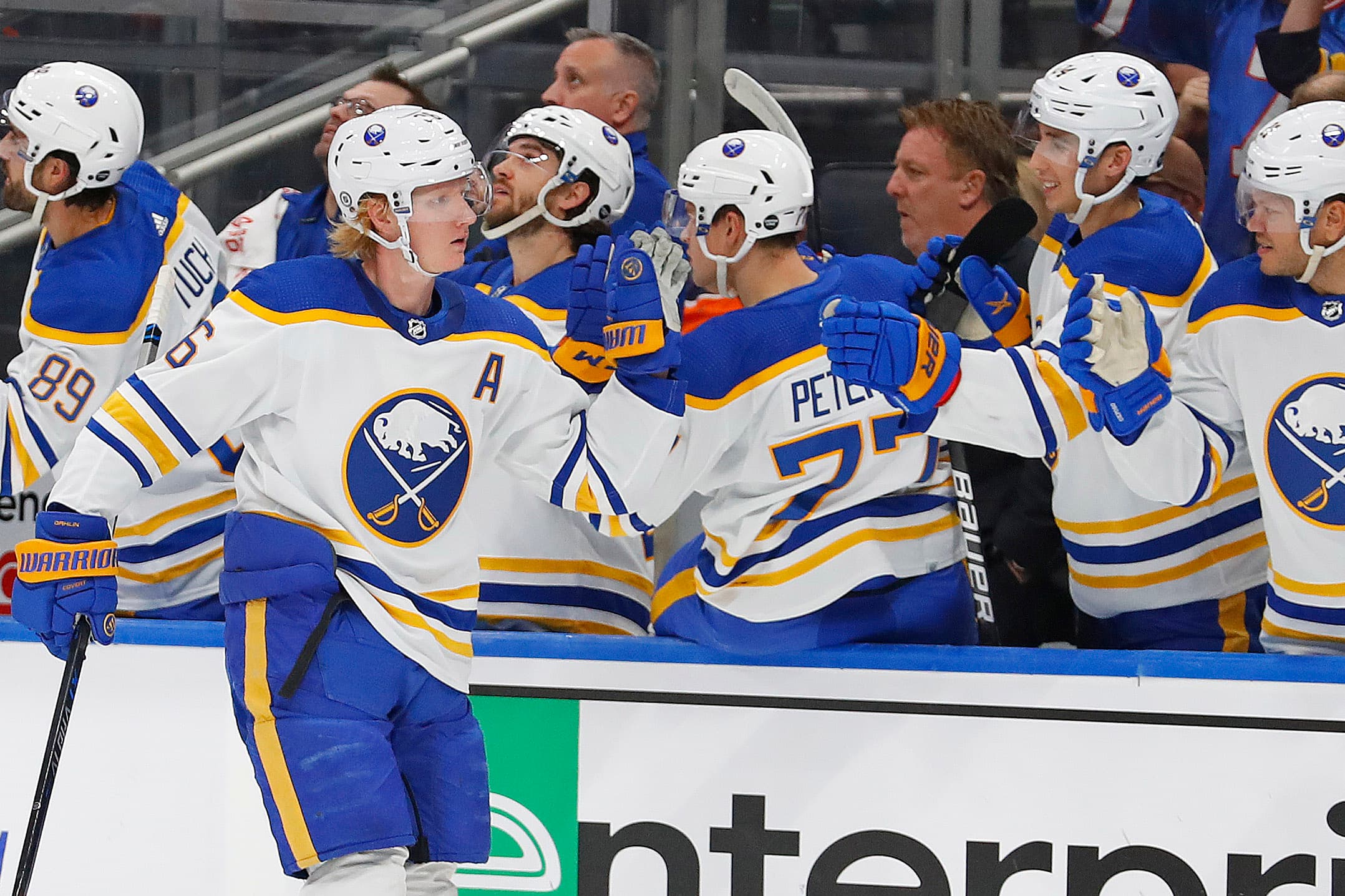 Photo credit:Perry Nelson-USA TODAY Sports
It was an exciting seven days in the Atlantic division this week. Rasmus Dahlin of the Buffalo Sabres and Tampa Bay Lightning captain Steven Stamkos set goal scoring records, the Florida Panthers added a Stanley Cup champion to their roster, a key player returned to the Boston Bruins and a few important pieces will be missing time. Also, for the second consecutive week we have a surprising club earning the team of the week honour.
Dahlin record
Selected first overall in 2018, Dahlin has impressed in his young career but hadn't quite lived up to the expectations many around the league had for him, until now.
With his first period goal against the Calgary Flames on Thursday he became the first defenceman in NHL history to score in each of his team's first four games. He extended this record to five with the opening goal versus Vancouver on Saturday.
Through five games he leads the Sabres with 8 points and 24:26 TOI.
Stamkos record
At 32 years old, Steven Stamkos is showing no signs of slowing down. He too scored in each of his team's first five games. His seven goals in the first five set a Tampa Bay Lightning record, passing Chris Kontos who had six goals way back in Tampa's inaugural season 1992-93.
Stamkos was held scoreless last game but still leads the NHL with seven goals. His nine points are also tops on the Lightning.
Panthers sign Staal
Eric Staal has joined his brother Marc on the Florida Panthers roster. He agreed to a one year deal with the team worth 750k. Staal attended camp on a PTO but they were unable to sign him earlier due to salary cap issues.
Staal last played in the NHL during the 2021-22 season where he split time between the Buffalo Sabres and Montreal Canadiens. Last season he played four games for the Iowa Wild of the AHL and then left to prepare for the Olympics. He captained team Canada in Beijing, scoring four points in five games.
Grzelcyk returns to Bruins
Bruins defenceman Matt Grzelcyk returned from the IR on Thursday versus the Anaheim Ducks. His start to the year was delayed due to an off-season shoulder surgery.
With Charlie McAvoy still out, Grzelcyk will be relied on heavily by the Bruins. Through two games he has two assists and is averaging nearly 20 minutes of ice time.
Vrana enters player assistance program
The Detroit Red Wings will be without star forward Jakub Vrana for the foreseeable future. It is unknown how long he will be out or for what reason. There are several reasons players enter the assistance program, it could be for mental health, substance abuse or many other things.
Information provided by the Wings states that he will be out indefinitely while he receives care.
Injuries
Fresh off signing a seven-year extension, Sabres defenceman Mattias Samuelsson left Saturday's game against the Canucks with a lower body injury. He twisted his leg while engaging with Canucks forward Curtis Lazar in the second period.
The injury looked to be quite serious but reports from the Sabres are optimistic.
One game after scoring his first career goal, 2022 first overall pick Juraj Slafkovsky was held out of the lineup with an upper body injury. It is believed to be his wrist that is bothering him. He is considered day-to-day.
Team of the Week
We all know the Buffalo Sabres are going to be a force soon, but are they already? They went 3-0 this week, beating the Oilers, Flames and Canucks on the road, outscoring them 15-6.
Alex Tuch led the way with five goals, including a hat trick against Calgary. Dahlin and Casey Mittelstadt both had five points as well.
Eric Comrie stole the show in the first two games of the road trip. He stopped 86 of the 91 shots he faced against the Oilers and Flames. He now has a .930 SV% in three games this season.
Not to be outdone, 41 year old Craig Anderson made 29 saves versus the Canucks on Saturday to help the Sabres to a 5-1 win.
Buffalo is now 4-1 on the season, good for second place in the Atlantic. They'll look to sweep their western road trip against the Kraken in Seattle on Tuesday.