Day After Thoughts: No comeback kids last night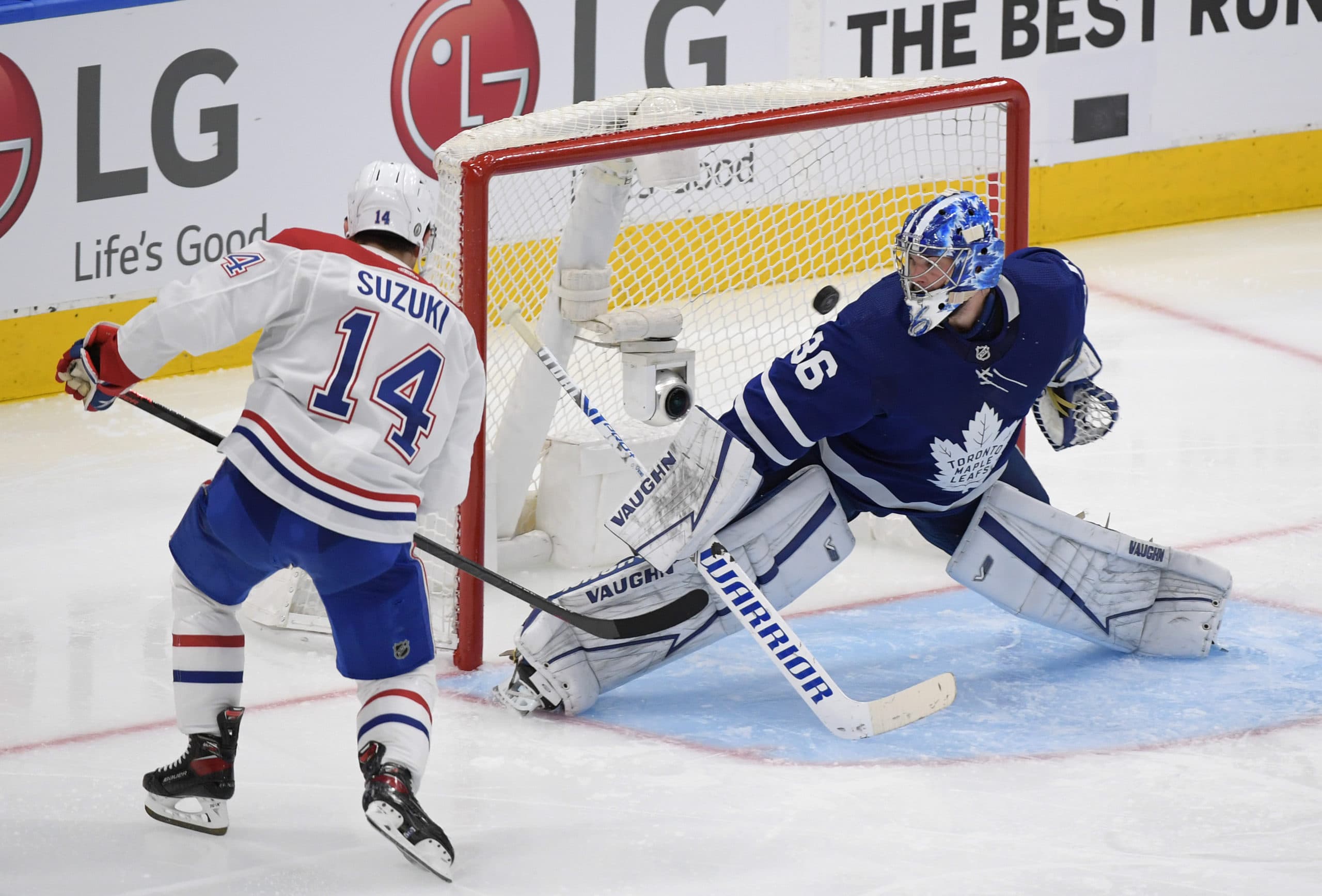 Photo credit:Dan Hamilton-USA TODAY Sports
The Toronto Maple Leafs lost 4-3 in Overtime on Thursday night to the Montreal Canadiens. The playoff series now sits at 3-2 in favour of the Leafs. @Zach Hyman and @Jake Muzzin (x2!) scored for the Leafs, while @Joel Armia (x2), @Jesperi Kotkaniemi scored for the Habs in regulation. @Nick Suzuki scored the OT winner.
In typical Leafs fashion, the team went down in this game early, and then played with everyone's emotions by tying it at three and then losing in Overtime in the most leafiest way possible. @Alex Galchenyuk turned the puck over in OT to @Cole Caufield and sent him and Suzuki down the ice on a 2-on-0 breakaway.
I thought the Leafs looked okay last night. For the first half of the game the team looked rather flat or perhaps nervous. After all, in the Auston Matthews era, the Leafs have yet to win a playoff series. They have only led in a playoff series twice since 2017. They were up 2-1 against the Capitals in 2017 and held 1-0, 2-1 and 3-2 series leads against the Bruins in 2019.
As the game progressed however, the Leafs slowly started to get things going. By the third period the Leafs were clearly the better team again and looked poised to make this into an interesting game. In Game 6 however, the Leafs need to put their best effort right at puck drop.
Some Thoughts
Rasmus Sandin
For the second time this series, @Rasmus Sandin got exposed pretty badly. Sandin's two turnovers directly led to the Habs scoring their first and third goals.
I like that Sandin always has a belief he can make a play when he has the puck, but sometimes just chipping the puck out is the way to go.
Again, the simple play is typically the safer play. Chip the puck off the boards to Bogosian and this goal never happens.
Sandin had maybe one or two shifts after the Habs third goal and I don't blame Sheldon Keefe at all. This game wasn't necessarily 'must win', but Sandin's play only made it that much harder to actually try and win.
After a rough Game 1, Keefe stood by Sandin and kept him in for Game 2. He noted that the payoff for keeping a player with Sandin's skillset in the lineup is enormous. Based on that, one would assume Sandin stays in the lineup for Game 6 but I'm not too sure. The Leafs top four defensemen all played north of 20 minutes last night with Sandin benched. Not sure you want to run your blueline into the ground just yet.
Alex Galchenyuk
I don't want to harp on Galchenyuk too much because he has done everything asked of him and more since joining the Leafs. He's an amazing feel-good story and another win for Kyle Dubas in the development department.
The OT winner by Suzuki was created directly by Galchenyuk. It's the same thought process as Sandin in that Galchenyuk believes he can make a play here. Unfortunately, he doesn't shoulder check to see if Muzzin is available for a pass and the Habs get a 2-on-0 breakaway.
Hopefully he can put this error behind him and continue his strong play into Game 6.
Auston Matthews
I thought Matthews looked really quiet tonight and perhaps also tired. Matthews played just over 24 minutes last night and by the end of the game, it was clear he was just trying to conserve his energy. He was dumping pucks in and letting Hyman and Marner do all the heavy-lifting.
The Leafs are going to need a lot more from Matthews in Game 6. He's their best offensive weapon and he's been non-existent offensively for most of the series. Yes he has been a stud defensively, but the Leafs miss his goal-scoring.
William Nylander
Once again, @William Nylander was feeling it offensively for the Leafs. While he didn't score, Nylander recorded assists on both of Jake Muzzin's goals and was the only Leaf really setting up scoring chances in the first half of the game.
The fact that Nylander only played 17 minutes in this game is asburd to me. He's been your best forward offensively, you have to find him some more minutes. Especially when you have Matthews and Marner at 24+ minutes and both looking gassed.
Sheldon Keefe
I didn't like a lot of Keefe's choices in this game. For starters, why is Willy still on PP2? At this point, just load up the top unit, the second unit became unusable the minute John Tavares went down in my opinion.
I've already talked about my gripe with Nylander playing 17 minutes in this game but man, it's frustrating seeing the team's best player this series not get more opportunities offensively.
Matthews and Marner played 24 minutes tonight, with Nylander following at 17. After that? Kerfoot at 15:33 and Engvall at 13:27 (Galchenyuk played 13:19). I think the minutes need to be balanced a little more. Give a few more shifts to the second line. They have been the team's best line in this series.
Heading into Game 6, Keefe has some interesting decisions to make. Do you keep Sandin in the lineup? If Nick Foligno is good to go where does he slot in?
Jack Campbell
The boys better win next game for Campbell after hanging him out to dry.
I also want to apologize to our readers. I'm now 0-2 when doing these day after posts for playoff games. Thankfully, this is the last one I'm doing for this series. So now the Leafs can close out this series on Saturday.