Day After Thoughts: The Maple Leafs showcased the value of their depth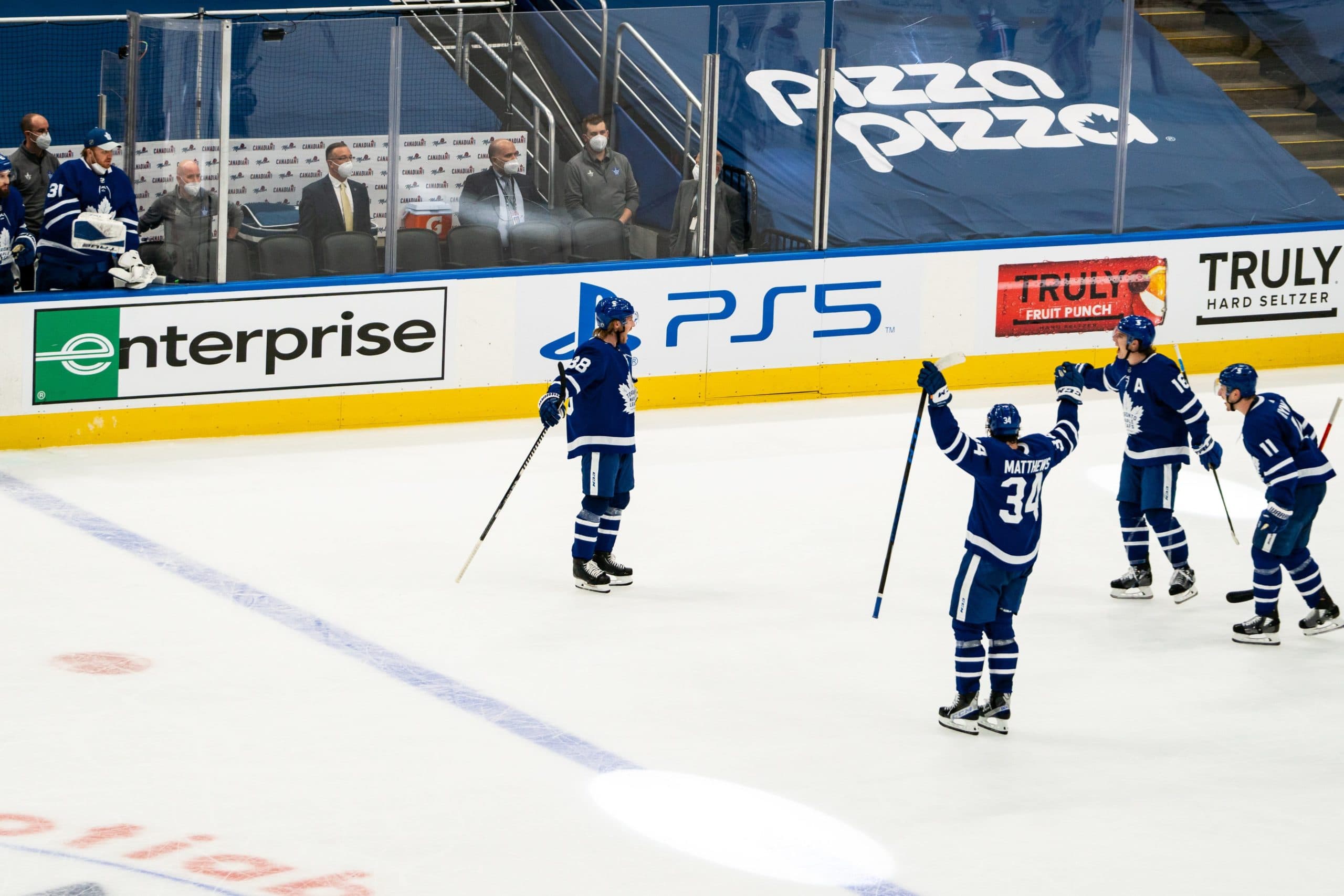 Photo credit:@MapleLeafs
After a game one loss where the Toronto Maple Leafs saw captain John Tavares sustain a horrific injury, it was anyone's guess how they would respond out of the gate for game two. For lovers of the blue and white, a 5-1 win where members of all four lines scored is about as good as it gets.
Auston Matthews, William Nylander, Alex Kerfoot, Jason Spezza, and even rookie defenseman Rasmus Sandin all found the back of the net during Saturday night's rematch against the Montreal Canadiens to tie the series at a game apiece. After allowing the opening goal on a messy double rebound, it was all Toronto from that point on, especially during the second period where the Leafs outshot Montreal 20-6.
Even with Tavares out, the Leafs showcased their next man up mentality and the value of having a deep lineup where every line is a threat to score. According to
moneypuck.com
, seven different Leafs had an expected goals rate equal to or higher than Montreal's top player in last night's matchup.
If the Leafs hope to win the series and advance deeper into the playoffs, playing a complete team game like last night's is essential to their survival. Even with Tavares out, Toronto has enough depth and high-end talent remaining to be a matchup nightmare for any opponent.
The depth doesn't just apply to scoring talent either, all four lines the Leafs rolled out last night had some edge to it, something the team had sorely lacked in previous years while bowing out of the playoffs in the first round. Whether it was Hyman, Foligno, Simmonds, or even Pierre Engvall, there was always someone on the ice causing absolute mayhem and throwing opposing players off their game.
While the matchup featured some questionable refereeing on both sides, the Leafs antics were enough to frustrate Montreal and lure them into taking some really stupid penalties including Gallagher crosschecking TJ Brodie in the head out of pure frustration just one minute after the Leafs took the lead.
Hilariously enough, the dumbest penalty of the game came from the front office when Marc Bergevin appeared to radio down and insist that Montreal challenged Sandin's goal on the grounds of goaltender interference. Despite a lengthy review from the referees where they tried their best to find what the hell Bergevin was talking about, it was deemed a good goal.
The game got scrappier as it went on, ending with five penalties being handed out in the final minute including misconducts to Shea Weber and Pierre Engvall. This morning, Weber also woke up to find he was
the recipient of a $5000 fine
from the NHL's department of player safety for crosschecking Wayne Simmonds.
Two games into the series and the tone appears to have been set. It's one of physical play and trading chances at both ends of the ice. The difference between this year and previous ones is the Leafs are now equipped to meet such a challenge and can play rough just as easily as they can score goals. The team is no longer being thrown off their game by being tossed around by opponents and facing the realties of playoff officiating where most calls are never made. Instead they're leaning into it and matching their opponent in toughness while still leaning into the depth of talent that exists on this roster. All four lines are equally as likely to rough someone up as they are to score a gorgeous goal, and two games into this playoff series we're seeing just how valuable that depth can be.
Over the past year, the Maple Leafs have shed a lot of their most common criticisms. From bad defensively, to too soft, and even inconsistent goaltending, the team has put up answers every step of the way. All that's left now is showing that they can indeed not only make it out of the first round but surge deep into the playoffs. After Carey Price stole game one, and the Maple Leafs watched their captain get taken out just minutes into the first game it would have been easy for the players to give up hope and fold the rest of the way. Instead, everyone on the roster bounced back and gave a complete team effort to absolutely dominate their oldest rivals in game two.
Depth is more than just having four lines that can score. Having four lines that can score, hit, play defense, and energize their team to never quit is the holy grail of team building. Last night, the Toronto Maple Leafs showed that's exactly what they've got.