Despite his flaws, Tomas Tatar makes all the sense in the world for the Maple Leafs
Photo credit:Dan Hamilton-USA TODAY Sports
It's unfortunate that the Maple Leafs won't be able to retain a player that fans have come to adore for his work ethic and ability to provide a much-needed gritty complement to a skillful top 6. Hyman took himself out of the Maple Leafs price range with two outstanding seasons in which he paced for an average of 30 goals and 60 points, with very strong underlying numbers to back those counting stats up. It will not be easy to replace his production, no matter how you slice it, but there certainly appears to be a way to, at the very least, approximate what he brings.
Tomas Tatar: Consistently Inconsistent
There are a number of intriguing free agents that could potentially be available once we hit July 28th. Taylor Hall and Gabriel Landeskog undoubtedly lead the pack when it comes to name recognition, and both are expected to
command top dollar
if they do hit the open market. Others like Blake Coleman and Jaden Schwartz could also see a fair bit of intrigue. There really should be no shortage of options for Kyle Dubas to improve his team, not to mention the options presented via the trade route that they dipped into yesterday by acquiring Jarred McCann
. None of these players, however, have the potential upside to contribute from a dollars-to-productivity perspective as the much-maligned Tomas Tatar could if brought in by the Toronto Maple Leafs.
Tomar Tatar, 30, has bounced around a fair bit during his career, starting with the Detroit Red Wings as a full-time skater back in 2013-14. Later in the decade, as the Red Wings began to fade into a rebuild, Tatar was shipped off to the then-expansion Vegas Golden Knights for a famously pricey package headlined by a first-round pick that eventually became Joe Veleno. After their deadline acquisition went sideways, with Tatar being ultimately winding up a scratch during the Golden Knights' improbable Stanley Cup run, he was flipped as a salary dump alongside Nick Suzuki and a pick to the Montreal Canadiens for Max Pacioretty. As it turned out, Tatar was anything but a salary dump for the Bleu Blanc et Rouge.  
With a fire seemingly lit in his belly, Tatar elevated his game to new heights under Canadiens coach Claude Julien. Part of one of the most analytically savvy lines in all of hockey, Tatar rode shotgun to Brendan Gallagher and Phillip Danault, humming to the tune of a near 60% 5v5 xGF%, good for tops among all regular Canadiens during the 18-19 season. That stellar regular season play remained consistent throughout his tenure with the Canadiens, as he would finish his time with the club as their leader in points over his three-year stretch with Montreal. Tatar ultimately accumulated 149 points in 198 games, good enough for a solid 0.75 points per game pace. His analytics also remained strong through 2021, even as the Canadiens moved on from Claude Julien and hired Dominic Ducharme en route to an improbable Stanley Cup Finals appearance. 
Unfortunately for Tatar, however, for the second time in his career, he watched much of the success of his teammates from the press box. As had been a recurring theme for Tatar in the playoffs, his numbers dipped fairly significantly come springtime. Tatar's expected goals this postseason fell to just 50%, and his point production, while down in general this year compared to his previous two seasons, also fell off a cliff. His lack of playoff production is certainly a theme worth acknowledging. Over 23 career playoff games, Tatar's 5v5 expected goal percentage drops 7 points to 53%, while his points per 60 drop from 2.82 points per 60 in the regular season to a paltry 0.89 points per 60. For reference, that's comparable to going from John Tavares level point production to T.J. Brodie level point production, and it's a big reason why there are some significant question marks about Tatar's true value heading into his first-ever foray into Unrestricted Free Agency.
Tatar is worthwhile anyway
Even amidst these questions, there's a significant level of value to be gained by any team that hopes to acquire Tomas Tatar later this month. There's plenty of reasons as Maple Leafs fans to look at Tatar as simply another player that won't elevate his game come playoff time. As we all are well aware after this past May's disappointing playoff exit, the Maple Leafs are very flush in that department. Perhaps, however, there is more than meets the eye when it comes to Tatar and his playoff struggles. 
Chace McCallum
(who is far smarter than I am and should definitely be someone you're following on Twitter) wrote an excellent piece shortly after the Maple Leafs were eliminated about
Mitch Marner's bad luck in the postseason and why some players experience long droughts during the playoffs
. To put it succinctly, as the stakes get higher, so too do the runs of bad luck. More interestingly, Chace points out in his piece that it may even be a market inefficiency to specifically target guys labelled as "playoff chokers". You should definitely do yourself a favour and give the article a read for a more in-depth look at that interesting topic. Nevertheless, nobody quite fits that bill in this free agency class like Tatar, and it would be wise for the Maple Leafs to be in the trenches trying to make a play for his services. 
As far as potentially serving as a Zach Hyman replacement, the gap isn't nearly as significant as one may be led to think. Most models put the two in a similar category production-wise, however, one is coming off two seasons with a largely unsustainable 12% oiSH%, while the other is hitting free agency with his value the lowest it has ever been.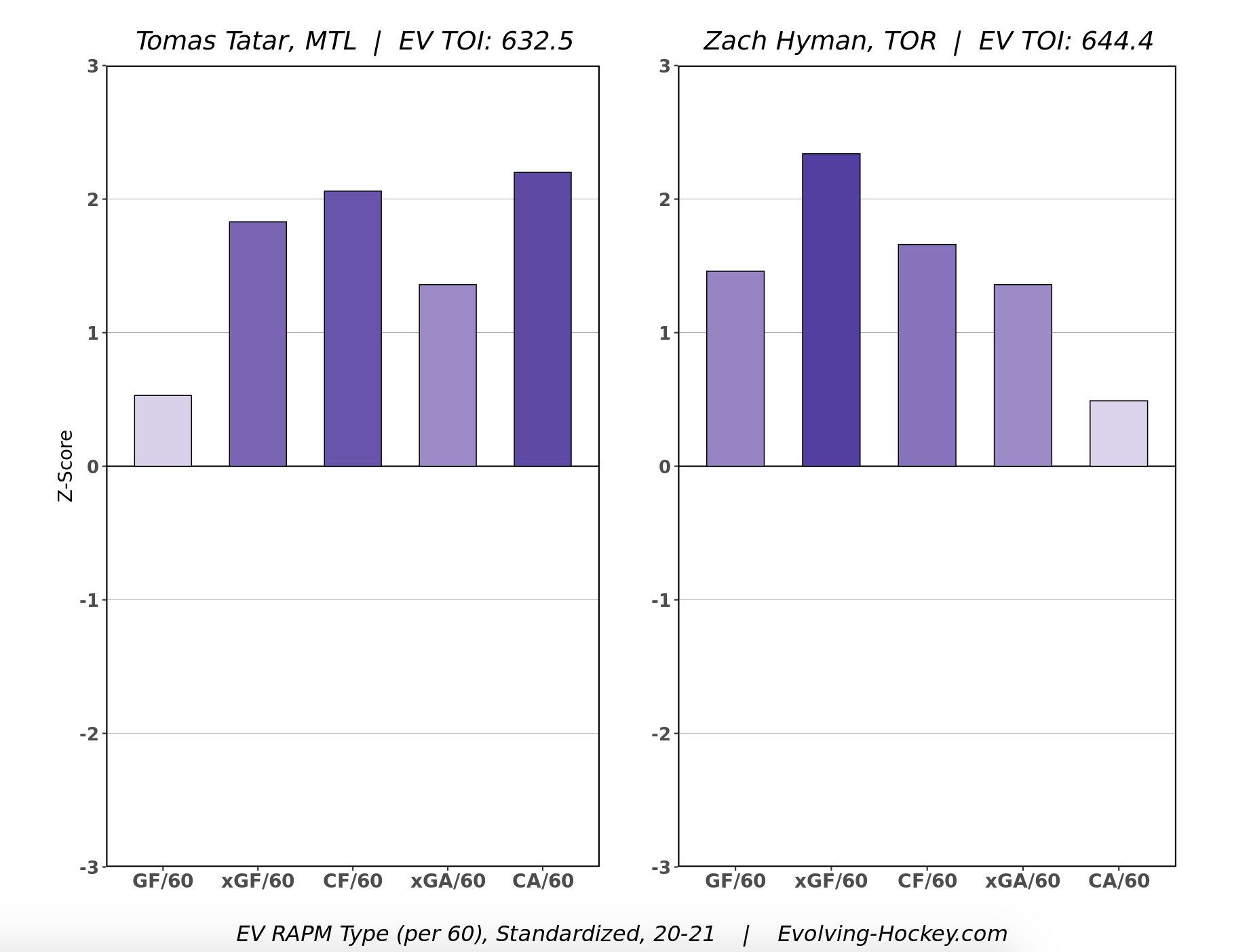 The difference between Tatar and Hyman is not a chasm by any stretch (via Evolving Hockey)
Tatar will likely come at a significantly reduced cost, and the team that acquires him may even be able to lock him up with less term as a sort of "prove it" contract, though there really doesn't seem that there's all that much for Tatar to really prove. As far as the AAV, Evolving Wild's contract prediction model has Tatar slated to make a shade over $5 million, however, it's not implausible that the black cloud hanging over him could lead 'Hockey Men' to look elsewhere or otherwise seek a discounted rate. Sure, the playoff woes are worth keeping in mind, but ultimately, players of Tatar's ilk don't often hit free agency with these types of narratives surrounding them. As such, a really great opportunity to get some bang for their buck has presented itself for smart teams across the NHL. Kyle Dubas and the rest of Maple Leafs management would be particularly wise to be the one team that does take advantage of this great opportunity.