Despite offseason focus on toughness, don't expect Maple Leafs to fight more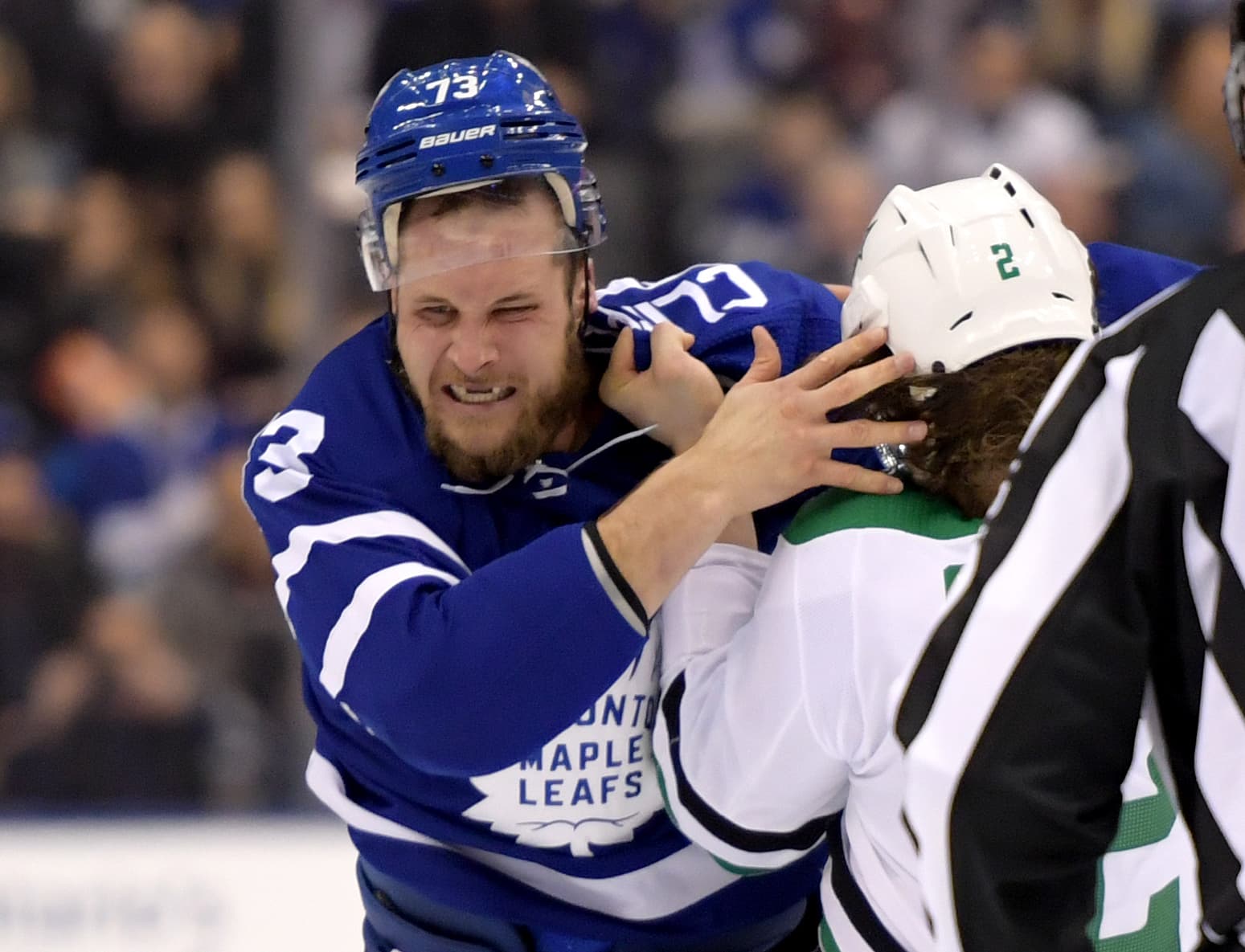 Photo credit:Dan Hamilton-USA TODAY Sports
With Brad Treliving taking over for Kyle Dubas entering the 2023 NHL offseason, the difference in their team building methodologies was apparent immediately. Treliving opted to explore an area that Dubas was often seen as shying away from, choosing to prioritize toughness over finesse in his offseason acquisitions.
Treliving's three key forward signings of Tyler Bertuzzi, Max Domi, and Ryan Reaves all come to Toronto expected to add some meanness to a team that has earned a reputation for letting themselves get bullied, especially in the postseason. Recently, Ryan Reaves even made headlines for his comments about incidents such as Radko Gudas shouting in the face of goalie Joseph Woll, stating that he'd like to see him try it.
With all this, it's no surprise that plenty of hockey fans are expecting the Toronto Maple Leafs to throw down the gloves far more often in the coming season. After all, the franchise has ranked near the bottom of the league in total fights in each of the previous five seasons, with only 14 fights last season, putting them tied for seventh fewest in the NHL.
However, that expectation should be quelled a bit, as Toronto's newest crop of signings typically find other ways to add some edge to their game, and typically prefer not to drop the gloves. Even Ryan Reaves, regarded as one of the league's few remaining bruisers, registered only seven fights last season across 73 games. With Reaves not expected to be an everyday player for the Maple Leafs, that number could drop even further.
While they may be pests, Bertuzzi and Domi aren't known for their fisticuffs either, despite what their surnames suggest. The two combined for only three bouts last season, further cementing the idea that Toronto's increased toughness won't be represented by 5-minute majors.
In total, that's ten fights added to the team from last season, with the number stretching as high as twelve if you're willing to include defenceman Simon Benoit who registered two fights over 78 games while playing with John Klingberg in Anaheim last season and is expected to compete for a spot on the team as a 7th defenceman during training camp.
While 10-12 more fights than last season may seem like a lot, it's a lot less impressive when you consider how much toughness left the Maple Leafs this offseason as well. Of Toronto's 14 fighting majors during the 2022-2023 season, 10 are from players who are no longer with the club. Those players include Wayne Simmonds (3), Michael Bunting, Luke Schenn, Rasmus Sandin, Dryden Hunt, Justin Holl, Michael Bunting, Noel Acciari, and Zach Aston-Reese.
At this moment, the only active Maple Leafs to ever fight while wearing the blue and white are Morgan Rielly, Mark Giordano, Sam Lafferty, Jake McCabe, and Auston Matthews, who battled Steven Stamkos during the first round matchup against Tampa Bay last season. 
Of course, the dance of hockey fights aren't quite this simple but on paper, it seems like Toronto is set for another season where they finish near the bottom of the league in fighting majors, however don't expect that to result in the team continuing to get bullied by tougher squads. The untouched X-factor surrounding the Maple Leafs will be whether the offseason changes light a fire under the team, and if the toughness of the new additions to the locker room prove to be contagious. Reaves has a reputation for being a dressing room motivator, while Domi and Bertuzzi are known to run their mouths and energize teammates on the ice. 
While we may not see any line brawls this season, Toronto could still prove to be one of the tougher teams to play against, with an increased edge to their game up and down the roster, not just among the new additions. For the new additions, they'll have a chance to win the hearts of Leafs fans everywhere this season and showcase whether they were the missing pieces the Maple Leafs have needed all these years, with a chance to be immortalized as yet another gritty fan favourite, and they may not even need to drop the gloves to do it.